dr. sol finkelstein has lost 44 pounds since last august! the other doctors call him "skinny"!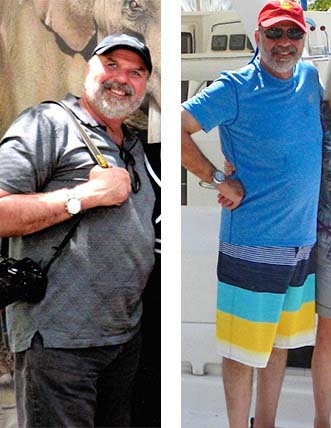 Dr. Finkelstein (shown far left in August 2013, and on the right in March 2014) has lost six inches off his waist, dropped 44 pounds and put on muscle. He explains, "I have biceps that I never used to, stronger abs, and I leg press over 500 pounds."
When you practice family medicine at a large medical center in San Diego, you don't have much time to exercise. A couple years ago Sol Finkelstein wasn't feeling very healthy. His back hurt, he wasn't working out, and he realized that he was more overweight than he wanted.
"I was always aerobically active," says Sol. "I was in a running club during college and medical school, but didn't incorporate weight training. I flirted with it, but got bored really easily."
At one point back in the mid-80's his weight went from 175 all the way to 250, then he lost it and kept it off. Beginning in the early 90's until a few years ago, it slowly increased each year until he was getting close to his peak weight again.
His accountant had told him about slow-motion strength training, and when Sol saw the ad for The Perfect Workout, he decided to finally do something about it. "It was a combination of things. I liked that it was short, just 20 minutes, and intense. My time is so valuable. I thought I'd give it a try."
Sol says he felt somewhat better right away. "Even though I was still overweight, I could get up the stairs easier. After two to three months, I started getting stronger. I have biceps that I never used to, stronger abs, and I leg press over 500 pounds." In spite of the strength gains, however, he hadn't changed his eating habits, so he wasn't losing weight. On August 17, 2013, he got serious about that, too. He started walking for an hour at lunch time, and he started keeping very close track of what he ate, without giving up the things he loves. "I never want to go on a diet where I can't have my two glasses of wine," he says.
Monitoring his caloric intake, walking daily, and slow-motion strength training produced tremendous results. Since last August Sol has dropped from a 42 to just under a 36-inch waist, and lost 44 pounds, down to a lean 187. His back used to hurt all the time and now it doesn't at all. He credits his trainers, Keith at Rancho Bernardo, and Justin at Mission Valley, with getting him to this point.
"You couldn't do it all by yourself," he says. "You'd get bored, quit, or wouldn't show up. It's like walking on a treadmill. After 20 minutes you're bored. On my own, I'd stop too early. Having a trainer keeps me going. They seem to care, and they really get excited when you do well. The one-on-one aspect is great." Sol also likes the safety of slow-motion strength training. "As a doctor, I see people overdo it and get hurt. You're not going to hurt yourself with this."
After seeing Sol's great results, his wife joined him at the Mission Valley studio, and she's gotten stronger and lost weight, too. They noticed it recently on a trip to San Francisco. "My seven-year old granddaughter wanted to race me, so we ran up the stairs. The other grandparents walked up slowly, out of breath."
Now that Sol is back in shape like his younger days, the other doctors have started calling him "Skinny"! He's not all the way there yet. He'd like to get down to 180 in the next couple months, just in time for his 64th birthday in July and his retirement on July 31. Sol and his wife both plan to continue at The Perfect Workout. "It's a quick 20 minutes. It's not a burden on our schedules. I wouldn't spend the money if I didn't think it was worthwhile."
Living with elevated cortisol levels can feel like a battle against your own body…
Read More »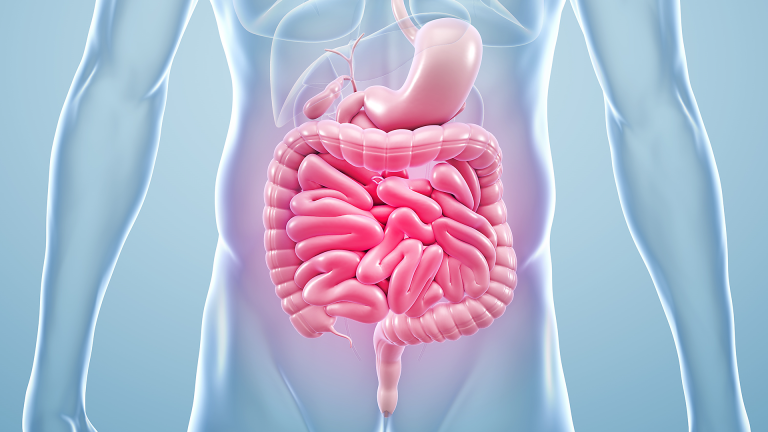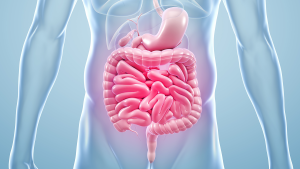 Did you know, your gut is home to over 1,000 bacterial species…
Read More »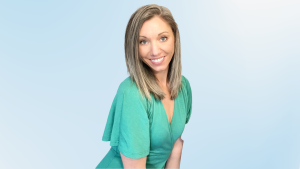 Certified in group fitness, functional training, & Slow Motion Strength Training…
Read More »