Create healthy habits & improve your life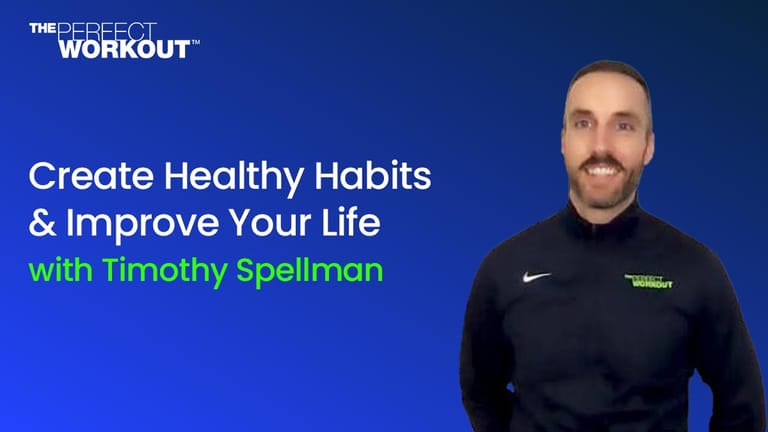 After losing 100 pounds and keeping it off for over 15 years, Timothy Spellman became a Certified Personal Trainer and has helped hundreds of clients create healthy habits and improve their lives.
Now, he's doing it virtually.
As a young adult, Timothy moved from Boston to Phoenix and his personal training career flourished while acquiring certifications as a NASM Weight Loss, Corrective Exercise, and Behavioral Change Specialist. 
Timothy ultimately moved to San Diego and was introduced to slow-motion strength training. Week after week, he noticed increased levels of energy and strength, and he even became leaner. He decided to expand his knowledge of exercise and got certified with The Perfect Workout. 
Today he is one of our highly successful Virtual Personal Trainers. Timothy believes he gives clients the tools to achieve and sustain their goals by helping them implement slow-motion training and altering their habits. 
 "I love working with clients, motivating them, and helping them achieve their goals."
The Importance of a Healthy Routine
When the first shutdown happened and many of us became a little bit more sedentary than usual, Timothy reinforced to his clients how important it is to stick to a healthy routine.
He knows firsthand how easy it can be to backslide into old patterns and unhealthy habits like not exercising, or spending too much time on the couch watching Netflix. And when this happens, the body craves exercise, physically and psychologically.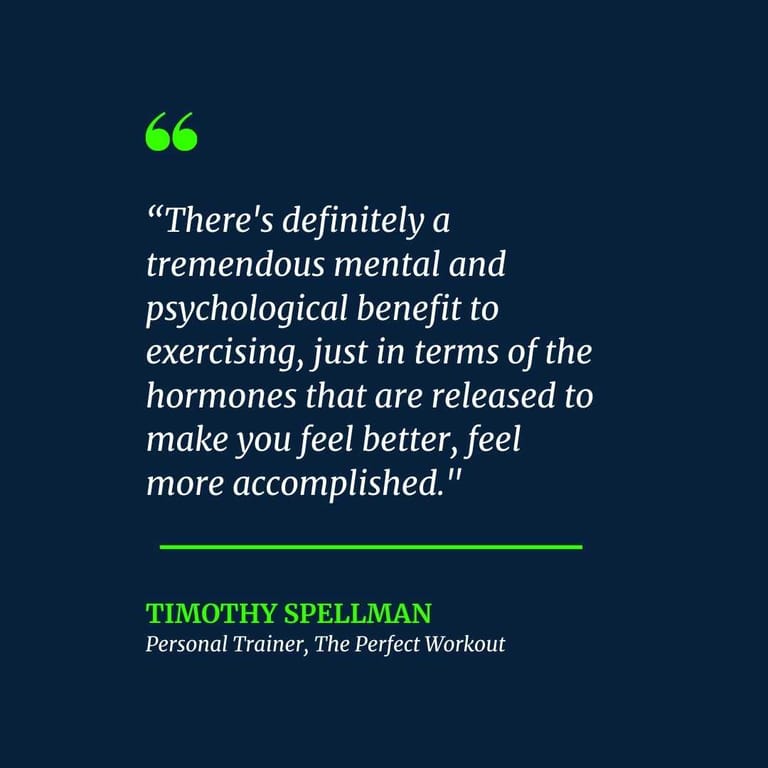 "There's a tremendous mental and psychological benefit to exercising, just in terms of the hormones that are released to make you feel better, feel more accomplished. [Routines] can be as simple as making your bed first thing in the morning. It sets the tone for the rest of the day in terms of sticking through with habits. And I approach exercise in that same way. I feel like it's something to feel accomplished and kind of proud that you're doing good for your body."
Having a consistent, yet simple routine like exercising 20 minutes, twice a week makes sticking to it all the more easier.
Want some simple and easy ways to feel healthier now? Check out these 10 Healthy Habits to Start.. And they only take 20 minutes.
If It Hadn't Been For Strength Training...
A couple years ago, one of Timothy's Del Mar clients experienced an unfortunate fall in a grocery store parking lot and broke her shoulder. 
When the surgeon was performing surgery, he said she had two and a half times more muscle around her rotator cuff and her deltoids than he had ever seen in anybody her age before. 
"She was so proud of that." 
Because of her age and the severity of the fall, had she not been strength training, it's likely that her rotator cuff would have been completely shattered and beyond the point of repair.
More Energy for Daily Life
Another one of Timothy's Del Mar clients started with the intention of wanting to improve his golf game.
Every time he would come into the studio, he would talk to Timothy about how he now had more endurance when walking the golf course. 
Timothy's client and a bunch of buddies would go on trips throughout the country to play different golf courses. During one of his last trips, all the guys needed to take naps after they were done playing to get some recovery time. But he was completely spry, ready to go throughout the rest of the day, with an abundance of energy. 
"It's little things like that, that you start to notice over time. These benefits that are not necessarily quantifiable in terms of data, nothing that you can track on a chart, but in the way that you are functioning day-to-day."
Healthy Habits Can Be Virtual
Having spent many hours training clients inside of a studio as well as virtually, Timothy knows slow-motion strength training like the back of his hand. 
And it doesn't matter where you exercise. Consistency is what is going to help you maintain this healthy habit. 
For anyone who might be skeptical about Virtual Training, Timothy has a message for you!
"Virtual workouts are just as challenging if not more than the in studio workouts. I challenge anybody to give it a try just to see for yourself how good of a workout you can still get with minimal equipment. I've got some clients that have nothing other than access to the floor, a flat wall and a bath towel. And we can still get them a killer workout."
At The Perfect Workout we have a wonderful team of Trainers ready and capable of serving clients of all fitness levels.
With Virtual Training, our Trainers like Timothy are also great at being able to adapt to what you have available to you at home and making sure that your virtual workout is going to be just as safe. 
"We may not be right there, but we are keeping that the same watchful eye on you as we would be as we're in the studio. And we're that much more focused on your form to make sure that we're keeping you as safe as possible since you are in a little bit more of an unstable environment."
Share with a friend or book an Introductory Workout for yourself today!