is virtual training worth it?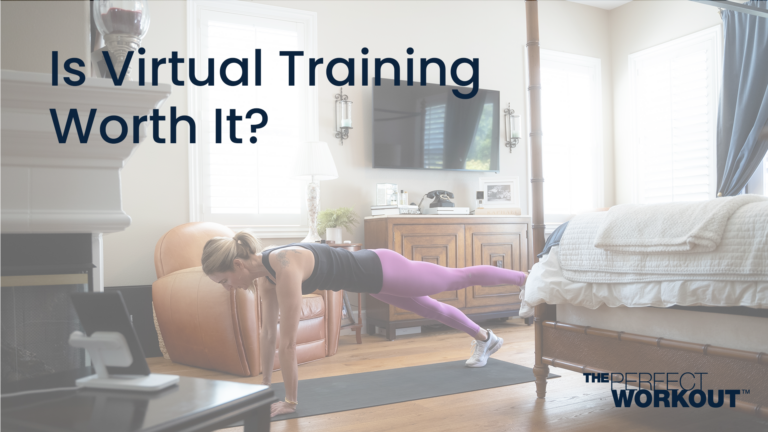 2020 has brought us a world of virtual fitness options. Amidst all the possibilities you might be wondering if Virtual Personal Training (VPT) is actually worth it.
Every athlete has a coach, every actor a director, and behind every success story at The Perfect Workout is a team of Personal Trainers.
We think it's safe to say that having a Personal Trainer in general is 1000% worth it. But is it the same for virtual?
Here are 8 reasons why the answer is a resounding YES.
8 Reasons why Virtual Personal Training is Totally Worth it.
1. Virtual Personal Training is Smart
Personal training is not a class. It's not a video. It's a real live Trainer coaching you through a personalized workout.
Personal Trainers at The Perfect Workout use our signature slow-motion method that actually generates

guaranteed

results

The purpose of each exercise is to achieve muscle success which is scientifically proven to help build muscle, bone strength, and boost metabolism

We walk you through every exercise and demonstrate proper form & technique

You get personalized coaching from a Certified Personal Trainer

The workout is tailored to your abilities and goals

As always, it takes 20 minutes, twice a week
What more could you want from a training program?
2. You Don't NEED Any Equipment
The purpose of every workout you do (ever), is to achieve temporary muscle failure, or muscle success. Although our Nautilus machines in the studio are ideal for achieving that purpose, it can absolutely be achieved with other mediums such as free weights, resistance bands, kettlebells, and bodyweight. 
You'd be amazed at how heavy we can make a resistance band feel, all while getting you to safely reach muscle success.
Equipment is just a small part of the equation. Working with your trainer to properly execute the super-slow strength training method and keeping up with 1-2 sessions per week are what matter most.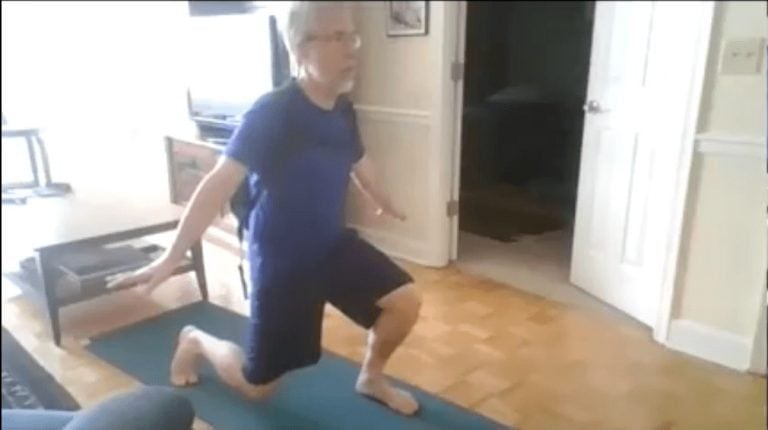 3. VPT is NOT like Other At-Home Workouts
You may view at-home workouts as a waste of time because the at-home workouts you've seen or done before didn't work for you in the past. 
Our Virtual Sessions are not just at-home workouts, they're proper Personal Training Sessions focused on you and you only.
Videos, classes, and guides can be great resources in a pinch. What you don't get is the customized approach. You don't have someone completely focused on you to see if you're doing an exercise correctly or safely. 
A video doesn't know your goals, injuries, limitations, or how you tend to hold your breath a little before you hit muscle success. Your Trainer does.
There's just no way watching a video will ever be as effective as working with a coach in a live personal training session. Think about how hard you can be pushed when you are working with your Trainer– it's always more than you thought you could do! Know that a video will not render that same kind of effort and certainly not the same results.
4. Virtual Workouts Are Very Customizable
The exciting thing about our Virtual Personal Training sessions is that they're extremely customizable. In-studio workouts are customizable too but our Virtual Sessions require a high level of ingenuity to provide you with a specific program based on your goals, limitations, and the equipment you have available.
Your Trainer works very hard behind the scenes to make your workouts as perfect as possible for you, and that may mean even more intense than expected.
Need more proof? Watch this video below of our client Sherry Chriss' experience:
5. You Can Be Location Independent
You can travel the world and still have access to your routine workouts with the Personal Trainers who know every detail about your fitness journey. You can't beat that.
And you certainly can't travel with your Peloton…. Just saying.
6. You Don't Need Much Room
Most, if not all of the exercises require little to no space. Because we don't incorporate movements like jump squats, sprints, or tire flips, space isn't really needed.
Think about the size of our studios. The only reason they need to be as big as they are (which is not all that big) is to fit the machines in them. However, when you're on each of those machines, you are in a static position- meaning you're fixed in one place, not needing much space for movement. 
That goes for any slow-motion or static exercise your Trainer gives you. All you need is a space to fit the length of your body.
And if you're willing to try, we can always make more space! Objects like coffee tables and chairs are moveable and if you've been training with us, you've got muscles to move them!
7. It's The Safest Way To Exercise At Home
We specialize in slow-motion strength training and exercising safely is under this method's umbrella. In addition, you have a Certified Personal Trainer observing you, coaching you, and correcting you every step of the way to ensure your safety.
We've never shied away from working around an injury. It's our philosophy that anyone can do this workout. Most of our clients have come to us with an existing injury, condition, pre or post surgery and we've been able to help them exercise just as effectively. Our Trainers are thrilled to get innovative for you as well- just ask them!
Most importantly, if you have an injury or condition preventing you from being as mobile as normal, are challenged with deterioration, or injury gets worse with sedentarism, then there's even more reason to keep exercising!
We can't help but emphasize how important it is to maintain normal routines right now, and your workouts are no exception. This is a vital component of stress management and helps to keep anxiety low.
8. It's The Way of The Future
Seriously. There are plenty of gyms, personal trainers, and studios that have gone out of business this year. Then there are private fitness facilities like us that follow Medical Fitness Association guidelines and have thrived through innovation.
The Perfect Workout isn't going anywhere.
In fact, we're growing so we can continue to serve you.
Here's the short version of what you need to know!
Virtual Sessions are still 1-on-1, appointment only, LIVE with a Personal Trainer, and always using our slow-motion method.

The workouts are customized, intense, and actually produce results.

You don't need much space, or any equipment; however, we can and will work with what you do have.

Workout videos, guides, and manuals are better than nothing, but they cannot match the coaching you receive from a Trainer. Your 1-on-1 sessions will always provide more value for you than a video or guide ever could.

You can do Virtual Personal Training from anywhere.

It's the safest and smartest way to exercise at home.

Virtual Training is the way of the future and you can get it NOW!
We can all agree that NOT working out is not an option.
No matter what, keep working out. And the best way to continue working out is with your Trainer using a method scientifically proven to get results safely.
Have questions? Most of our client's concerns and questions are resolved in their first Virtual Session.