she cut her workouts in half & dropped 26 pounds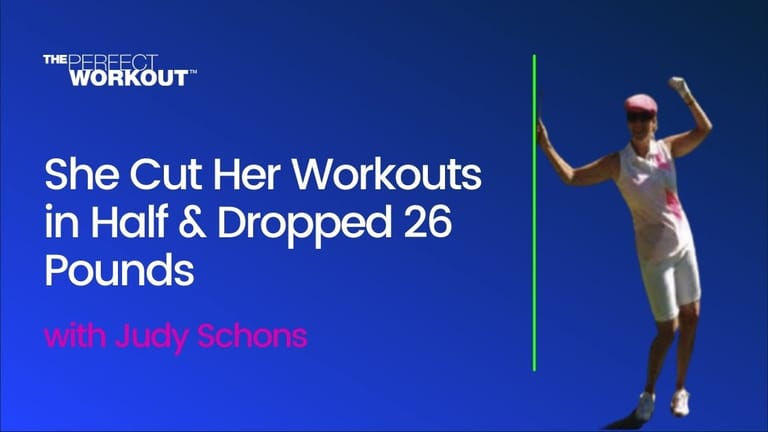 When your husband is a foodie and a chef who makes amazing meals, it can be a challenge to stay in good shape, especially at age 66. 
But Judy was able to lose 26 pounds and drop from a size 12 down to an 8.
She says her clothes fit better, she has more energy, she sleeps better, her shoulder and neck pain is gone, and she has a more muscular, toned body.
How'd she do it? Slow-Motion Strength Training…
She Was Bored With Her Workouts
Judy didn't always take such a smart approach to exercise.
Before The Perfect Workout, she did the obligatory one-hour block at her health club, whether that was a spin class, on the treadmill, or some other aerobic exercise. 
She got good results, but Judy describes that kind of exercise as being "a rat in a cage," and thinks exercising inside for an hour is ridiculous and abhorrent for anyone who lives in beautiful San Diego. 
"I did not look forward to it. At 20 minutes I was tired, 30 minutes I was bored silly, and 45 minutes I accepted it and just tried to finish." 
Making it to 60 minutes was gratifying but simply took too long.
She also wanted to increase her bone strength and density and change the way she looked.
"All my life I've had chubby thighs and hips. It ran in my family. I always felt like I wasn't wearing clothes well. I didn't look good in pants."
Naturally, The Perfect Workout's twice a week, 20-minute workouts were a big draw.
Did you know?
You can get the same strength gains, if not more, in 13 minutes than you can in 68 minutes

More workouts per week can actually hinder your results

Doing more exercises than needed in a session is an indication the workout may not be intense enough and you can be working harder

You can get a full body-workout in with just 4 exercises

More rest in a workout can reduce muscle growth and cardiovascular impact
She Built Strength & Burned Calories
The slow-motion workouts fit perfectly into Judy's schedule, and the Trainers at the Mission Valley studio made sure she got the most out of every session.
The key with slow-motion strength training is the emphasis on working toward "muscle success" on every exercise.
That's the point at which you can't possibly move the weights even a fraction of an inch further, after doing several repetitions for 10 seconds out and 10 seconds back.
If you continue maximally pushing or pulling for a few more seconds, you achieve this deep muscle fatigue, and that's what brings results.
Judy started seeing the effects within weeks. Her pants started fitting better, she had more energy, she slept better, and she lost inches.
She also noticed her shoulder and neck pain from sitting at her desk was gone.
While gaining muscle everywhere (she leg presses 400 pounds now!), Judy lost 16 pounds while going from a size 12 to an 8.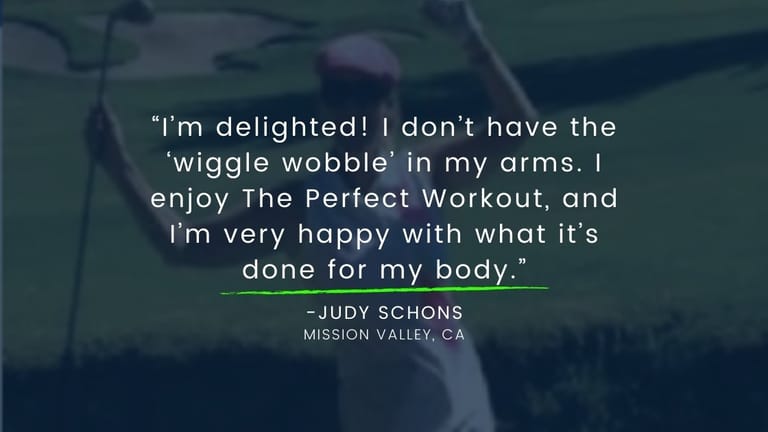 Judy was able to lose fat more efficiently than ever before by adding lean muscle everywhere. 
If you want weight loss, you must know this: Muscle burns calories.
Strength training adds more lean muscle to our bodies, which increases our resting metabolic rate, or the calories we burn on a daily basis.
In fact, strength training is more effective in burning fat than most "aerobic" activities because the added muscle helps you burn calories, even while you rest. Aerobics can burn a lot of calories but only in the moment of the activity.
Learn More about The Science of Losing Fat and Preserving Muscle.
Judy had another goal, though – to get into a dress that her husband had gotten her.
"I tried it on and it had a lot of lumps and was stretched to the max."
During a challenge at The Perfect Workout, she lost another 10 pounds, just in time for her 15th anniversary, where she debuted her new look.
"I got a lot of compliments on how the dress looked on me!"
While Judy would like to lose another five pounds or so, the increased strength and new look is paying huge dividends.
She's able to hoist heavy bags of soil from Home Depot

She hits the golf ball a good 30 yards farther than the women she plays with

She isn't huffing and puffing after pushing her golf bag for four or five hours
Even better, she's now comfortable wearing whatever she wants – skinny jeans, skirts, sundresses, shorts, and sleeveless tops. And she doesn't have to think twice about trying her husband's five-star cuisine.
"I'm delighted! I don't have the 'wiggle wobble' in my arms. I enjoy The Perfect Workout, and I'm very happy with what it's done for my body."