Why He traded his local gym membership for private training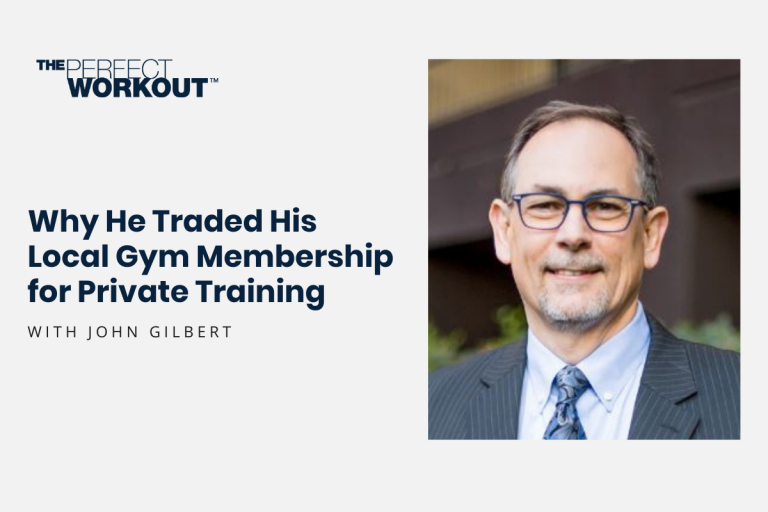 John Gilbert was a long-time member of a local Orange County gym chain. When the pandemic hit, he had to stop. 
But, when the chain was allowed to reopen, the thought of going back to the gym made him feel unsure and uncomfortable.  
"It wasn't staffed most of the time, and members could just badge in and out. And the hygiene program wasn't super good there. I just didn't feel comfortable going back."
Luckily, his wife had been training at The Perfect Workout's Tustin studio for a couple of years, and she was a big fan.
So, he decided to take the plunge.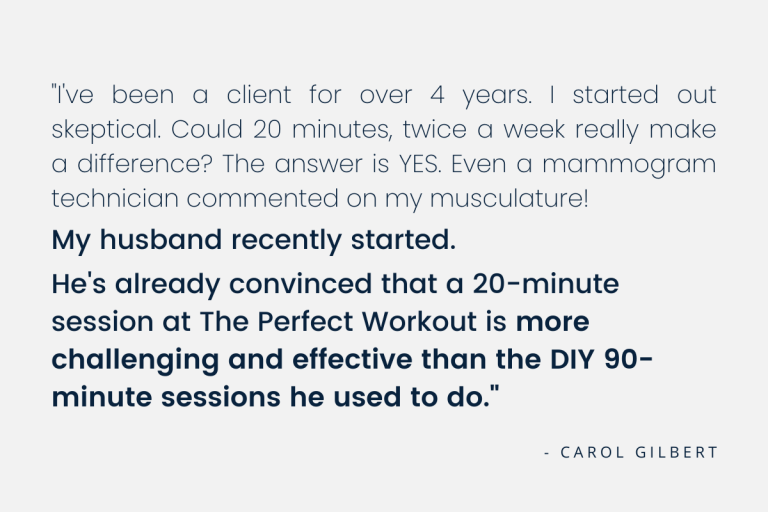 A Private, Safe Workout Space Curbed His Fears
Because the Tustin facility (and all 62 locations) follow strict CDC guidelines to keep the workout space clean and safe, John felt like it was time to make the switch from gym to private personal training.
"Everything's clean. It's only you and the trainer in the studio… So, it's very safe compared to a free-for-all, members going in and out, without any staff and without any control over who touches what."
He isn't planning on going back to his old gym because The Perfect Workout, for him, is literally perfect!  In just 20 minutes, he can get a good strenuous workout. Something which took an hour and 15 minutes to accomplish back at his old gym.
20 Minutes, Twice A Week With A Trainer And He Feels Way More Energetic Than Before
After barely two months, John already felt like he had more energy than before. 
Each workout is a little different as Angela, his trainer, changes up the exercises and keeps the workout at an ideal intensity level.
Back at his old gym, he was doing the traditional way of weight lifting, doing three sets of 10 to 15 reps. Slow-motion strength training was completely new to him. 
"This is a lot more strenuous."
One thing that he really likes about the private setting is working out with the guidance of a trainer and the focused attention he gets on each exercise. 
"Back straight, drop your shoulders, engage your core, feet planted!" 
Previously, without a trainer, John admits he would normally stop when muscles were starting to fatigue.
"It was difficult to continue and push myself." But with the help of his trainers' coaching and encouragement, he's able to push more than he ever thought possible.  
"It's amazing that you can do so much more with somebody there." 
At The Perfect Workout, you get the value of coaching and undivided attention of a Personal Trainer, whether you train in the studio or virtually.
You can expect to get:
Personalized instruction and guidance on how to do each exercise

Safe

and

challenging workout

Adaptations to the workout depending on your ability, environment, and desired intensity level

Accountability, expert coaching, and a friend throughout your fitness journey

Guaranteed results
Get help from a Personal Trainer…