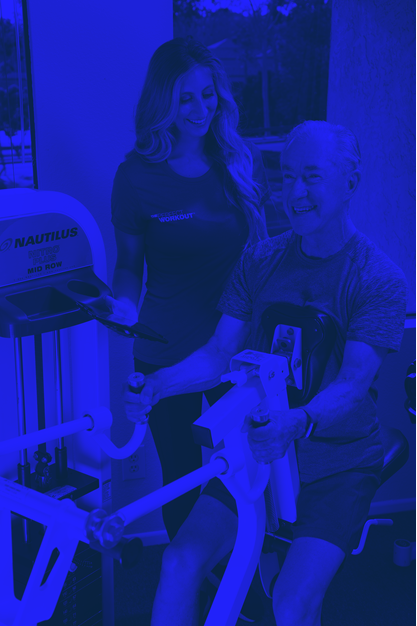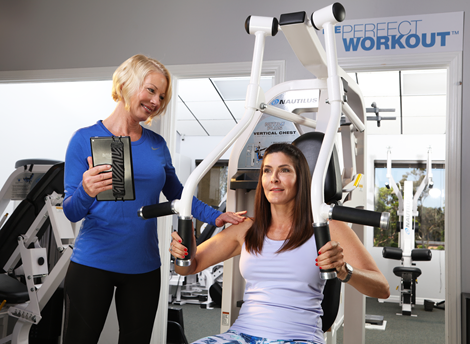 Redefining Exercise
At its core, slow-motion strength training involves lifting weights slowly, in a controlled manner, until you can't do another repetition.
This means that the targeted muscle group has reached momentary muscle failure. It may sound scary but the goal of virtually any strength training exercise is to achieve this result. If you've ever done multiple sets of the same exercise, you probably remember that the last set, and the last repetitions, were always the hardest – that's where you were reaching muscle fatigue, or muscle failure. The Perfect Workout just gets you there faster, which means better results in less time!
Benefits of Slow-Motion Strength Training
We train the entire body in just one session and on average, each workout consists of 7-9 focused exercises.
Training twice a week allows for more rest & recovery time.
Less time working out means more time for life in between your training sessions!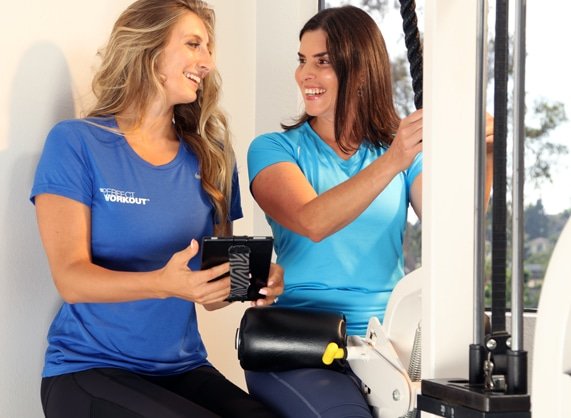 Redefine Your Body
Strength training redefines your body in many ways.
Muscle makes your body stronger, firmer and more defined.

Gaining muscle boosts your metabolism.

You burn more calories all day long, even while you are sleeping.

Strength Training + Healthy Nutrition = leaner, healthier body.
Remarkable Health Benefits
Slow-motion strength training does so much more than strengthen and slim down your body. This special method of exercise has been proven to produce other health benefits including: increased bone density and reversed Osteoporosis, improved Cholesterol levels, lowered Blood Pressure, reduced lower back pain, better sleep, decreased stress levels and more!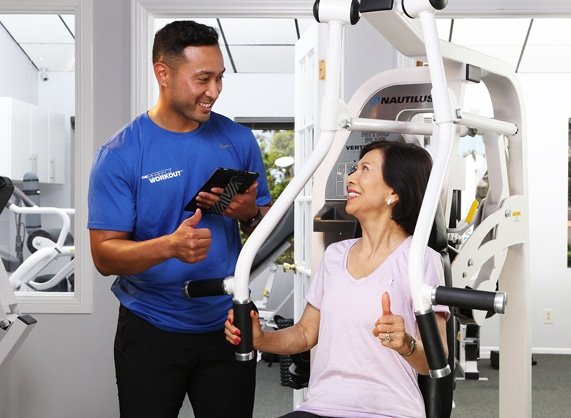 Exercise Safety
Slow-Motion Strength Training makes you stronger and keeps you safer than other Strength Training methods.
Exercising your muscles at a slow pace, under the supervision of one of our Personal Trainers, with virtually no momentum, reduces the possibility of common exercise-related injuries.
Decades of Research
The theories of Slow-Motion Strength Training have been around since 1982.
Slow-Motion Strength Training was originally designed at The University of Florida Medical School. This method was initially created to help Seniors increase bone density and has been scientifically proven to increase muscle mass, metabolism and many more benefits. The Perfect Workout has been using and improving these theories for over 20 years.
See the Results
Our thousands of loyal and happy clients can
attest to the benefits of strength training with The Perfect Workout.
For over 20 years we've helped young adults to seniors and everyone in between to change their bodies and enhance their lives inside and outside of the studio. Our clients are living proof that having a stronger, healthier body helps you become more active, enjoy more experiences and gives you more zest for life. Whether you want to improve your performance on the field, have more stamina during 18-holes of golf, play longer with your kids, or simply feel better in all your daily activities, The Perfect Workout can help. Getting stronger means feeling young, healthy and having more confidence in your body. And it starts at The Perfect Workout.
Nothing else I've ever tried works like this. To get the results I've gotten here, I'd have to go six days a week to a Jazzercise class. And after three years, I didn't see progress with Pilates. The Perfect Workout is just what you need, but not too much.
Vera Campbell
Del Mar Studio
Doing a 20-minute workout twice a week is so doable. And now I feel stronger everywhere. It's such a total body workout – everything is interconnected.
Sheri Pascual
Laguna Niguel Studio
After coming to The Perfect Workout for two years, I've reversed the effects of osteoporosis and my osteopenia is almost gone. This was in combination with taking calcium, but my doctor said it's rare to reverse it as much as I did. I no longer need the medication I was taking for bone density.
Susan Elmore
Carlsbad Studio
* Testimonials found at ThePerfectWorkout.com are the results that have been forwarded to us by users of The Perfect Workout program, and may not reflect the typical client's experience, may not apply to the average person, and are not intended to represent or guarantee that anyone will achieve the same or similar results. You should always perform due diligence and not take such results at face value. We are not responsible for any errors or omissions in typical results, information supplied to us by manufacturers or other reputable third parties. If a product or service is new, you understand that it may not have been available for purchase long enough to provide an accurate results history. Again, it is possible that even with perfect use of the program, you may not achieve the results described in testimonials. They are meant to showcase the results of particular clients using the program, and should not be taken as the results a typical user will get.