Retired and remaining strong, healthy & independent with QUICK workouts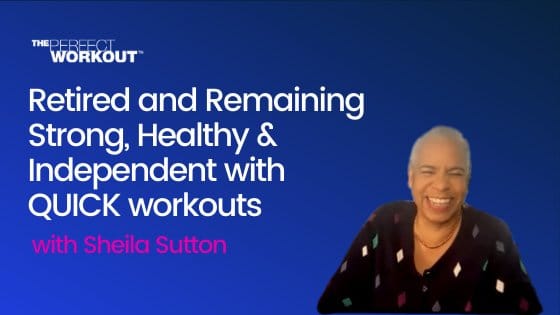 Have you ever felt your knees ache a little bit more than they used to?
Perhaps you get winded more easily while walking through the neighborhood.
Maybe getting up out of bed feels like a challenge these days.
Ever stopped to think… maybe this is just what getting older feels like?
At age 66, Sheila Sutton found herself facing that very question. With a nudge from a doctor, she found a way to stay independent despite her age.
Is This Supposed To Happen?
In early 2020, Sheila Sutton was working out at a big box gym 3-4 times a week. 
She was plugging away on the cardio machines and although she felt good, she lacked strength and felt off-centered. 
"My grandson who is 11 would run and jump at me and I would literally fall. I was off-center and if I missed a step it would be a big production."
Without much strength and balance, Sheila found it challenging to do simple movements like getting up off the floor or going up and down the stairs unassisted.
She even needed to take rest breaks while doing her hair.
"It was annoying. I'm 66 years old… is this supposed to be happening?"
Once the pandemic hit, one of her sons (a doctor) said the gym was too risky and recommended she give The Perfect Workout a try. 
Sheila lives in New York, nowhere near one of our Medical Fitness Facilities, so she tried a Virtual Intro Workout. It turned out to be a blessing in disguise.
At first Sheila was intimidated by the idea of working with a Personal Trainer. She'd never worked with an instructor and didn't know what to expect. Learn More
She was mostly skeptical about doing any exercises that required her to get up and down off the floor. 
She thought, "Wait a minute, who's gonna help me get up?"
But her Trainer listened to her concerns and her body's ability, and never rushed Sheila into any exercises she wasn't ready for.
Together, they worked consistently on her strength and balance… And one day she noticed a big change.
During one of her Personal Training Sessions, Sheila was getting up off the floor and without thinking about it she got up – without holding onto anything.
She said to her trainer, "Did you see what I did?! I never did this before!"
That moment brought Sheila to tears and left her feeling empowered. It made her want to do more for her body and her health. 
"I'm certainly going to do as much as I can to make my body perform the best that it can. I'm not ready for a chair or a scooter."
Accomplishments like those are indicators that independence is possible at any age. And they happen everyday at The Perfect Workout.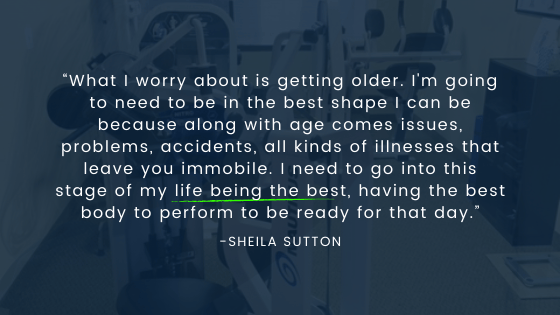 When Sheila looks into the future at the decades to come, she now feels safe.
"I feel safer. I'm not afraid."
She's looking forward to doing so much more now that she knows her body has the potential. 
Sheila isn't sitting still at 66. She's moving her body with confidence and every Virtual Training Session helps improve her strength and balance.
"What better way to have someone that's going to be there for you and show you proper technique and how to maximize your body performance. And do it in a safe way in your house."
Getting older doesn't mean you have to become dependent on others to help you get up from the floor. 
Want to move your body with more confidence and independence? 
Start with an Intro Workout, no matter where you live!