How she tripled her leg strength after total knee replacement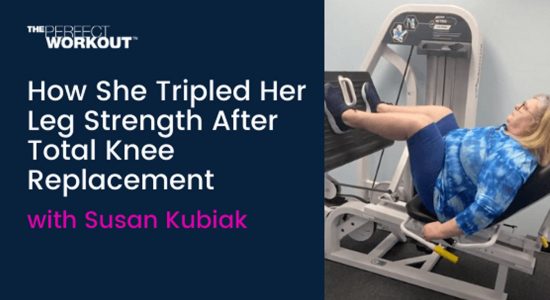 Total Knee Replacement can sound really scary to those who face it.
Major surgery. Painful recovery. And little certainty that everyday activities will get easier.
Susan Kubiak knew she needed an expert to help her beyond rehab. Read on for her journey of building incredible strength physically and mentally at The Perfect Workout.
Susan Kubiak was coming out of a total knee replacement in July 2019. After three and a half weeks in skilled nursing she transitioned to a formal rehab program to continue strengthening her knee. 
Once that program ended, Susan started looking at alternatives that allowed her to continue exercising twice a week with an instructor- two things that had worked for her during her 3 months of rehabilitation.
Susan researched big box gyms, Crossfit, personal training and her search ultimately led her to The Perfect Workout. 
"One of the things that was so attractive to me about it is that I had been using the Nautilus equipment for the leg press. That was an identical piece of equipment that I had used in my physical rehabilitation program. I was confident that that was a solid way to go."
"The other thing that I really like about the program is the ability for it to keep data. I really appreciate looking at that. It's highly motivating to me to see that I am making progress."
At The Perfect Workout we track the amount of weights that you're lifting so we can see your strength progress, but we track so much more than that. We also track:
Workout Settings:

Our staff keeps a detailed profile on your seat settings, modifications and overall program so you can get the same excellent workout with any trainer, at any of our locations.

Time under Tension: which is the amount of time spent on the exercise, and we use this as a benchmark to understand if it's time to increase resistance or scale it back
And other measurements such as body measurements, weight tracking, and before and after photos if its a method you're interested in… but no pressure from our Trainers!

This is a science-backed program and we want our clients to have access to this data to really understand what slow-motion strength training is doing for your body.
One of Susan's proudest achievements so far has been building up strength, particularly on her favorite machine… The Leg Press. 
When she left physical therapy, Susan was pushing 80 pounds (on the same leg press we use in the studio). Six months later, she is pushing 225 pounds. In that short amount of time she's been able to increase her strength by 280%. Impressive!
Now that she's proven her body won't let her down with this safe and effective method, the thing Susan is most proud of is her mental strength.
"You can be your worst enemy, if you will trust your head, your body will follow. I can physically perform these tasks in the right way with encouragement and education. I don't let my head get in the way of letting me down."
The trainers at The Perfect Workout have been able to help Susan create a stronger muscle-mind connection and it has left her feeling strong and empowered.


"The positive nature of the trainers and the background that they have is just so encouraging for me, and particularly in something that I'm not an expert in. They're the experts, I need their help. I need their guidance."

Susan recently celebrated her 66th birthday and feels like having an exercise program that allows her to perform strength training safely, but intensely is vital.
"And the science behind this is just incredible."