Personal Training Studio

Cypress/North Houston, TX
Would you like more help reaching your fitness goals? The Perfect Workout has private strength training studios across Texas, including Cypress/ North Houston areas. Just off Jones Road, near Crescent Moon Coffee Bar & Café is our semi-private location. We specialize in slow-motion strength training where Certified Personal Trainers ready to work with you! If you're in the Cypress and North Houston areas, join us for a learning session today and begin working towards your fitness goals.
12345 Jones Rd. #150
Houston, TX 77070

| | |
| --- | --- |
| Monday | |
| Tuesday | |
| Wednesday | |
| Thursday | |
| Friday | |
| Saturday | |
Trainers At This Studio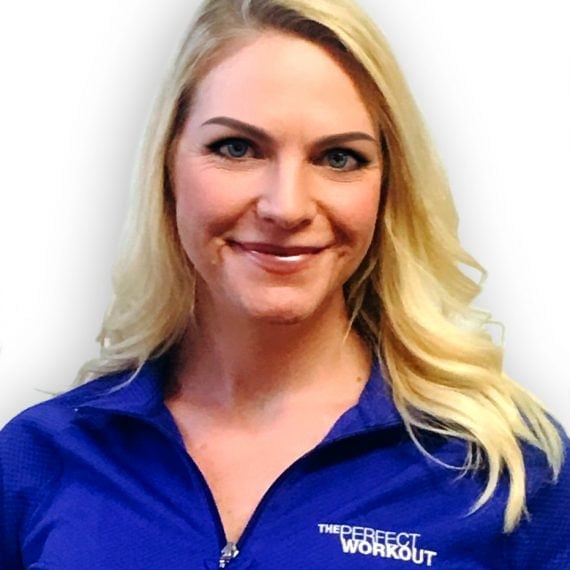 Liz Talavera
Facility Manager
Personal Trainer at:
Cypress/North Houston, TX

Liz's passion for health and fitness started at the young age of 8, making up dance and fitness routines in her living room. At the age of 10, she had her first set of dumbbells, and it just went on from there. She was always fascinated with the mechanics of the human body, and how nutrition and exercise affect it. Not surprisingly, in college, she studied Kinesiology, Nutrition, and Exercise Science and taught fitness classes.
Today, Liz is a busy wife and mother of three very active boys. Her strong desire, passion, and drive for success in the world of fitness helped Liz achieve her goal of becoming a certified Personal Trainer through the National Federation of Personal Trainers and The Perfect Workout. This has given her the skills and knowledge to help her coach her clients through performing advanced exercises more safely and effectively.
In Liz's pursuit to put her Personal Trainer certification in effect, she immediately began teaching exercise in group fitness classes and even competed in a fitness competition. It wasn't until she found The Perfect Workout that she felt like she found the environment that matched her skills and desire to impact clients 1-on-1. After a month of interviews, Liz was hand-selected to join the Dallas team of trainers.
She began her journey as a Personal Trainer in the Park Cities studio and was promoted a year later to the West Plano studio. Liz was a natural fit to coach clients 1-on-1. "I grasped it right away." In fact, the semi-private setting was the exact type of environment Liz had in mind when she entered the field of fitness. "I love being able to build relationships with my clients. It's an honor and so rewarding being able to help people feel better, reach their health and fitness goals and enhance the quality of their lives."
Slow-motion strength training has enhanced Liz's life as well. "I have become significantly stronger since incorporating the slow-motion method." Getting trained by her fellow trainers, alongside Intermittent Fasting has actually helped Liz lose 25 pounds! "I am the most confident I have ever been and I get to share these tools with people every day."
Teaching her clients the importance of safe strength training and proper nutrition ignites so much joy for Liz. One of her most memorable clients was in West Plano. This client hadn't weighed under 300 pounds in over 15 years. She and Liz worked hard on her consistent workouts and nutrition until she reached her goal. "The day she stepped on the scale and weighed 298 pounds … I'll never forget it."
After a year and a half of being the West Plano Manager, Liz and her family moved down to the Houston, Texas area. Luckily, The Perfect Workout has studios there and Liz was able to continue training clients and leading trainers in The Woodlands location where she remains today.
Being a natural leader, Liz has goals to keep growing and being a role model for her kids, trainers and clients. She hopes that her example will spark success in her studio and will help the development of her trainers.
Liz is always reaching to become the best version of herself so she can help pave the same path for others. "I want to continue managing and hopefully be a Regional Manager one day. I also plan to study functional nutrition and pursue becoming a nutritionist so I can help my clients even more."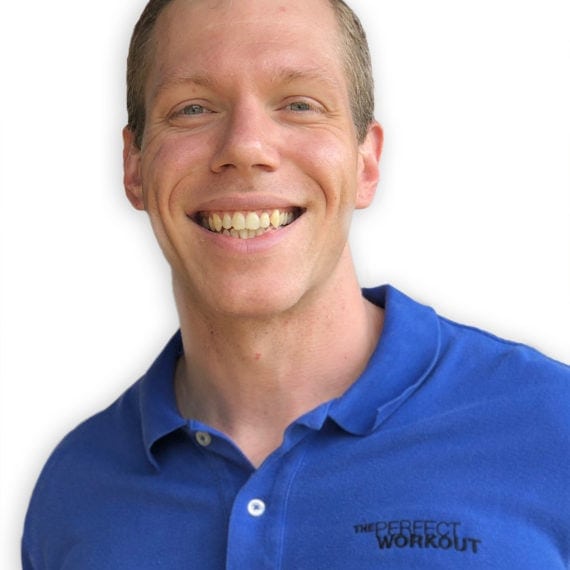 Nick Shorter
Personal Trainer
Personal Trainer at:
Cypress/North Houston, TX

Nick Shorter has always been active and immersed in fitness. In college, Nick studied Kinesiology, played basketball and lifted weights. He fell in love with strength training and spent time learning more about exercise science and its positive effects. He loved the feeling of beating his personal bests when it came to lifting weights, but didn't feel that the gym was as supportive of an environment as it could be.
Nick's wife Keisy had become a part of The Perfect Workout and after seeing the family-like culture of the trainers, he too followed in her footsteps. Once he completed his extensive Personal Trainer certification, Nick joined the River Oaks studio and ultimately transferred to Cypress where he trains today.
Knowing that Nick gets to make a difference and really listen to his clients is critical to their success together. "Active listening is a vital part of my time with clients. When I understand their wants and needs, I can truly customize a workout to them and their goals."
A big personal benefits Nick has seen from slow-motion strength training is that he gets to spend more time with his family now that he's not in the gym all the time. His training combined with changed eating habits has rewarded him with a new slimmed down look -- and his family always comments on how lean he's gotten!
Having been a longtime student of exercise and nutrition principles, Nick feels like he's at home with The Perfect Workout. It's the perfect place for him to help others work through their health and fitness obstacles. He looks forward to coach even more clients on their own personal health and fitness journeys in only 20 minutes, twice a week!
When Nick is not in the studio, he's spending time with his wife and two sons. Whether it be playing baseball, reading, listening to music, or playing dragons and monsters with his boys
Chaiyo Thomas
Personal Trainer
Personal Trainer at:
Cypress/North Houston, TX