Amy Rehkopf
Amy is a San Diego native, a devoted surfer, and athlete. You can always find her outside, enjoying nature and finding an adrenaline inducing activity! Her active lifestyle has instilled in her a passion for fitness.
However, growing up, she didn't see the health and fitness industry as a potential career, similar to The Perfect Workout's Founder, Matt Headman! As a child, her dream was to become a dolphin trainer. She focused her schooling on achieving a degree in psychology, has worked in many different animal care settings and finally landed her dream job! She interned with the U.S. Navy Marine Mammal Program for one year training dolphins and sea lions. Although she loved many aspects of it, she realized it wasn't what she wanted to do for the rest of her life.
At the same time this awakening moment occurred for her, she had another realization. If she wasn't on top of her fitness, her health wasn't where she wanted it to be, she gained unwanted weight and had brain fog!
She dedicated her time and energy to prioritizing her own health. She understands the importance that maintaining her own health first and foremost will allow her to continue doing the activities she loves, to live to her fullest potential and to be more present
for others in her life.
Her favorite quote from Jim Kwik is, "Self-care is not selfish!" She made it her mission to learn new things every day, to develop better brain health, to make healthier nutrition choices, and to maintain her fitness regularly.
When Amy discovered slow-motion strength training and first heard the idea that you can reshape your body in just 20 minutes, twice a week, she was a bit skeptical. However, after learning the science behind the method and trying it herself she was blown away! After only three weeks of working out twice per week, she saw strength and energy gain, she was more mentally focused, she was more toned, and she noticed an improvement in her surfing!
Now, Amy can't imagine working out with any other method! Amy loves to share how strength training will not only aid in your weight loss goals but is one of the best forms of exercise you can do to maintain brain health, strengthen your cardiovascular system, strengthen bone density, and even produce myokines that help reduce inflammation and fight cancerous cells!
Amy realized many other people find it hard to prioritize their own health in this busy world. She decided to make a career change where she can have an impact on other peoples lives and even make a difference in the world. She searched for a position in the fitness industry, and she found The Perfect Workout.
Amy went through a rigorous 6-week Personal Trainer Certification and was welcomed to join the Carlsbad team. She has taken on the role as a personal trainer with grace and has developed great bonds with her clients, helping them achieve their health and fitness goals.
One of her clients needed a knee replacement surgery and continued with their workouts all the way up until the surgery. The client reached out to Amy two weeks after the surgery and said the strength training played a huge role in their recovery, they were thankful for Amy's training and couldn't wait to return. This client loved to golf and take long walks, but these activities were difficult before the knee surgery. Amy was overjoyed to help her client get back on the golf course, achieve these goals and to live their healthiest life.
Amy's goals are to continue growing with The Perfect Workout to be the best personal trainer she can be, to learn new things every day and to be a kind, present and supportive wife to her husband. She is eager to meet you and help you reach your health and fitness goals!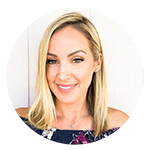 Jordan Thomson is passionate about fitness and helping others live sustainably healthy lives. Jordan joined The Perfect Workout in 2013 as a Personal Trainer in Newport Beach, CA. Since then she has helped expand our company with new studios in Chicago, IL and led teams of trainers in Philadelphia as well as Los Angeles. Now she serves as a creative mind within the Marketing team to help spread our mission to revolutionize the way people exercise.