Brennan Giffin
Brennan Giffin grew up in New York City where he started wrestling and playing football at a young age. When he was in high school he moved to the Chicago suburbs and became a stand out in wrestling eventually competing at the National and International levels.
After high school he enlisted in the Air Force where he spent the next 4 years competing for the All Air Force wrestling team as well as working in a maintenance career field. Eventually he was selected as his Squadrons Physical Training Leader, he was responsible for keeping his fellow service members "fit to fight".
When his competitive career ended due to injury his passion for competition transitioned to a passion to coach and teach others what he had learned. Through lots of trial and error as well as the knowledge learned through his Personal Trainer Certification, he has worked towards improving clients quality of life through exercise and nutrition.
Brennan moved to San Diego shortly after separating from the Air Force in pursuit of a healthier lifestyle and finish his degree in exercise science. He wants to start getting involved in the local community and coach wrestling while training at The Perfect Workout.
"The Perfect Workout welcomed me with open arms and has become an extension of my family. I only wish I had found this company sooner. The workout you get with us has a tremendous positive impact on your health and well being! I am ecstatic to get to know all of our clients and help push them to be the best version of themselves."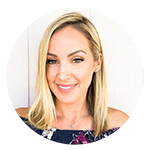 Jordan Thomson is passionate about fitness and helping others live sustainably healthy lives. Jordan joined The Perfect Workout in 2013 as a Personal Trainer in Newport Beach, CA. Since then she has helped expand our company with new studios in Chicago, IL and led teams of trainers in Philadelphia as well as Los Angeles. Now she serves as a creative mind within the Marketing team to help spread our mission to revolutionize the way people exercise.