Exercise equipment: what you need to know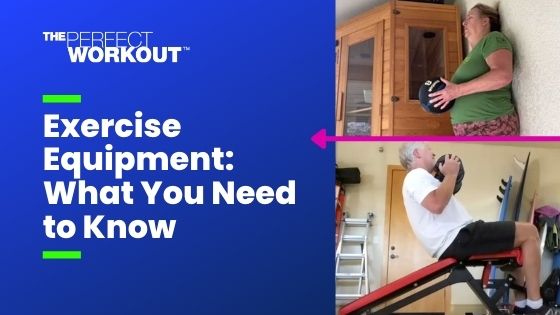 What Exercise Equipment is Recommended and Why
With over 40,000 case studies and over 20 years of service, we have plenty of experience customizing workouts for unique situations. Providing the safest and most effective exercise variation is a big part of our 1-on-1 private training.
While fitness equipment isn't necessary, there are four tried-and-true pieces of equipment that can be useful for unique situations:
What Are Resistance Bands Used For
A better question is: What AREN'T resistance bands used for?!
Resistance bands are incredibly versatile, especially if you don't have actual weights. They can also be used to make an exercise more or less intense.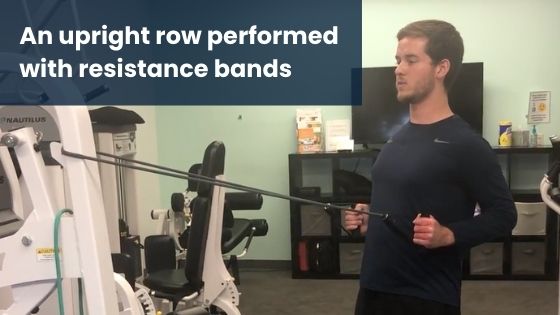 For instance, if you struggle with push-ups, your trainer might have you secure one end of the resistance band over the top of a door as an anchor, then loop the other end of the band over your body as you get into push-up position.
With the resistance band looped around your body, the tension from being attached to the door will cause the band to support you and make the bottom half of the push-up easier.
Or maybe push-ups are too easy for you!
If that's the case, resistance bands can also be used to make exercises more challenging. You would just grip the resistance band in both hands as you do the exercise, making sure the band is across the back of your shoulders.
The upper range of the push-up gets more challenging when you do a push-up with resistance bands like this.
What Are Dumbbells Used For
Also known as hand weights, dumbbells provide more resistance when you want to make an exercise more challenging.
They range in weight and can be made out of cast iron or concrete, sometimes coated in neoprene, rubber, or a plastic casing.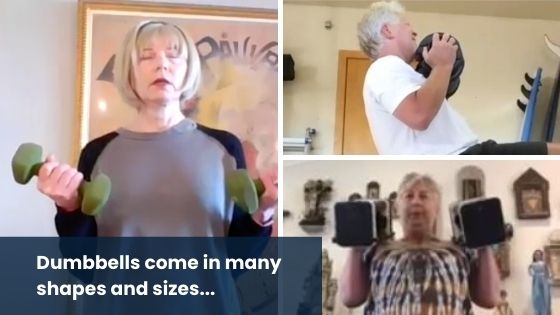 Compared to an entire barbell, dumbbells are especially useful for isolating specific muscles. With a barbell or machine, you might run into a situation where you're gripping with both hands but one side is definitely carrying most of the weight. With dumbbells, one side can't overcompensate for the other.
What Are Mini-Exercise Balls Used For
Mini-exercise balls can be easy to underestimate. "I mean, they're just a ball, right?"
Wrong! They're GREAT for balance and stability.
But what does that mean for your workout and your results?
It's another way to provide structure for your form. When you focus on stabilizing an area of the body, you're able to contract specific muscles more effectively.
More contraction = more intense.
More intense = more efficient and effective workout.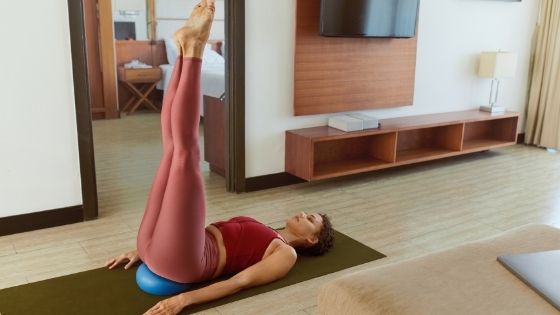 Maybe you're someone who struggles to keep your knees aligned with your toes on a wall squat. In that example, your knees might cave in or push out – causing the exercise to lose effectiveness as the muscle contraction moves to other unintended parts of the body.
Your trainer might have you put an exercise ball between your knees to help train your body to stay aligned.
This would force your knees to keep a certain position which allows you to stop worrying about what your knees are doing and just focus on squeezing your glutes and pushing through your heels.
What Are Exercise Benches Used For
Similar to our favored Nautilus machines, exercise benches stabilize the body and help structure it in a way that reduces risk of injury.
"Okay, but doesn't a chair accomplish the same thing?"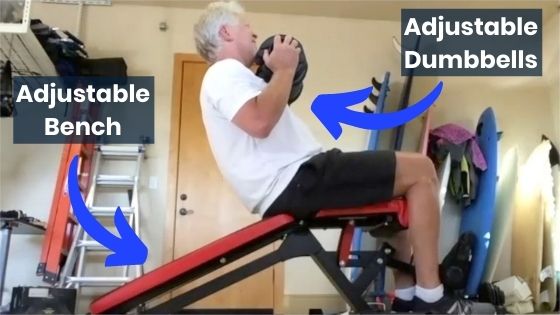 With a chair, couch, bed, or table, you'd probably have to grab several pillows to get a similar angle with less stability.
You can easily adjust incline for the seat back with an exercise bench or weight bench and be confident you won't fall over with a tower of pillows. 😉
Another perk of an exercise bench is it provides a sturdy, flat surface a little higher from the ground for those who struggle getting up and down from the floor!
Just reading about the different types of equipment might make you feel inspired to try a new version of an old exercise.
Our Certified Personal Trainers know there are limitless ways to customize your workout. They'll choose an exercise variation based on your goals and medical needs to find the safest and most effective version every time.
No matter where you are or what fitness equipment you do or don't have, you can always get in a great workout.
Read more about what exercise variations you can do with different levels of equipment here.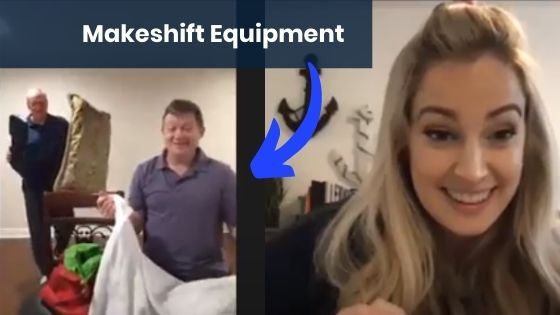 If you felt inspired to try a new exercise, or if you've been dying to get some trusted equipment for yourself…
Be sure to check out our recommendations today!
Exercise equipment is in high demand and availability is extremely limited, so we recommend taking a look ASAP.
Consider setting alerts on your phone or subscribing to restock notifications from the seller and check back often if you run into items being out of stock.