Strength training helped this dancer stay in control of her health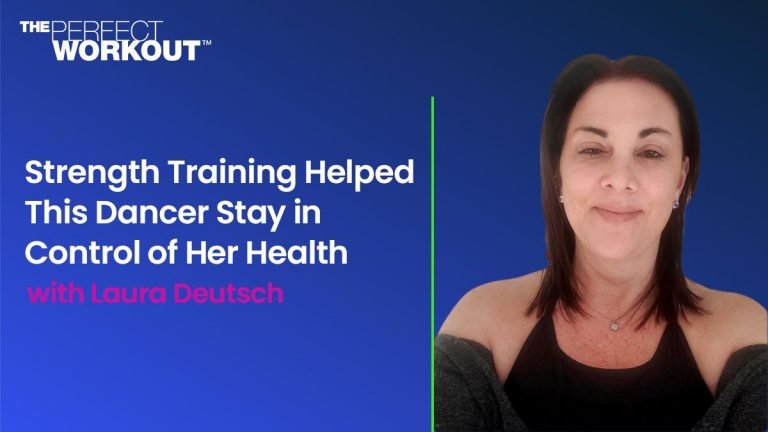 Laura Deutsch has been a professional dancer since she was 15 years old. For decades it felt like it was all she needed to do to stay in shape. But after three children, working full time, and teaching dance, it didn't do much for her body anymore. 
Then she was diagnosed with Type II diabetes. And she decided she needed to find a better way to lose weight, get stronger, and feel healthier.
Now, she's 34 pounds down and has found her lifelong solution to stay in shape, live a healthier lifestyle, and be able to keep up with her passion for dance.
In July, 2019 Laura joined the Wilmette studio at The Perfect Workout. Now, slow-motion strength training is the only thing besides dance she's been able to stick with. 
She enjoys the brief, intense workouts and loves that she can fit them into her work schedule. The intensity of the workout and the muscle success she achieves strengthens her entire body so that she can continue to pursue her passion of teaching dance and not injure herself.
As a dancer, one thing that Laura loves about her workouts is she gets the mind-to-muscle connection.
"When you're doing it, you have to focus on what you're actually doing. So I feel like it's meditative, because it's not just throwing your body around and burning calories. It's a very specific, targeted exercise, and that's good for my mind and body."
The biggest thing she values about the slow-motion training is there is virtually no impact on her joints.

Being a dancer and dance teacher, injury prevention is very important to Laura. After all, if she gets hurt – neither of those things are possible for her. So for someone her age who cares about efficiency and safety, this workout is perfect for her. 
"I like that there's no jumping, there's no landing, there's no fall that could go wrong. You can't really make a mistake at The Perfect Workout. And for me at this age, I can't afford mistakes."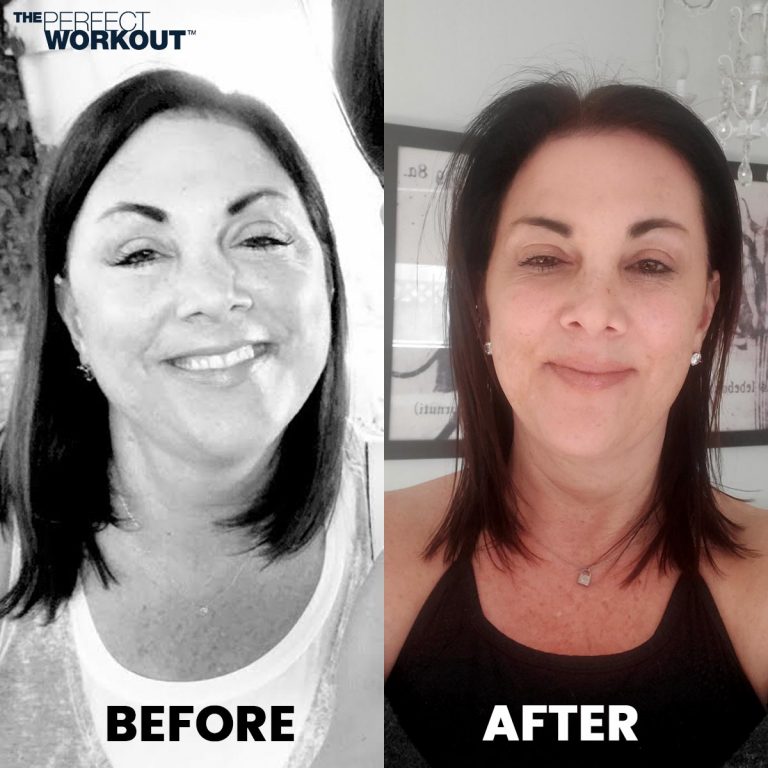 After getting diagnosed with diabetes, Laura wanted to improve her overall health at The Perfect Workout and because of that, she's since lost 34 pounds.
"I was diagnosed with Type II diabetes. And I think this is a really good workout for that particular problem, because there is a cardio aspect but it's not hyper fatiguing to the point where my blood sugar gets off."
Although she lost the weight as a necessity for controlling her diabetes, that wasn't the only motivation that helped her continually progress toward her goals.
Having the accountability of an appointment with another person and being weighed and measured help her stay on track. 
Besides dropping over 30 pounds, Laura has also gotten stronger, more slim, and has more energy and stamina throughout her day.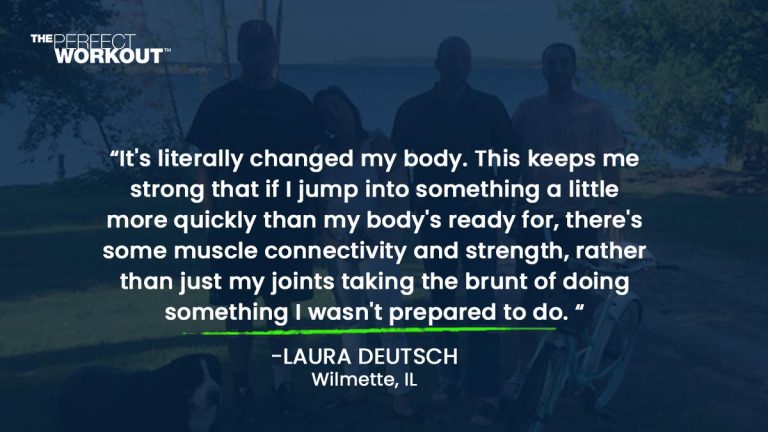 The Trainers Are Good at What They Do
"I would recommend this to people 100% because you do have a trainer and you're told exactly what to do. It does not take a learning curve. It just takes a good trainer. And they're very good at what they do."
Laura trains with two different trainers on average and loves the variety she gets from each of them. In fact, she doesn't think she would work with just one person because she likes that she gets something different in her sessions: different exercises, different approaches to intensity, and of course different coaching personalities. 
You might think- well doesn't that compromise continuity in her training? Nope.
Each trainer at The Perfect Workout goes through the same certification and uses the same science-backed methodology. Each keeps it safe, effective, and efficient, but brings a unique style and coaching to their clients.
Another way we are able to stay consistent workout to workout and trainer to trainer is each client's information including workout progress, adaptations, and goals are updated each workout and stored privately in their secure profile.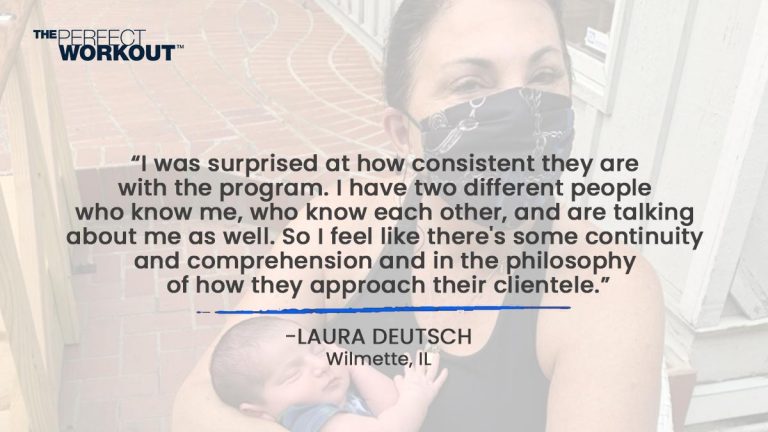 "I think it's the kind of workout that makes sense in a busy working woman's life. With three kids, I have a lot going on. I can leave work when I have an hour lunch, and I can get there, put the shoes on, do the 20 minutes, get back to work, eat a snack, and teach my class and it's doable. 
I'm gonna stick with it."
Need a workout that fits in your schedule? Try a workout today.