Can Strength Training Help You Live Longer And Pain-Free?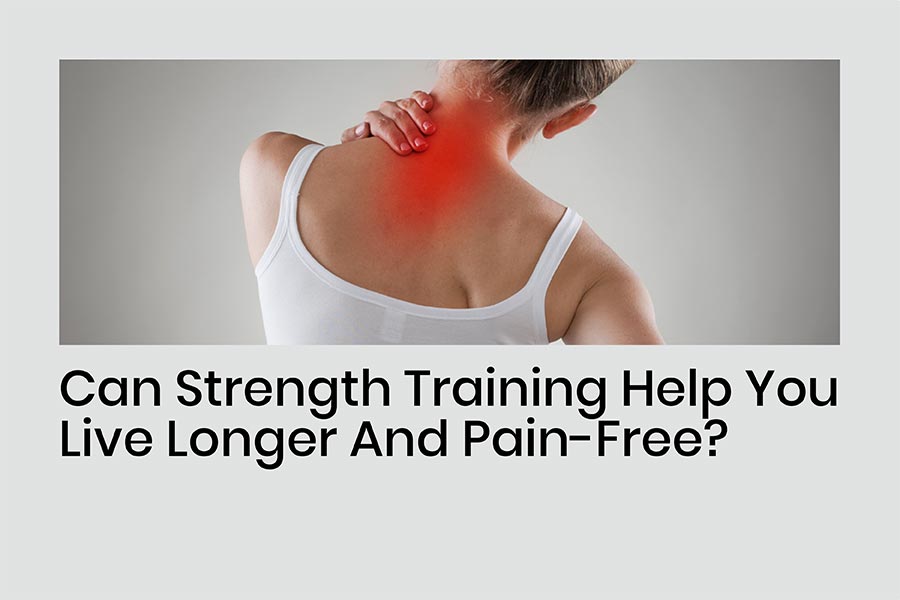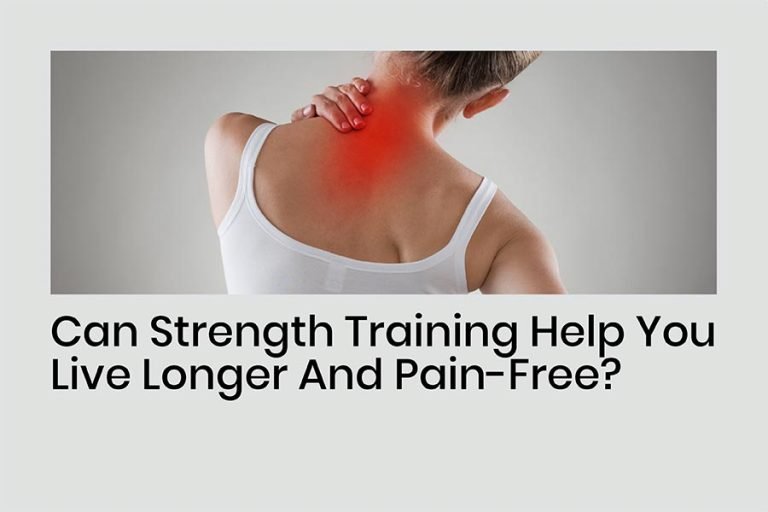 Accepting illness and physical deterioration used to be the norm because we just didn't know any better. It was all just a part of getting old. 
But now that we know better, we can do better. Our health is in our control even as we age.
The same is true for health. Pain, independence, and premature death are common age-related concerns for many adults. These concerns, though, are just that: concerns. They aren't guaranteed. 
In fact, there are specific approaches you can take to avoid these side effects of aging. In this article, we'll address how strength training is one of those approaches.
The Most Common Age-related Concerns that can be avoided with Strength Training
According to the CDC, 49.6% of seniors have diagnosed arthritis. This produces a number of side effects, which can vary depending on what joints have arthritis. Common side effects are issues with walking form, limited range of motion, limited function, disability, and pain.
About one in every 14 seniors require personal care assistance, according to the CDC. About one in every six adults age 85 years and older live in a nursing home. 

The loss of independence is due to a few factors. Arthritis and other sources of pain limit physical abilities and could lead to relying on others. Strength is one of the biggest factors in determining how well we can physically function.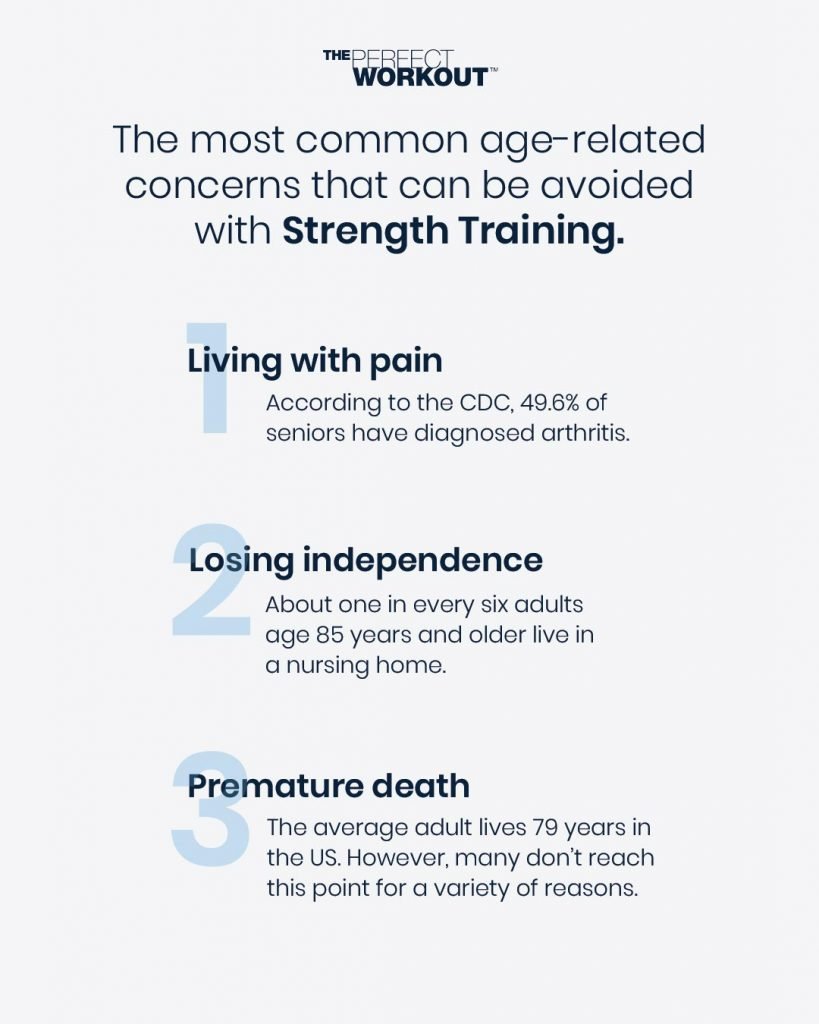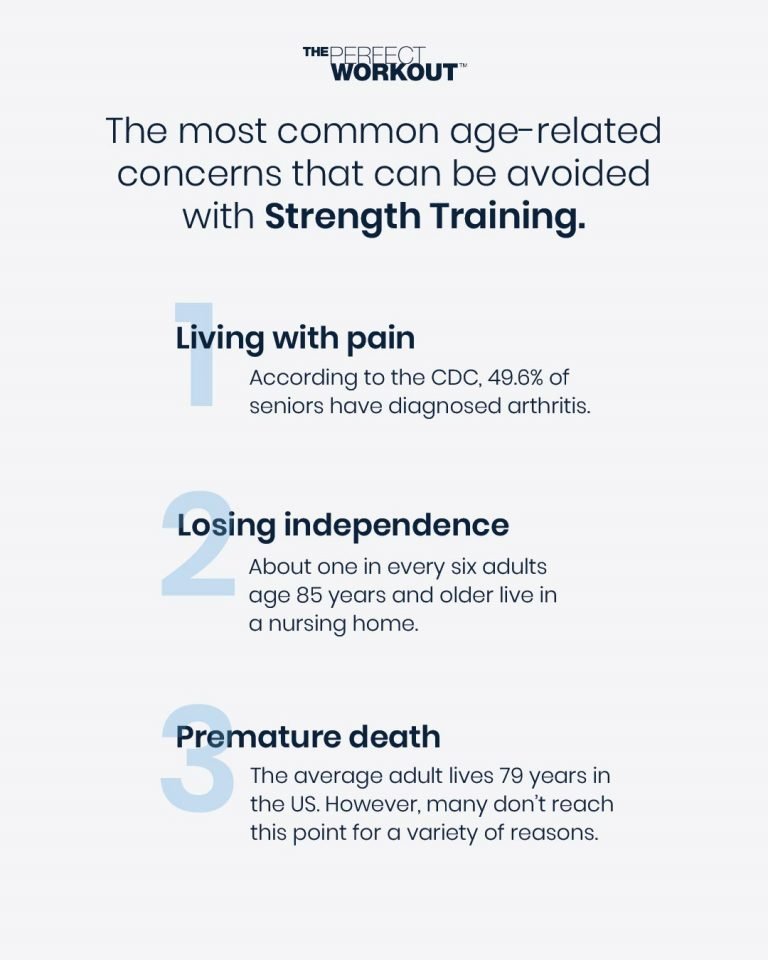 We lose about 3-8% of our strength per decade, which adds up when reaching our older years. Independence is also lost when major injuries occur and the individual never fully recovers. 
About a third of older adults suffer at least one fall every year. The CDC states that 20-30% of falls lead to injury. Some injuries, such as hip fractures, lead to the permanent loss of independence
The average adult lives 79 years in the US. However, many don't reach this point for a variety of reasons: 
the onset of chronic disease, a lack of exercise and overall movement, and many other reasons. 


(If you're reading this and are thinking, "This is bringing me down." …keep reading. There's a happy ending.)


As noted at the beginning, you have a lot of control in what happens with your life. You can take actions to improve your health and longevity. Starting and maintaining a strength training program can prevent or decrease pain, maintain independence, and lengthen your life.


Don't take our word for it, though. Let's look at the research:
Arthritis/Pain. A few months of twice-weekly strength training substantially reduced arthritis pain, disability, and improved joint range of motion. Training also led to big improvements in strength for the muscles that support the arthritic joints.
Fall Risk. A research review which included over 100 studies showed that strength training decreases the risk of falls for older adults.
Physical Functioning. As little as 12 weeks of strength training can increase strength and balance in adults between 85 and 97 years old! The increase in strength translates to greater ease with general daily activities: walking long distances, walking upstairs, carrying groceries, etc.
Longevity. People who strength train are more likely to live longer lives. A 15-year study of adults 65 years and older showed that strength training at least twice per week was connected with a 46% reduced risk of death. In other words, strength training was linked to one in every two adults living a longer life.
He was depressed, overweight & in Pain. Now, He's conquering 500 mile bike rides- pain free In between choir sessions, scuba excursions and 500+ mile bike rides
Read More »
If you take anything from this article, remember this: many side effects of aging are optional. You have control over how you age. You also have an influence on how long you live. 
As the research showed, strength training twice a week can reduce pain, enhance overall function, add strength, build balance, reduce the chances of falling, and might increase your life expectancy.
With slow-motion strength training, we can revolutionize the way people exercise… and live! Share with a friend today,
New to The Perfect Workout? Get a FREE Introductory Session.
Baker, K. R., Nelson, M. E., Felson, D. T., Layne, J. E., Sarno, R., & Roubenoff, R. (2001). The efficacy of home based progressive strength training in older adults with knee osteoarthritis: a randomized controlled trial. 

Journal of Rheumatology

, 28, 1655–166.

Cadore, E. L., Casas-Herrero, A., Zambom-Ferraresi, F., Idoate, F., Millor, N., Gómez, M.,…& Izquierdo, M. (2014). Multicomponent exercises including muscle power training enhance muscle mass, power output, and functional outcomes in institutionalized frail nonagenarians. 

Age

, 

36

(2), 773-785.

El-Khoury, F., Cassou, B., Charles, M. A., & Dargent-Molina, P. (2013). The effect of fall prevention exercise programmes on fall induced injuries in community dwelling older adults: systematic review and meta-analysis of randomised controlled trials. 

Bmj

, 

347

, f6234.

Foroughi N., Smith  R. M., Lange, A. K., Baker, M. K., Fiatarone Singh, M.A.,  & Vanwanselle, B. (2011). Lower limb muscle strengthening does not change frontal plane moments in women with knee osteoarthritis: A randomized controlled trial.

Clinical Biomechanics

, 26, 167-174.

Kraschenewski, J. L., Sciamanna, C. N., Poger, J. M., Rovniak, L. S., Lehman, E. B., Cooper, A.B., … Ciccolo, J. T. (2016). Is strength training associated with mortality benefits? A 15 year cohort study of US older adults.

Preventative Medicine

, 87, 121-127.

Serra‐Rexach, J. A., Bustamante‐Ara, N., Hierro Villarán, M., González Gil, P., Sanz Ibáñez, M. J., Blanco Sanz, N., … & Lucia, A. (2011). Short‐term, light‐to moderate‐intensity exercise training improves leg muscle strength in the oldest old: a randomized controlled trial. 

Journal of the American Geriatrics Society

,

59

(4), 594-602.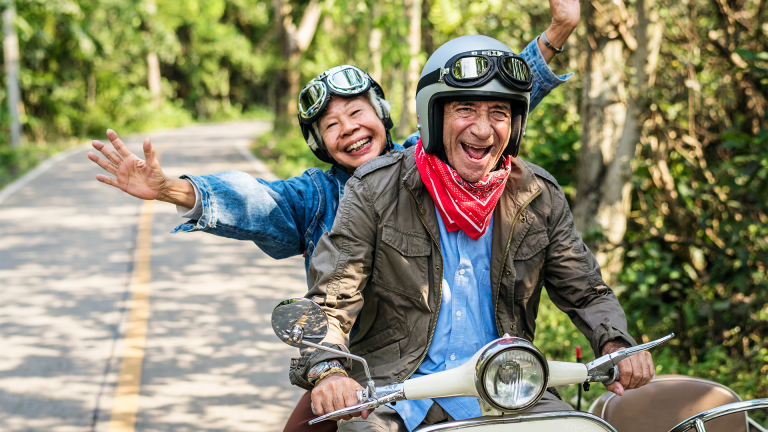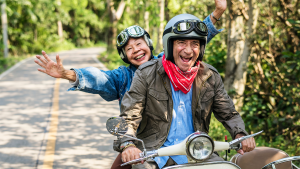 We're shining a spotlight on an often-overlooked yet scientifically-proven key…
Read More »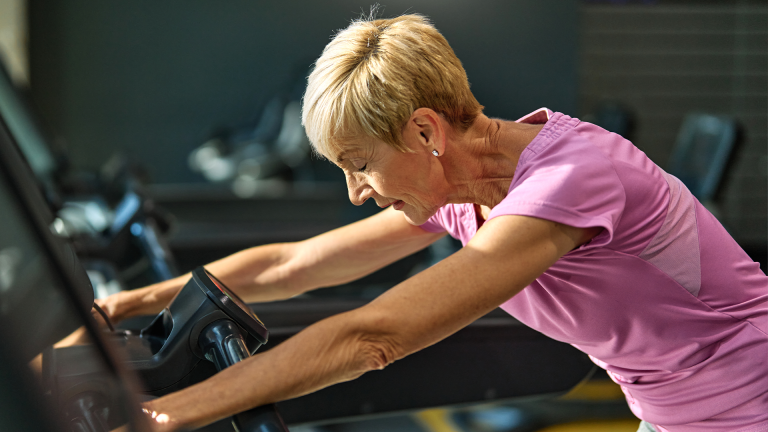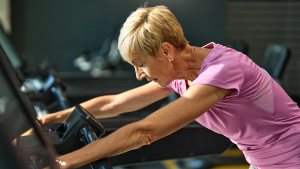 Living with elevated cortisol levels can feel like a battle against your own body…
Read More »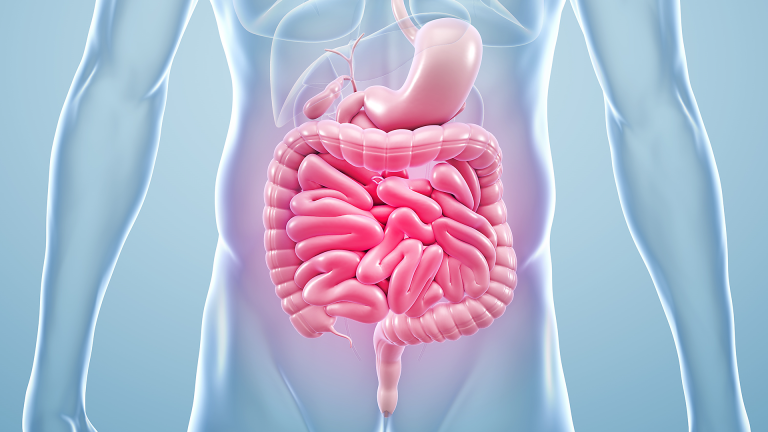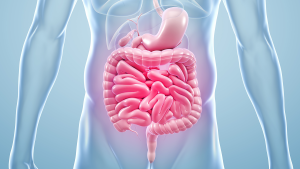 Did you know, your gut is home to over 1,000 bacterial species…
Read More »