Strength training for Parkinson's disease: Slowing the Progression
By Jordan Thomson | Updated 02/22/23
Due to high-profile cases in recent decades, the US is very aware of Parkinson's disease.
Celebrities like Michael J. Fox, Ozzy Osborne, and late icons Muhammad Ali and Johnny Cash are a few of the famous names who were/are inflicted with the disease.
In the US, 60,000 new cases of Parkinson's are diagnosed annually.
While Parkinson's is not terminal, symptoms can significantly affect the individual's quality of life.
Research has shown exercise, strength training, in particular, can improve symptoms and slow the progression of Parkinson's disease. Keep reading…
What is Parkinson's Disease?
Parkinson's disease is a central nervous system condition that causes tremors and affects bodily movements.
Dopamine levels diminish as a result of nerve cell destruction in the brain, resulting in a slew of symptoms.
This disease manifests by disrupting physical abilities:
Causing tremors
Postural instability
Slow, rigid movement
Those diagnosed with Parkinson's often suffer from:
Debilitating fatigue
Strength loss
Accelerated muscle atrophy
Muscle atrophy already accelerates after the age of 25, where individuals without Parkinson's can expect to lose anywhere from a pound to a pound and a half of lean muscle every year on average, so you can imagine how adding Parkinson's to the mix is particularly troublesome.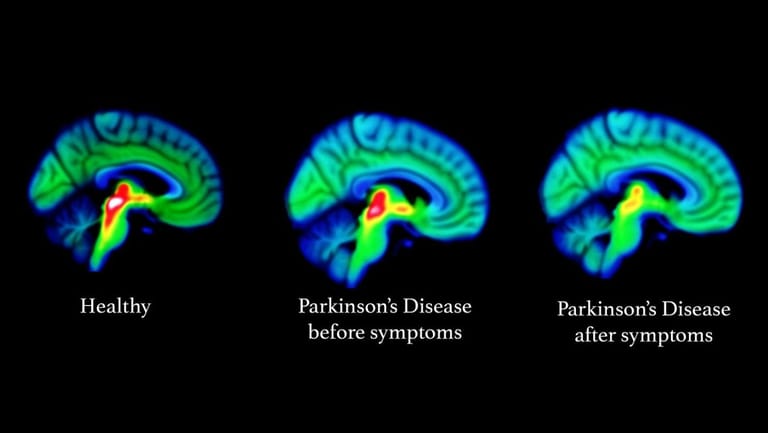 Strength Training as a Treatment
Currently, there is no cure for Parkinson's. With that in mind, science has focused on ways to improve the quality of life for those with the disease.
Among the proven treatment options is something we know well: strength training.
Strength training reverses some of the physical effects of Parkinson's and can possibly match the physical ability of Parkinson's sufferers to that of those without the disease.
Physiological Improvements
Physical improvements for Parkinson's patients are demonstrated by a few studies, most notably research from the University of Alabama at Birmingham. In a four-month study, 15 patients exercised in a full-body strength training workout three days per week.
The routine featured some of the familiar exercises we do at The Perfect Workout, including the leg press, chest press, and lat pull-down. The researchers measured a number of physiological and functional areas at the start and end of the study.
The strength training program was successful in reversing a number of areas generally affected by Parkinson's.
The participants improved their strength by at least one-third in all major muscle groups. Muscle size increased, including a 36% improvement for fast-twitch muscle fibers (the fibers most responsible for performing challenging tasks).
The trainees were able to walk an additional 140 feet in a six-minute walk test, indicating better endurance, walking speed, and walking ability. Imagine being able to walk another 140 feet during a grocery trip or vacation with family!
Balance on one leg improved by 34%, meaning the people with Parkinson's were able to stand longer on one leg and were less likely to experience a fall.
The most profound result was from the standing test.
The standing test in this study showed how many muscle fibers were needed for the Parkinson's sufferers to stand from a seated position. At the start of the study, standing required a near-maximum effort (90% of muscle fibers). Imagine that: needing nearly all of your strength to stand from a chair.
At the end of the study, only 60% of muscle fibers were used to perform a stand. In other words, standing became much easier.
In fact, those with Parkinson's disease used the same amount of effort to stand after the training program as people the same age who did not have Parkinson's!
The Parkinson's Foundation recommends doing exercises to improve balance. Some simple at-home exercises include:
Walking heel to toe
Side leg raises
Wall pushups
Marching in place
Resistance exercises can also help to improve strength and balance overall.
A 2014 study noticed an increase in balance (and a lower rate of falling) during 12 weeks of strength training when compared to the months prior to training.
In another study, researchers from the Netherlands and Belgium assessed 28 studies using strength training or various types of activity to see what practices are effective for reducing falls and fall risk factors.
Twenty of those studies focused on strength training. The research shows strength exercises also led to improvements in walking speed, static balance, and balance while moving.
Parkinson's at The Perfect Workout
Many of our members have been able to improve their conditions at The Perfect Workout, including Parkinson's.
One of our members, Sandie from McGaheysville, VA has early-onset Parkinson's. She has days where she experiences more stiffness in her joints than others. Her trainer Melissa works with her as a team to assess how her body feels on each exercise.
"We're able to adapt each workout based on her energy level or her level of feeling, stiff joints or not. And she knows that no matter what by the end of the workout, she feels much stronger and she feels that that has helped her with some of her symptoms."
To learn more about exercise's role in slowing Parkinson's disease progression, enjoy this presentation from Daniel M. Corcos, PhD, professor of Physical Therapy and Human Movement Sciences at Northwestern University. Dr. Corcos answers many of the questions about how to combat Parkinson's disease through progressive resistance exercise and endurance exercise.
Strength Training for Parkinson's … It Helps.
As a whole, strength training improves muscle strength, muscle tissue, endurance, walking ability, balance, and the effort needed to perform daily activities for those with Parkinson's.
With this in mind, strength training is an excellent option to help stop or reverse the physical and functional effects of Parkinson's disease.
If you would like to learn more about our method of strength training, read about our methodology. If you are new to The Perfect Workout, try a workout with us and start with a FREE Introductory Session.
Cadore, E. L., Casas-Herrero, A., Zambom-Ferraresi, F., Idoate, F., Millor, N., Gómez, M.,…& Izquierdo, M. (2014). Multicomponent exercises including muscle power training enhance muscle mass, power output, and functional outcomes in institutionalized frail nonagenarians. Age, 36(2), 773-785.
De Kam, D., Smulders, E., Weerdesteyn, V., & Smits-Engelsman, B.C. (2009). Exercise interventions to reduce fall-related fractures and their risk factors in individuals with low bone density: a systematic review of randomized controlled trials. Osteoporosis International, 20, 2111-2125.
Kelly, N. A., Ford, M. P., Standaert, D. G., Watts, R. L., Bickel, C. S., Moellering, D. R., … & Bamman, M. M. (2014). Novel, high intensity exercise prescription improves muscle mass, mitochondrial function, and physical capacity in individuals with Parkinson's disease. Journal of Applied Physiology, 116(5), 582-592.
Volpi, Elena et al. "Muscle tissue changes with aging." Current opinion in clinical nutrition and metabolic care vol. 7,4 (2004): 405-10. doi:10.1097/01.mco.0000134362.76653.b2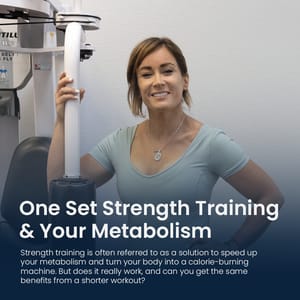 Strength training triggers an increase in metabolic rate immediately following a…
Read More »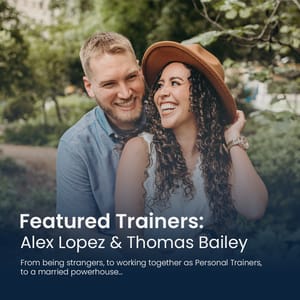 From being strangers, to working together as Personal Trainers, to a married powerhouse…
Read More »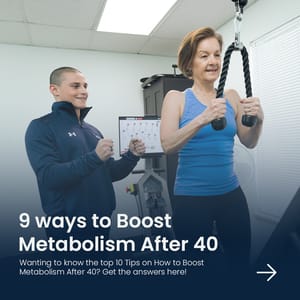 9 ways to Boost Metabolism After 40 Wanting to know the top Tips on How to Boost Metabolism After 40? Get the answers here! https://www.youtube.com/watch?v=ZdMu-64v08Y
Read More »