Personal Training Studio

Centreville, VA
This is not just another D.C. gym! The Perfect Workout personal trainers in Centreville train. you in a private sutdio, specializing in slow-motion strength training. In Redwood Square Centre, you'll find the semi-private studio with Personal Trainers ready to help you meet your strength and weight loss goals. Join the fitness revolution and exercise your entire body for just 20 minutes, in two weekly sessions. Schedule your learning session at the Centreville location now! To learn more about our 1-on-1 private studio sessions click here. To learn more about our online virtual training programs click here.
6101 Redwood Square Centre #308
Centreville, VA 20121

| | |
| --- | --- |
| Monday | |
| Tuesday | |
| Wednesday | |
| Thursday | |
| Friday | |
| Saturday | |
Trainers At This Studio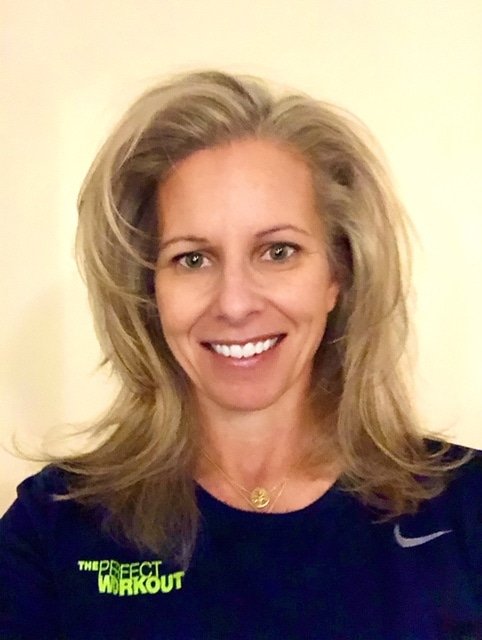 Melissa Martin
Personal Trainer
Personal Trainer at:
Falls Church, VA
Centreville, VA

Having grown up in Northern Virginia, Melissa has always led a healthy, active lifestyle. As she raised her four children, they all participated in sports and fitness was a prominent feature of her family life. Some years ago, after trying different workout programs at several "big box" chain gyms, Melissa discovered high intensity super slow strength training. She recognized right away that this was the safest, most efficient method of strength training that she had ever experienced, and she became a passionate advocate of its many benefits. As Melissa's children grew and went into high school and college, she decided she was ready to turn her passion for health and fitness into her full-time career by joining the Falls Church studio as a certified personal trainer. "Joining The Perfect Workout team has literally changed the course of my life. I feel very fortunate to have found a home here with The Perfect Workout and I bring that enthusiasm and gratitude with me into the studio. We all have stories that bring us to The Perfect Workout and I hope to connect with each client and help them succeed in their fitness journey."
Melissa strongly believes that The Perfect Workout method is a fitness program for life. "Slow motion strength training has so many benefits for everyone, no matter what age, and no matter where your starting point is. Slow motion strength training is adaptive and provides safe, efficient and effective exercise for all ages, experience levels, and physical capabilities."
Melissa's favorite aspect of her work is connecting with clients and joining them on their own personal journey toward greater fitness. "It takes a lot of personal strength to come into a fitness studio and say 'Will you help me?' and when clients decide that we are a good fit and want to work together to achieve their unique, personal goals, it is an honor for me to be able to help them on their journey. That is the absolute privilege of what I get to do every day."
In May 2020, Melissa was promoted to the position of Facility Manager at the Falls Church studio. Melissa loves being part of a team that brings energy and enthusiasm to the studio every day and is truly dedicated to helping change the lives of every client who joins The Perfect Workout.