Personal Training Studio

Cypress/North Houston, TX
Would you like more help reaching your fitness goals? The Perfect Workout has private strength training studios across Texas, including Cypress/ North Houston areas. Just off Jones Road, near Crescent Moon Coffee Bar & Café is our semi-private location. We specialize in slow-motion strength training where Certified Personal Trainers ready to work with you! If you're in the Cypress and North Houston areas, join us for a learning session today and begin working towards your fitness goals. Trainers    How It Works
12345 Jones Rd. #150
Houston, TX 77070

| | |
| --- | --- |
| Monday | |
| Tuesday | |
| Wednesday | |
| Thursday | |
| Friday | |
| Saturday | |
Trainers At This Studio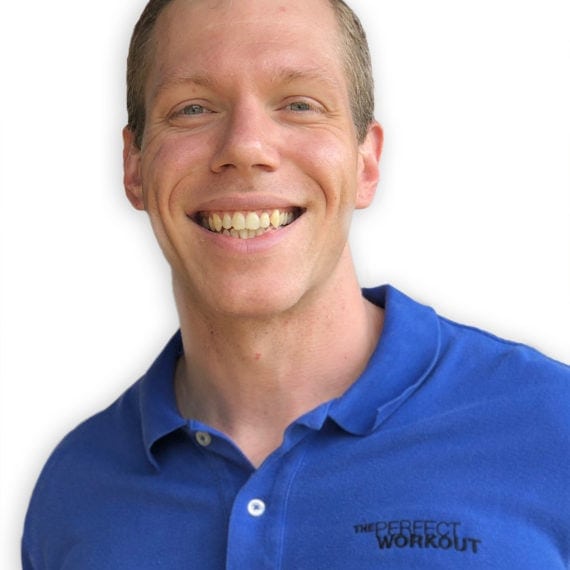 Nick Shorter
Facility Manager
Personal Trainer at:
Cypress/North Houston, TX

Nick Shorter has always been active and immersed in fitness. In college, Nick studied Kinesiology, played basketball and lifted weights. He fell in love with strength training and spent time learning more about exercise science and its positive effects. He loved the feeling of beating his personal bests when it came to lifting weights, but didn't feel that the gym was as supportive of an environment as it could be.
Nick's wife Keisy had become a part of The Perfect Workout and after seeing the family-like culture of the trainers, he too followed in her footsteps. Once he completed his extensive Personal Trainer certification, Nick joined the River Oaks studio and ultimately transferred to Cypress where he trains today.
Knowing that Nick gets to make a difference and really listen to his clients is critical to their success together. "Active listening is a vital part of my time with clients. When I understand their wants and needs, I can truly customize a workout to them and their goals."
A big personal benefits Nick has seen from slow-motion strength training is that he gets to spend more time with his family now that he's not in the gym all the time. His training combined with changed eating habits has rewarded him with a new slimmed down look -- and his family always comments on how lean he's gotten!
Having been a longtime student of exercise and nutrition principles, Nick feels like he's at home with The Perfect Workout. It's the perfect place for him to help others work through their health and fitness obstacles. He looks forward to coach even more clients on their own personal health and fitness journeys in only 20 minutes, twice a week!
When Nick is not in the studio, he's spending time with his wife and two sons. Whether it be playing baseball, reading, listening to music, or playing dragons and monsters with his boys
Chaiyo Thomas
Personal Trainer
Personal Trainer at:
Cypress/North Houston, TX

Chaiyo Thomas was born in New York and moved to Houston as a young kid. In his spare time he would always stay active with rock-climbing and skating. As he got older he began to run track and cross country which became a 5-year sport for him. Chaiyo ultimately earned his bachelor's degree from Texas State, where he majored in biology and minored in chemistry.
Because Chaiyo has always been an active person he decided to turn his love for fitness into a profession. Chaiyo became a Certified Personal Trainer for The Perfect Workout and now trains clients in our Cypress Northwest Studio.
"The best part about working with clients one-on-one is the relationship you get to build with each person that comes in to be trained. Being able to see people regularly and on a weekly basis allows us to build connections that last beyond the studio! I also like being able to give all of my focus to one person during their training sessions."
One of Chaiyo's most memorable client relationships was with a senior woman named Mai. Mai talked about how we gave her hope again and a will to live. She struggled with Parkinson's and it had gotten worse over the years. Even though she was taking medication for it, she still felt like a burden to her family since she's unable to work and was feeling like they would be better off without her. With hope in her heart, every time she came in for a session, she was giving everything she had. Each week she was making progress and going up in weights on various machines because of her tenacity. Time after time she was impressed with how much weight she could handle and found proud of her newfound strength. As she got stronger, she noticed that she could control her tremors better and even catch herself in moments of poor balance and stop herself from falling!
After running for years and suffering injury after injury personally, Chaiyo knew what it was like to have set backs and chronic pain which has served as one of his biggest motivations to help others recover and avoid that same pain. Since starting his own Slow-Motion Strength Training program he's gained muscle, all of his weights on the machines have gone up and he noticed that his arms are larger and more defined.
"Training with us includes so much more than physical fitness. When you join The Perfect workout family, you're joining a support system where you can safely disclose your closest personal aspirations and ambitions as well as safely work toward those goals under professional supervision."