The best Personal Trainers in the Falls Church area are revolutionizing the way people exercise! The Perfect Workout's Certified Personal Trainer team helps people of all experience levels and conditions in Falls Church to transform their bodies in just 20 minutes, twice a week. Each strength training session, coached 1-on-1 by a Personal Trainer, will give you full body results in minimum time. Located off the Southeast corner of Columbia and Washington, the Falls Church studio is the perfect place to begin or enhance your fitness journey.
Schedule a Workout
New to The Perfect Workout? You can book an intro workout at the Memorial, TX studio today:
Schedule a Workout
New to The Perfect Workout? You can book an intro workout at the Memorial, TX studio today:
Personal Trainers in Memorial, TX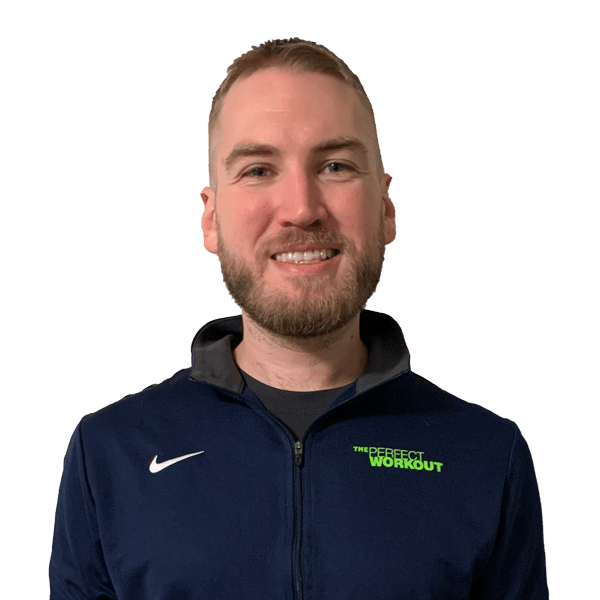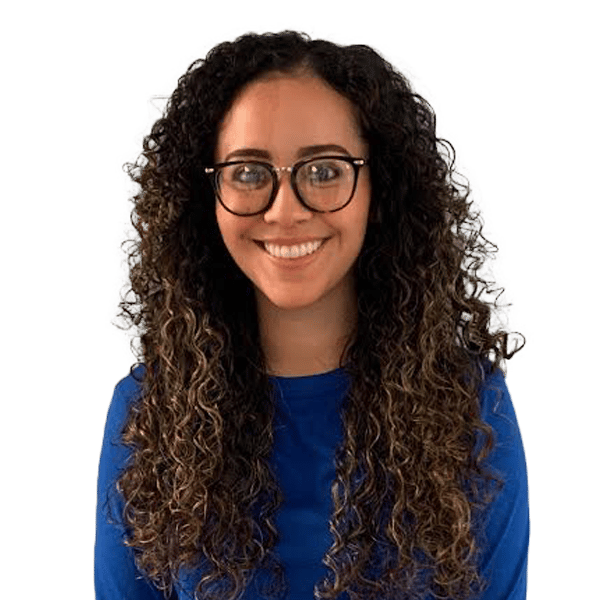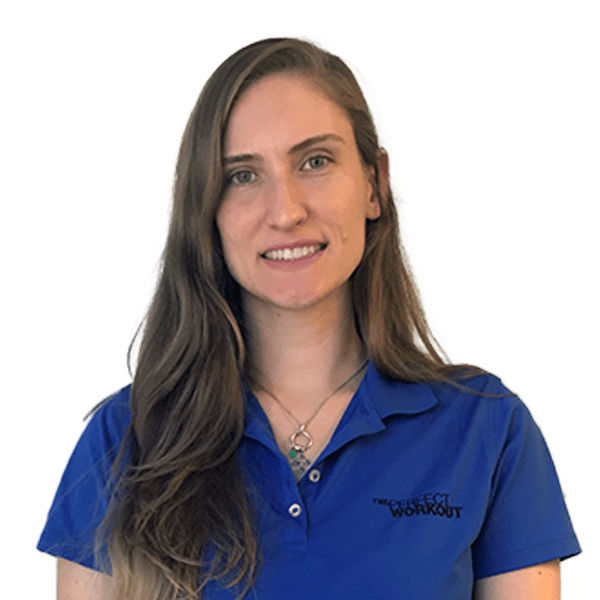 Thomas Bailey
Facility Manager
Growing up in Houston, Thomas was a swimmer with the Blue Fins at The Houstonian until the age of 15. In addition to swimming, Thomas participated in volleyball and basketball in middle school, and played football and soccer in high school. It was in high school that Thomas's passion for nutrition, and ultimately fitness, manifested itself. With the guidance of a fantastic health teacher and soccer coach, Thomas immersed himself in the field of health and fitness.
After attending Syracuse University, where he participated as part of the Syracuse football equipment manager team, Thomas came back to Houston to establish a career in sports. During this time, Thomas was in the gym almost six days a week, for hours a day which ultimately resulted in injury. He was determined to stay active and healthy and searched for a workout that was safe, yet still effective.
In 2014, Thomas discovered The Perfect Workout. He immediately fell in love and applied the protocol to his fitness routine. Drinking more water, eating whole foods, and using The Perfect Workout's 20-minute workout twice a week created dramatic changes in his body. "I lost 30-40 pounds and can see more muscle definition than I've ever seen in my life. I feel better, I no longer snore and I sleep better, I have more energy throughout the day, and my mindset has vastly improved."
Because Thomas enjoyed his experience so much, and felt like this effective and efficient workout was something everyone should do for the rest of their lives, he decided to pursue his career in fitness. Thomas became a certified Personal Trainer at The Perfect Workout and has been connecting with his clients ever since.
Working with individuals 1-on-1 allows Thomas to personalize every workout session. He understands their needs and areas of opportunity for growth and this allows him to provide the best workout for each client. "I love connecting with people. I believe it is a strength I possess in being able to place myself in the mindset of others and understand where they are coming from."
One of Thomas's favorite successes has been working with a client, Jeannice. Her main focus was just getting confidence in herself back. She was going through a difficult personal time when she first joined and she often mentioned how empowered she felt after each workout. She slowly gained more confidence in herself in many aspects of her life and was able to push herself out of her difficult personal situation and came out of the situation stronger than ever. She is now in absolute perfect health. She balanced her thyroid, and through the combination of nutrition and workouts she was able to achieve her goal weight. "Just seeing the change in her mindset is one of the reasons I love what I do. This was a team effort, and I am honored that she has allowed me to help her and push towards a healthier version of herself!"
With client success like Jeannice's and his love for personal training, Thomas was promoted to the Memorial Facility Manager in November of 2018. "This honestly isn't a job in my mind. We are a family at the Memorial studio. Many friends have been made among the people who come in and workout with us and it really is a second home."
Thomas loves his fellow trainers and they all enjoy learning from one another. "It feels like we all lead each other. And every trainer I work with is a leader in some way and I get to work with some of the best people I've ever met."
Outside of the studio, Thomas follows almost all Houston professional sports. He's involved in fantasy football and baseball leagues with his friends and family. He spends time finding new restaurants to try and exploring what the city has to offer.
Thomas strives to grow within The Perfect Workout and continue to increase his education and application of the slow-motion strength training protocol. He wants to help The Perfect Workout achieve its mission of revolutionizing the way people exercise. "There really isn't anything I can compare it to! I love what I do and it's such a great honor to be in a position in which I get to train clients and receive training and coaching myself!"
Alexandra Lopez
Personal Trainer
Alexandra was born in Colombia and moved to Texas at 6-years old. She grew up in Lumberton, a very small town in Texas, where her passion for health and fitness began when she started playing soccer. She played both soccer and tennis in High School.
Her passion for athletics and fitness grew stronger during her time in college, so much so that she majored in it. Alexandra earned her Bachelor's Degree in Kinesiology from Stephen F. Austin University, and in her free time, she spent a lot of time in the gym. It quickly became her biggest stress reliever and part of her daily routine.
Alexandra had future plans to specialize in orthopedic or pediatric physical therapy, but she wanted to begin helping people immediately. Personal Training felt like the perfect fit for Alexandra so she became a Certified Trainer and joined The Perfect Workout.
Joining the team has been a wonderful decision for Alexandra. She loves helping others and feels blessed to have the opportunity to help people reach their goals. "I love being able to create that personalized experience and forming real, productive relationships with all of my clients."
Slow-motion strength training and the culture at The Perfect workout has taught Alexandra a lot about health and wellness. "It's taught me the proper and safest way to workout, different nutrition tools, the importance of fueling your body with real food, and the importance of hydration." These tools have helped Alexandra get stronger, healthier and lose 10 pounds as a byproduct of her workouts. And now she gets to share what she's learned with her clients.
Many clients have seen results by working with Alexandra. One client in particular was able to raise her metabolism to normal levels. "She had done a popular diet program for a while, and lost a lot of weight but after her body adapted to being in such a caloric deficit it started to affect her metabolism and it really slowed down which caused her to gain the weight back. Slow-motion training helped boost her metabolism."
Alexandra is happy being a part of the Memorial team and looks forward to working with as many clients as possible. In the future, she hopes to take her knowledge of health and fitness and work with people with special needs, whether it's fitness training or doing recreational Therapy.
Marci Arsenault
Personal Trainer
Marci Arsenault grew up in Sugar Land, Texas, where she still calls it home. Because of her father, a very dedicated weightlifter, she became interested in fitness at a very young age. She remembers doing bench presses as young as age 9. Through the influence of her parents, Marci learned how important strength training is to maintaining good health throughout life. "You're never too young and never too old to lift weights!"
With a natural desire to care for others, Marci entered a career in the home health field as a caretaker. Marci loved helping others; however, she wanted to help prolong people's lives and give them tools to stay healthy as long as possible.
While Marci was beginning to shift into a career of fitness and nutrition, her mom had been working out as a client at The Perfect Workout. Marci saw how much her mother was benefitting from her workouts, so she decided to learn more about the method. After becoming familiar with slow-motion strength training and the company itself, Marci knew she wanted to be a part of it. The Perfect Workout offered exactly the type of preventative care she wanted to offer others.
In April 2016, Marci became certified and joined The Perfect Workout as a Personal Trainer. "I am in this line of work because I care, I want to help people become healthier. Being there when people need me is something that means a lot. One of the big reasons I love this workout method is how we can really help older people or people with limitations."
Marci particularly values working with her clients 1-on-1. "I can pay so much attention to detail which allows me to personalize each workout for them. I can see every little thing, and adjust it as needed, and I get to build personal connections that helps me meet my clients' needs."
In her free time, Marci loves anything that takes her outdoors: camping, hunting, fishing, picking wildflowers, working on her truck, going to the beach–and she absolutely loves her state… TEXAS. She also likes reading, good conversation over coffee, history and old movies. The Perfect Workout is a great fit for Marci. She is very excited to be part of this company and looks forward to helping more and more clients accomplish their personal health and fitness goals.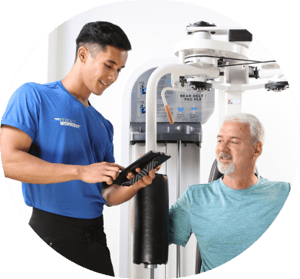 More About Our Houston Studio
Science-Backed
Our
Certified Personal Trainers
in Memorial are ready to help you achieve your fitness goals with our signature
slow-motion high intensity method
of exercise. Each science-backed workout is
personalized for your goals and any medical needs.
Because each of your workouts is personalized for you under the watchful eye of one of our Certified Personal Trainers in Memorial, it's always a safe challenge for
your
needs.
Guaranteed
The best part? We guarantee results in just 20 minutes, twice a week. Perfect for grabbing a brief, yet effective workout while running errands in the Memorial area.
Proven Results
Over the last 20+ years, we have helped over 40,000 people increase lean muscle mass, lose weight, and so much more. See what kind of
results
real members like you have gotten.
We're the largest privately-owned 1-on-1 personal training company in the United States with over 60 locations nationwide.
Our science-backed, slow-motion strength training program has been featured in peer-reviewed scientific journals such as the Journal of Sports Medicine and Physical Fitness, and national media including The Wall Street Journal, NPR, and The New York Times. Proven to be great for both
strength
and
aerobic or cardiovascular benefits
.
Easy-to-join
The best way to learn more about how this safe and effective program can be customized for you is to try it for yourself.
Learn more about our private 1-on-1 sessions in a clinically-controlled environment at our Memorial studio
.
Learn more about our 1-on-1 online virtual training programs that take place in the comfort of your own home.