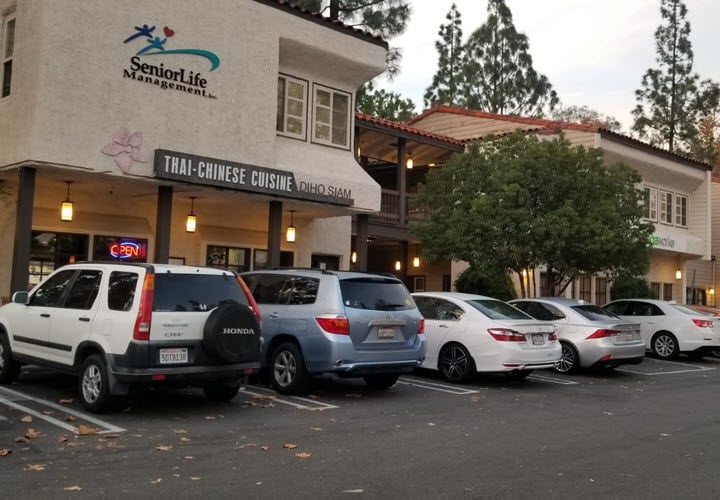 Personal Trainer
Mission Viejo, CA
Orange County
27001 La Paz Road #154
Mission Viejo, CA 92691
Get results with the best Personal Trainers in Mission Viejo. The Perfect Workout's Certified Personal Trainer team helps people of all experience levels and conditions in Mission Viejo to transform their bodies in just 20 minutes, twice a week. Each strength training session, coached 1-on-1 by a Personal Trainer, will give you full body results in minimum time. You can find the Mission Viejo private workout studio on the corner of La Paz and Marguerite Pkwy.
Schedule a Workout
New to The Perfect Workout? You can book an intro workout at the Mission Viejo, CA studio today:
Personal Trainer
Mission Viejo, CA
Orange County
27001 La Paz Road #154
Mission Viejo, CA 92691
Schedule a Workout
New to The Perfect Workout? You can book an intro workout at the Mission Viejo, CA studio today:
Personal Trainers in Mission Viejo, CA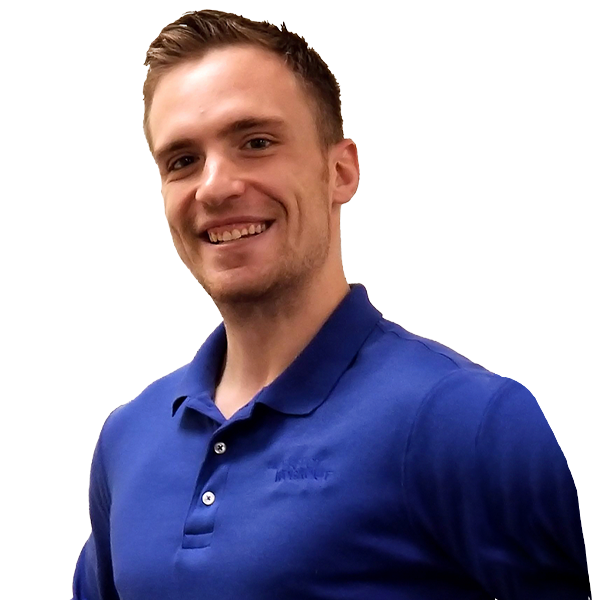 Robert Travis
Facility Manager
Rob Travis dropped 100 pounds in his first year at The Perfect Workout and now teaches his clients everything he learned from that experience. Rob played sports and has weight trained since he was young but after a knee injury curtailed his activities, he found himself weighing in at 300 pounds. Rob's dedicated nature fueled him to change his body and lifestyle altogether. He went to the library and read everything he could about nutrition. He watched videos, taking a little something from each one, and then put his plan into motion.
While Rob was on his weight loss journey, he performed strength training 5 to 6 times a week for 2 to 3 hours a day. Although he was losing weight he found it hard to build muscle. He could no longer lift his old bench press weight of 185. Then Rob found The Perfect Workout!
After 6 months of slow-motion strength training, only 20-minutes twice a week, he walked back into his old gym to see how much he had improved. 160 pounds felt very light, so he raised it to 185, then to 200, then 225…finally maxing out at 260! He had never seen such a drastic improvement in his entire life! He was amazed, and became 100% sold on slow-motion strength training.
In March of 2017, Rob joined The Perfect Workout and has been an integral part of the Long Beach training team ever since. He loves having a private setting to candidly discuss clients' goals and the obstacles they may be facing.  He uses his training and his own experience to set an example for his clients. "As trainers, I believe we need to walk the walk for our clients, and this has helped me be accountable to my clients and myself as well."
With amazing support from his team at The Perfect Workout, Rob knows he can achieve anything for his clients. He firmly believes in evidagain–and his results can back that up! Rob wants to devote his life to showing others the method that has helped him maintain his weight loss and add 30 pounds of muscle to his frame.
Rob firmly believes that his weight loss journey has helped shaped him into the best trainer that he can be for people trying to lose weight, or who are injured and wary of strength training. "Working out is possible even when you are injured, and it is essential to your recovery!" After losing his weight, Rob's own back and knee pain have almost disappeared.
When not in the gym, Rob loves to get outdoors. He goes backpacking, hiking, camping, and rock climbing. He loves to swim and play sports like beach volleyball, tennis and flag football. He's up for anything active! When recovering from his workouts, you can find him playing chess or relaxing with a good Sci-Fi book. He even hopes to write a book about his own journey one day!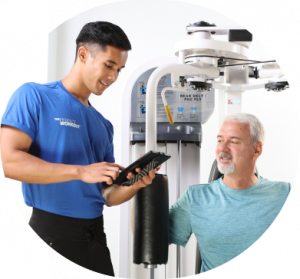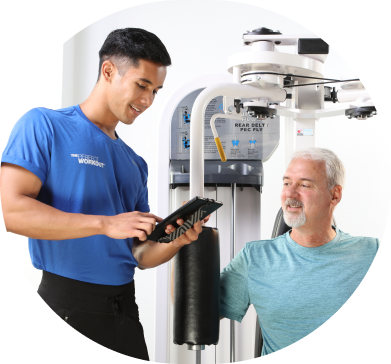 More About Our Mission Viejo Studio
Science-Backed
Our
Certified Personal Trainers
in Mission Viejo are ready to help you achieve your fitness goals with our signature
slow-motion high intensity method
of exercise. Each science-backed workout is
personalized for your goals and any medical needs.
Because each of your workouts is personalized for you under the watchful eye of one of our Certified Personal Trainers in Mission Viejo, it's always a safe challenge for
your
needs.
Guaranteed
The best part? We guarantee results in just 20 minutes, twice a week. Perfect for grabbing a brief, yet effective workout while running errands in the Mission Viejo area.
Proven Results
Over the last 20+ years, we have helped over 40,000 people increase lean muscle mass, lose weight, and so much more. See what kind of
results
real members like you have gotten.
We're the largest privately-owned 1-on-1 personal training company in the United States with over 60 locations nationwide.
Our science-backed, slow-motion strength training program has been featured in peer-reviewed scientific journals such as the Journal of Sports Medicine and Physical Fitness, and national media including The Wall Street Journal, NPR, and The New York Times. Proven to be great for both
strength
and
aerobic or cardiovascular benefits
.
Easy-to-join
The best way to learn more about how this safe and effective program can be customized for you is to try it for yourself.
Learn more about our private 1-on-1 sessions in a clinically-controlled environment at our Mission Viejo studio
.
Learn more about our 1-on-1 online virtual training programs that take place in the comfort of your own home.