Personal Training Studio

Paoli, PA
Have you tried working with a Personal Trainer before? The Perfect Workout offers private 1-on-1 workouts in the Paoli area. The Paoli studio off Darby Road and E. Lancaster has Personal Trainers prepared to work with you today! Each Personal Trainer is certified and provides coaching and expertise during your 20-minute workouts. Each workout is customized to you, and uses a science-backed method, proven to produce better results than traditional weight lifting. If you are looking for a more effective way of exercising and are in the Paoli area, schedule a workout! TrainersHow It Works
53 Darby Rd. #2
Paoli, PA 19301

| | |
| --- | --- |
| Monday | |
| Tuesday | |
| Wednesday | |
| Thursday | |
| Friday | |
| Saturday | |
Trainers At This Studio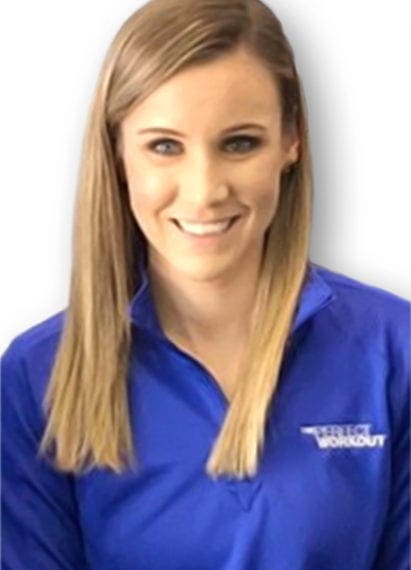 Crystal Poli
Facility Manager
Personal Trainer at:
Paoli, PA

Crystal discovered that she had a passion for fitness and nutrition. She became fascinated with researching the best ways to maintain a healthier lifestyle and getting into the shape became a top priority for her. This new and exciting journey inspired Crystal get certified and pursue a career where she could combine her love of fitness with her love of helping others--personal training.
"The Perfect Workout has been life changing. It's helped me gain strength and work my muscles in the safest way possible."
One of Crystal's clients had knee problems and experienced daily aches and pains for a long time. She assumed she would feel this way forever. After being coached by Crystal in slow-motion strength training, her pain has decreased significantly. She now leaves the studio feeling amazing and excited to come back for her next session.
One of the best parts about being a Personal Trainer is seeing clients' faces light up. "It's about building a relationship. I love collaborating with people. I like to have a dialogue with my clients, break down each exercise for them and respond to their individual needs. I'm not a robot!"
Helping clients achieve their goals and overcome obstacles is the true motivation for Crystal. "You have to take action steps to achieve good health and I love helping people take those steps."
In addition to training clients, Crystal does slow-motion strength training twice a week herself. The Perfect Workout's focus on form and safety has made a difference in Crystal's favorite hobby, running. "I just ran the Philadelphia Marathon, and my form is much better now. My strength training helped me shave time off."
Crystal instantly realized The Perfect Workout was the kind of place where she could have a fulfilling career, with people who cared about the same things. After she made the career change to become a trainer, she never looked back. She felt that it was the right place to be. "It's nice to work with like-minded people. At The Perfect Workout, you're not just a number. People really care about you."
At just 30 years old, Crystal is now the Facility Manager at The Perfect Workout's Paoli studio. She loves having a leadership role and getting to play a part in other trainers' growth within the company. "Building trust and communication with both trainers and clients is important to me, and that's made working for The Perfect Workout such a positive experience."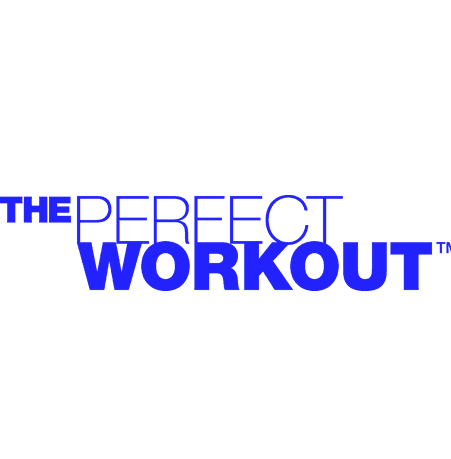 Hasanna Maddox
Personal Trainer
Personal Trainer at:
Paoli, PA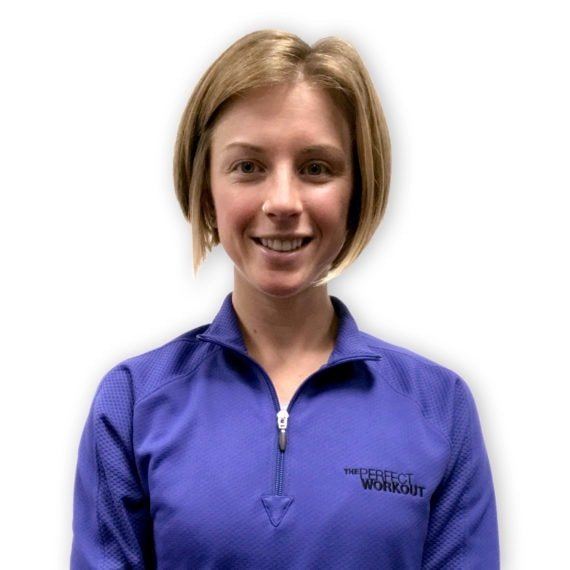 Katie Laughlin
Personal Trainer
Personal Trainer at:
Paoli, PA

Katie Laughlin has been active from a young age, playing sports year-round including basketball, soccer, and softball. Her favorite sport was softball. She was recruited to play at the collegiate level for Kutztown University and graduated with a Bachelor's of Science in Criminal Justice in 2014.
Katie was in a car accident in 2015, shattering her kneecap and losing most of her patella tendon. The surgeon was able to reconstruct her knee but the recovery was a slow process. She was determined to be able to work out again and worked hard on her rehabilitation. She learned through this recovery process that slow-motion training is the most important thing you can do to prevent or recover from injuries. And she's living proof, now she is training and competing in obstacle course races.
Having been in athletics and fitness all her life, and now an advocate of slow-motion strength training, Katie decided it was time for her to make her passion a career. In January of 2017, Katie was referred to The Perfect Workout by a friend and she felt like it was the perfect fit! She applied and was selected to join the team of Personal Trainers. Once certified, Katie began helping clients in Ardmore and Paoli where she is still a Personal Trainer today.
Slow-motion strength training has been extremely effective for Katie and her clients. "My composition has never been like this before! This workout has increased my stamina, endurance, and strength overall. It's made a huge difference in my training for marathons and Spartan races." One of Katie's clients is seeing and feeling the difference too. After working with Katie for a year, her client is down 50 pounds!
Katie is a morning person, full of energy and enjoys making people laugh. One of her favorite hobbies is meal prepping. She enjoys cooking, finding new recipes to try and make. Katie loves to challenge herself… hence the marathons!
Katie would love to be the Facility Manager of a studio someday and spends time learning how to become the best leader and trainer possible. Katie plans on becoming a Certified Nutrition Coach, traveling, and training for more Spartan races.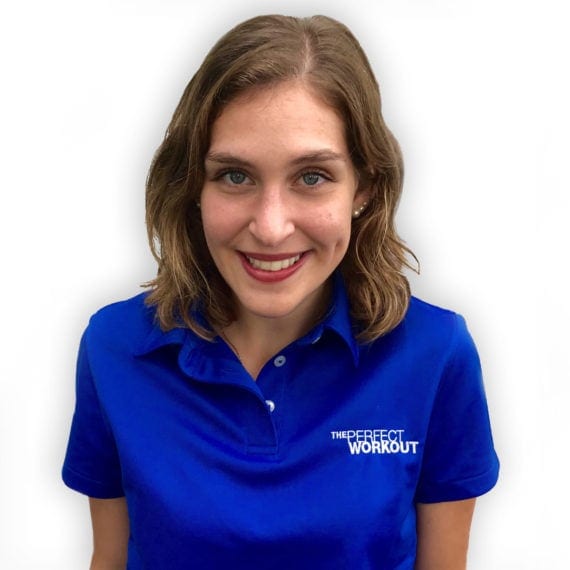 Madeline Malerich
Personal Trainer
Personal Trainer at:
Ardmore, PA
Huntingdon Valley, PA
Paoli, PA

Madeline Malerich has been involved in fitness all her life, playing everything from soccer to field hockey growing up. When she began taking up long-distance running, she began to experience knee and ankle problems, and quickly realized the need for additional strength training in order to prevent injuries. That's when she discovered slow-motion strength training!
After Madeline graduated from Johns Hopkins University with a degree in Public Health, she moved to Philadelphia, PA. She was looking to begin her health and wellness career with a position that would give her hands-on experience in the fields of nutrition, exercise, and weight loss/chronic disease prevention. Madeline found that The Perfect Workout was the ideal environment for her with its all-encompassing, hands-on certification and highly beneficial exercise method.
In 2018, Madeline earned her Personal Trainer certification and began working with clients all over the Philadelphia region. Today she trains in Ardmore, Paoli and Huntingdon Valley studios. "I was sold from my first workout. I was totally convinced that the method truly does work and that it is something that I would love to share with others!"
Being a long-distance runner for over a decade now, Madeline is excited to have incorporated slow-motion strength training. "I can't imagine my fitness regimen without it." In addition to the results she helps her clients get at The Perfect Workout, Madeline particularly enjoys the semi-private environment. "1-on-1 training is crucial to keeping the workout safe and efficient. It allows us to give personal attention to form, speed, breathing, and the amount of resistance each client is using." She also loves the personal connection that each Trainer is able to develop with their clients. "It's nice to have the opportunity to not only help people but to hear about their lives, struggles, victories, and stories, and to share laughs."
In her free time, Madeline likes to spend time with her parents, four siblings, and husband, play ultimate Frisbee, go on long runs/hikes, and find beautiful views to photograph. Once her husband completes medical school, Madeline plans to get her PhD in Chronic Disease Prevention and Nutrition. She's also working towards qualifying for the Boston Marathon.
Madeline has long been passionate about helping others to dream big and achieve their goals. She enjoys the opportunity that The Perfect Workout gives her to do just that.