Personal Training Studio

Paoli, PA
If you're looking for the best Personal Trainers close to Paoli, you've found them! The Perfect Workout's Certified Personal Trainer team helps people of all experience levels and conditions in Paoli to transform their bodies in just 20 minutes, twice a week. Each strength training session, coached 1-on-1 by a Personal Trainer, will give you full body results in minimum time. The Paoli studio is off Darby Road and E. Lancaster, near the Paoli Shopping Center and Library.

Our Certified Personal Trainers in Paoli are ready to help you achieve your fitness goals with our signature slow-motion high intensity method of exercise. Each science-backed workout is personalized for your goals and any medical needs. Because each of your workouts is personalized for you under the watchful eye of one of our Certified Personal Trainers in Paoli, it's always a safe challenge for your needs.

The best part? We guarantee results in just 20 minutes, twice a week. Perfect for grabbing a brief, yet effective workout while running errands in the Paoli area.

Over the last 20+ years, we have helped over 40,000 people increase lean muscle mass, lose weight, and so much more. See what kind of results real clients like you have gotten here.

We're the largest privately-owned 1-on-1 personal training company in the United States with over 60 locations nationwide. Our science-backed, slow-motion strength training program has been featured in peer-reviewed scientific journals such as the Journal of Sports Medicine and Physical Fitness, and national media including The Wall Street Journal, NPR, and The New York Times. Proven to be great for both strength and aerobic or cardiovascular benefits.

The best way to learn more about how this safe and effective program can be customized for you is to try it for yourself. To learn more about our private 1-on-1 sessions in a clinically-controlled environment at our Paoli studio click here. To learn more about our 1-on-1 online virtual training programs that take place in the comfort of your own home click here.
53 Darby Rd. #2
Paoli, PA 19301

| | |
| --- | --- |
| Monday | |
| Tuesday | |
| Wednesday | |
| Thursday | |
| Friday | |
| Saturday | |
Trainers At This Studio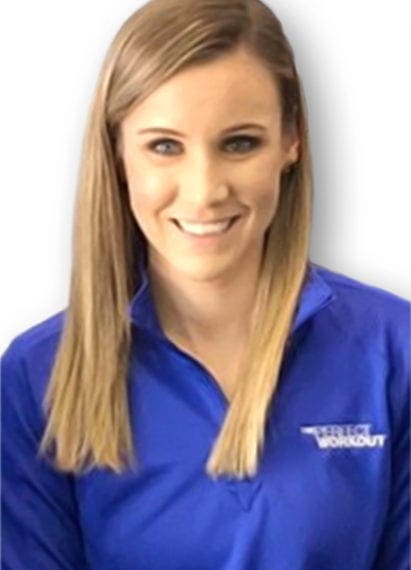 Crystal Poli
Facility Manager
Personal Trainer at:
Paoli, PA

Crystal discovered that she had a passion for fitness and nutrition. She became fascinated with researching the best ways to maintain a healthier lifestyle and getting into the shape became a top priority for her. This new and exciting journey inspired Crystal get certified and pursue a career where she could combine her love of fitness with her love of helping others--personal training.
"The Perfect Workout has been life changing. It's helped me gain strength and work my muscles in the safest way possible."
One of Crystal's clients had knee problems and experienced daily aches and pains for a long time. She assumed she would feel this way forever. After being coached by Crystal in slow-motion strength training, her pain has decreased significantly. She now leaves the studio feeling amazing and excited to come back for her next session.
One of the best parts about being a Personal Trainer is seeing clients' faces light up. "It's about building a relationship. I love collaborating with people. I like to have a dialogue with my clients, break down each exercise for them and respond to their individual needs. I'm not a robot!"
Helping clients achieve their goals and overcome obstacles is the true motivation for Crystal. "You have to take action steps to achieve good health and I love helping people take those steps."
In addition to training clients, Crystal does slow-motion strength training twice a week herself. The Perfect Workout's focus on form and safety has made a difference in Crystal's favorite hobby, running. "I just ran the Philadelphia Marathon, and my form is much better now. My strength training helped me shave time off."
Crystal instantly realized The Perfect Workout was the kind of place where she could have a fulfilling career, with people who cared about the same things. After she made the career change to become a trainer, she never looked back. She felt that it was the right place to be. "It's nice to work with like-minded people. At The Perfect Workout, you're not just a number. People really care about you."
At just 30 years old, Crystal is now the Facility Manager at The Perfect Workout's Paoli studio. She loves having a leadership role and getting to play a part in other trainers' growth within the company. "Building trust and communication with both trainers and clients is important to me, and that's made working for The Perfect Workout such a positive experience."