Personal Training Studio

Westmont, IL
Finding a Personal Trainer in Westmont has never been easier! The Perfect Workout offers personal training throughout Chicagoland and has a Westmont studio located off North Cass Avenue. The Personal Trainers at this facility help people achieve fitness results through a special, and highly effective method of exercise, known as slow-motion strength training. Safe enough for seniors to implement, yet efficient for a busy working professional, this workout is truly perfect for everyone. If you are in the Westmont area and would like to try working with a Personal Trainer, book a session now! TrainersHow It Works
825 N. Cass Ave #206
Westmont, IL 60559

| | |
| --- | --- |
| Monday | |
| Tuesday | |
| Wednesday | |
| Thursday | |
| Friday | |
| Saturday | |
Trainers At This Studio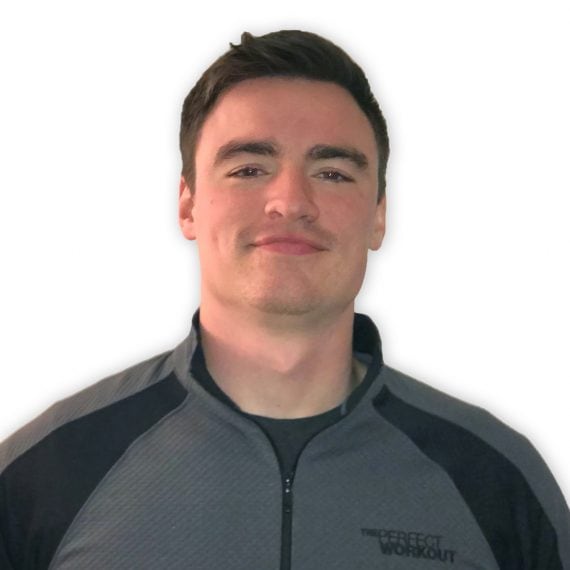 Owen LaMay
Facility Manager
Personal Trainer at:
Westmont, IL

Owen LaMay has a creative heart with a passion for fitness. During his time in art school, Owen went through his own personal fitness journey, transforming himself from a self-proclaimed "awkward gangly kid" to strong strength trainer. Through strength training and nutrition, Owen reshaped his body into a much stronger, muscular and balanced frame. He loved the way he felt about himself and continued to learn as much as he could about fitness.
While Owen was becoming immersed in fitness and gradually putting on 25 pounds of muscle, he began his career as a teacher. Owen received a degree in Illustration and spent his early career teaching Art to children in elementary school. Art has always been and continues to be a passion for Owen today. However, after a few years he found himself wanting to teach people in a different capacity.
On his fitness journey, Owen became fascinated with all the ways the body could move, and its biomechanics. His curiosity took him down many different paths -- he became a martial artist, a self-defense expert, and a body builder. Then he began personal training friends so when it came time for a career change, it only seemed natural to combine his passion for teaching with his passion for fitness.
Owen decided to pursue Personal Training. When he found The Perfect Workout, he liked everything about its approach to exercise and personal training. He was familiar with slow-motion strength training and knew how effective it had been in his own workouts. He also appreciated that the certification was more hands-on than any other Personal Trainer certifications he had researched. The Perfect Workout seemed like the perfect opportunity for Owen to teach others about fitness and help them improve their lives!
In 2017, Owen was hired to join the Chicago personal training team and found a home at the Westmont studio. "It's literally my job to learn and love fitness… it doesn't get better than that."
Owen is grateful for the opportunity to work so closely with his clients. He feels like it allows him to build real, genuine relationships, and that trust makes his client sessions that much more effective. One of his most memorable client relationships was with a client who had been diagnosed with osteoporosis. After a year and a half of working with Owen, her bone density had stopped decreasing. She gained strength and was able to maintain her bone density as well -- a challenge many seniors face.
In early 2019, Owen was promoted to Facility Manager of the Westmont studio. He prides himself on creating a studio culture that is inviting to all clients. "Our studio is a warm place filled with good vibes." The trainers and clients all work hard together to help each other achieve their goals. "It's very rewarding!"
Owen is still an artist at heart. He spends his downtime painting alternative movie posters, and is in the process of writing and illustrating his debut children's book. In the future, Owen plans to go back to school for his Master's in Occupational Therapy. But for now, he's focused on changing more lives at The Perfect Workout.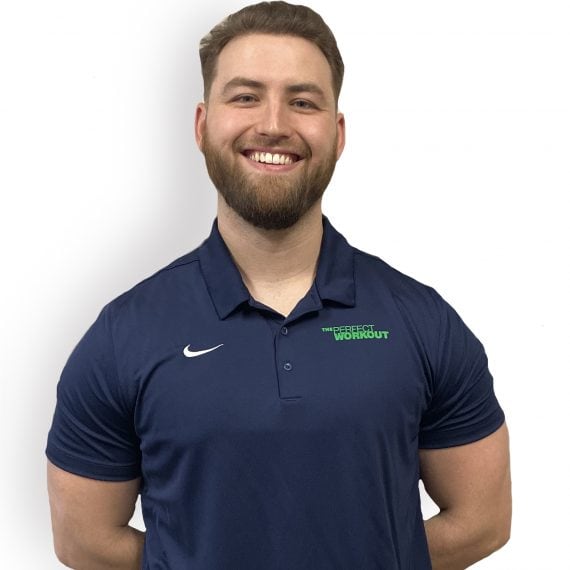 Kevin Wierzgac
Personal Trainer
Personal Trainer at:
Glen Ellyn, IL
Westmont, IL

Kevin Wierzgak has had a strong passion for health and fitness since he was 12 years old and now wants to share his love for exercise with you! Kevin spent years coaching and playing football in high school as well as at Aurora University. Early on, Kevin experienced ACL and meniscus tears which caused him to have reparative surgeries and countless hours of rehabilitation. During his rehabilitation, he learned how much more important strength training was in maintaining a healthy body.
Among his many coaching talents, Kevin is an avid guitar player and often plays out with his dad's rock band. He likes to correlate playing an instrument and exercise because you need patience, dedication, and consistency in order to see the results you desire. He now gets the opportunity to help his clients at The Perfect Workout apply these concepts and experience their own fitness results.
Kevin's mission is to make sure his clients experience a satisfying workout by working hard and having fun while doing it!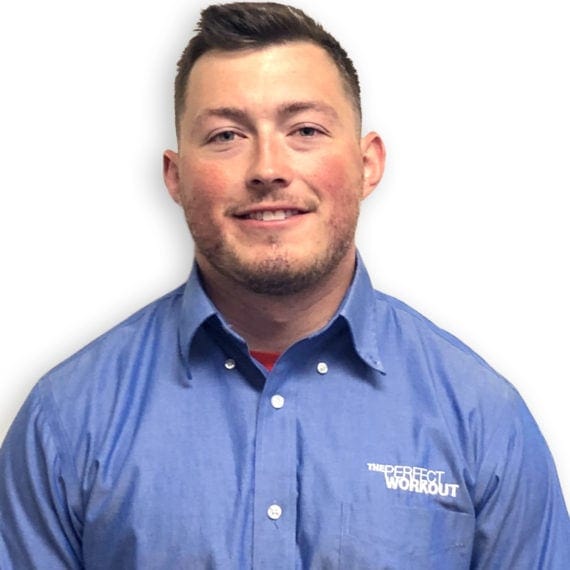 West Jackson
Personal Trainer
Personal Trainer at:
Glen Ellyn, IL
Westmont, IL

West was born and raised in Naperville, IL. He's played rugby since the age of 14 and went on to coach the sport. West decided to invest even more in fitness by matriculating to Illinois State University and graduated with a Bachelor of Science in Health Promotion & Education. With a degree in his back pocket and a desire to help people transform their physical health, West set his sights on creating a career for himself as a Personal Trainer.
West's experiences in education, coaching and exercise led him towards evidence-based practices. Coming from a sport like rugby, where strategy is highly important, West knew he needed the proper strategy to coach people to better health. Through research and experience, West found that the proper evidenced based strategy was slow-motion strength training.
He knew that anyone who properly applied slow motion workouts could achieve strength gains. But his research also revealed that lifting at slow speeds to muscle failure also helped people reverse osteoporosis, lose weight, and was ideal for beginners and seniors. He was amazed to find a workout that can help virtually everyone the way slow-motion strength training does.
West was recruited by a Personal Trainer at The Perfect Workout in Westmont and he immediately began his certification process. He quickly became a successful coach and began changing lives. One of his clients, Julie, lost 40 pounds with the nutritional guidance and strength coaching she received from West. "I love working with people 1-on-1. It gives me an incredible opportunity to play a part in their journey to becoming the person they want to be."
In early 2019, West began managing the Glen Ellyn studio where he continues to apply all his coaching tools and experience to every training session. "Working at The Perfect Workout has helped me become even more disciplined in many areas: nutrition, exercise, coaching and getting bigger and stronger! It helps apply everything I've ever learned for my clients benefit."
Having the opportunity to coach clients and trainers makes coming to work even more exciting for West. He loves creating a studio culture that feels both fun and professional. "We get to talk about one of the things we all love—exercise! It's a collective focus and that keeps things exciting for us."
West is still very involved in Rugby and continues to coach the sport when he's not in the studios working with clients. Having spent a summer living in New Zealand, he's got the travel bug and loves to carve out time to travel and cook new foods. His goals are to keep exploring, growing and eventually become a registered dietician so he can be an even bigger asset to his clients!