the impact of strength training and inflammation
It's the reason why omega-3 fatty acid supplements have become popular in recent years.

It's one of the major reasons why we floss. It's a big detriment of smoking.

It's the target of medications taken for arthritis, headaches, and menstrual pain.

Inflammation is one of the major players in the development of heart disease (some medical professionals think it's the primary cause).

It's a sign of atherosclerosis and type 2 diabetes developments.

The list goes on and on…
We use the term "inflammation" often, but what exactly is inflammation?
Inflammation is a sign that the body is trying to heal itself. When inflamed, our bodies are trying to remove or destroy an unwanted presence, such as foreign bacteria, or we are repairing damaged tissue.

Inflammation is good when the body attempts to heal itself and is successful…

However, it can become destructive when it's not able to eliminate the cause of irritation and triggers disorders such as arthritis, autoimmune disorders or more serious illnesses like cancer.
Signs & Symptoms of Inflammation
Common signs of inflammation are swelling, redness, heat, and pain. But inflammation in the body can also show up in some unexpected ways. Below are some inflammatory responses to look out for:
The most common symptom people experience is sore joints, particularly in the knees, shoulders, and elbows. One easy way to understand if pain you're experiencing is inflammatory is if it's been diagnosed with anything that ends in "itis." Such as bursitis, arthritis, tendinitis, etc.
If you're somebody who experiences headaches or migraines on a chronic or regular basis, that could be a result of inflammation in your body.
Breaking out with pimples on your face, or experiencing itchiness, eczema, and rashes are signs of inflammation.
Unexplained weight gain, puffiness or bloating can be responses, particularly to inflammatory foods.
Gastrointestinal complications and chronic tummy troubles are signs of an inflamed gut.
Runny nose, itchy eyes, coughing and sneezing may not be symptoms of an allergy, but inflammation.
Anxiety, mood disorders, and depression have been linked to chronic inflammation [2].
Feeling really tired or lethargic, experiencing insomnia, having trouble sleeping are common signs.
Experiencing frequent infections can be a result of long-term inflammation.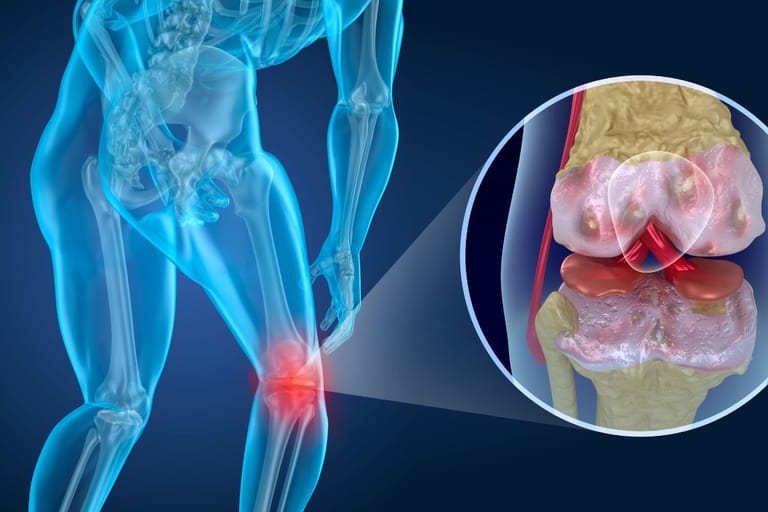 Acute vs Chronic Inflammation
Inflammation can be acute or chronic, and the difference is critical. Examples of acute scenarios are sore throats, cuts on our skin, or irritated gums (which is why we floss, to prevent irritants). Acute inflammation is immediate but lasts for a few days or weeks.

Chronic inflammation, on the other hand, is a major issue. This occurs when an acute situation lingers, an autoimmune problem exists, or when there is some other chronic irritant. Chronic is the type found with heart disease and type 2 diabetes.

Both acute and chronic can be localized in the body, but inflammation which affects the entire state of the body is known as systemic inflammation.

We measure inflammation by looking at cytokines.
Cytokines are proteins that influence the survival and proliferation of immune cells. They also have a key role in initiating the inflammatory response. Some cytokines are anti-inflammatory and some are pro-inflammatory.

Also, C-reactive protein (CRP) is another substance produced by the liver that indicates systemic inflammation. Chronic inflammation is considered as a sustained two-to-three fold increase in some cytokines and CRP.
Strength Training and Inflammation
Flossing, omega-3 fatty acid intake, and low-intensity physical activity help decrease systemic inflammation. However, strength training's impact on inflammation isn't as well known.

Researchers at the University of Connecticut recently analyzed the few studies that do exist on the relationship between the two [1].

Microscopic muscle damage occurs during strength training, especially during the lowering phase of a repetition. The researchers found a variety of results with strength training and inflammation….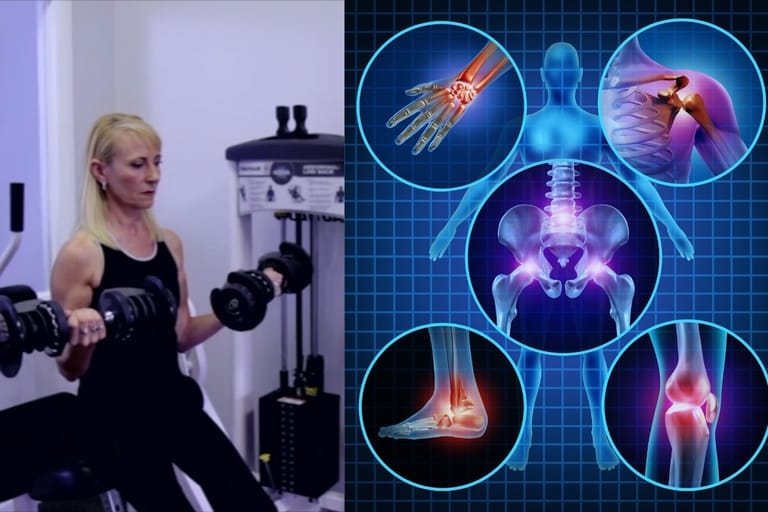 Does Lifting Weights Cause Inflammation?
As a result of workout-induced muscle damage, inflammation rises in the short term, and the production of several cytokines increases (although not all are pro-inflammatory).

As a whole, the cytokines released right after strength training have two major responsibilities: repair the muscle damage and regulate new muscle growth. Both are positive responses.
Does Weight Training Reduce Inflammation?
Fortunately, strength training also actually improves chronic inflammation. A 12-month study using strength training with overweight women averaging 39 years old showed a decrease in CRP.

A nine-week study featuring young men and women training with heavier weight loads caused a decrease in one pro-inflammatory cytokine.

Strength training also improved CRP in a three-month study with old and young populations. These were just some of the positive results reported by the University of Connecticut researchers.

The researchers did note that intensity was a key factor. A seven-week study of young men showed that heavy resistance strength training improved two anti-inflammatory cytokines to a greater extent than lighter weight strength training. Another important factor was rest. According to one study, when adequate rest isn't achieved, exercise can be pro-inflammatory.

What is the mechanism causing strength training to benefit chronic inflammation? The researchers stated that muscle gained from strength training increases the body's daily energy expenditure (metabolism) and insulin sensitivity (a state key to preventing diabetes), and both of those results decrease the requirement for pro-inflammatory cytokines and CRP.
Should You Strength Train or Not With Inflammation?
1. Calle, M. C., & Fernandez, M. L. (2010). Effects of resistance training on the inflammatory response. Nutrition research and practice, 4(4), 259-269.

2. Lee, C. H., & Giuliani, F. (2019). The Role of Inflammation in Depression and Fatigue. Frontiers in immunology, 10, 1696. https://doi.org/10.3389/fimmu.2019.01696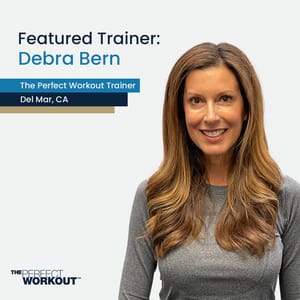 Debra began her fitness journey with a goal to lose weight after having kids…
Read More »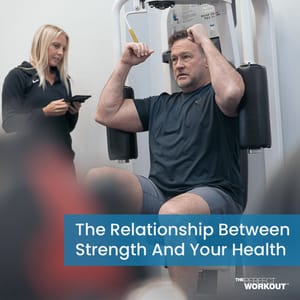 Having a moderate level of strength provides a lower risk of premature death…
Read More »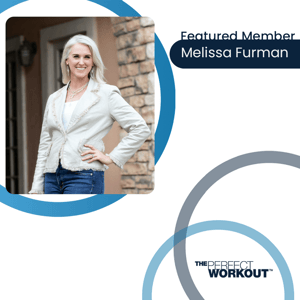 For years, Melissa suffered from lower back pain due to an injury incurred at the gym…
Read More »