The Best Kept Secret To Controlling Diabetes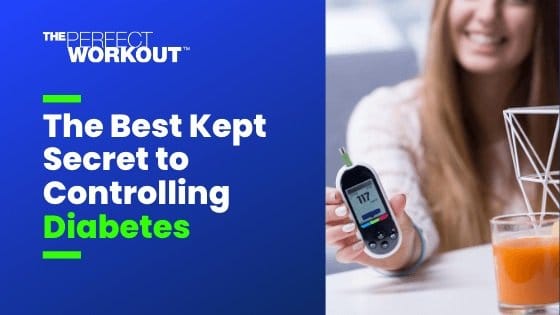 "My diabetes is so under control, my Doctor doesn't even want to see me anymore."- Larry H.
This is every patient's dream outcome. And if you've got diabetes you know that frequent trips to the doctor are pretty common.
It's a shame more people with diabetes aren't doing what Larry did to get his levels under control.
What's that? You want to know what he's been doing?
Slow-motion strength training of course 😉
"Diabetes is a chronic (long-lasting) health condition that affects how your body turns food into energy. If you have diabetes, your body either doesn't make enough insulin or can't use the insulin it makes as well as it should. When there isn't enough insulin or cells stop responding to insulin, too much blood sugar stays in your bloodstream." (CDC)
Just about anyone can develop diabetes, but first let's decipher the difference between the different types. There are two main types:
Type I Diabetes: an autoimmune disease typically diagnosed in children and young adults. There is no prevention for this type.
Type II Diabetes: 90% of people with diabetes have this type. It is generally a result of unhealthy lifestyle factors such as diet and lack of exercise/activity.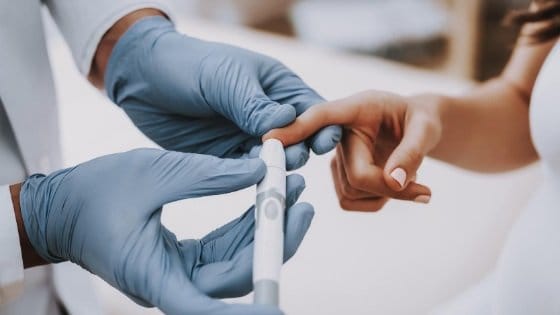 Very serious if not controlled.
"In the United States, 88 million adults—more than 1 in 3—have prediabetes. With prediabetes, blood sugar levels are higher than normal, but not high enough yet to be diagnosed as type 2 diabetes" (CDC.)
The very serious thing about prediabetes and diabetes is it raises your risk for other serious issues like heart disease, kidney disease, vision loss, stroke and even loss of limbs.
Diabetes is also strongly correlated with obesity- a major cause of many health issues.
Producing a lot of insulin can lead to both diabetes and weight gain.
One solution is to decrease the need for insulin by improving insulin sensitivity… strength training.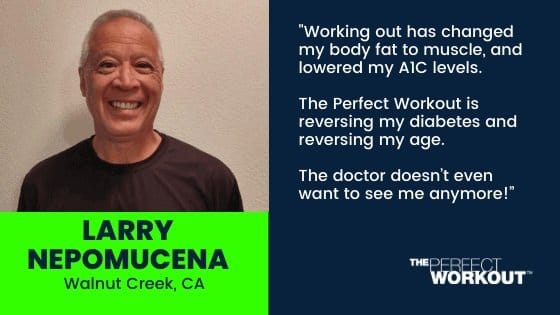 Fortunately, strength training improves insulin sensitivity, and therefore also decreases insulin in the blood.
Men and women between 50 and 70 years old strength trained for four months in one study [2]. They performed full body workouts three times per week, with each workout featuring 10 exercises. At the end, the trainees improved their insulin sensitivity by 21%.
A second study was similar in terms of length and age group [3], except the workout included only five exercises per session. The result was similar: a 25% improvement in insulin sensitivity. And, the trainees lost averages of 3 and 8.4 lbs of fat.
Effective strength training can help keep your insulin levels in check, helping you to manage your weight while reducing risk of diabetes.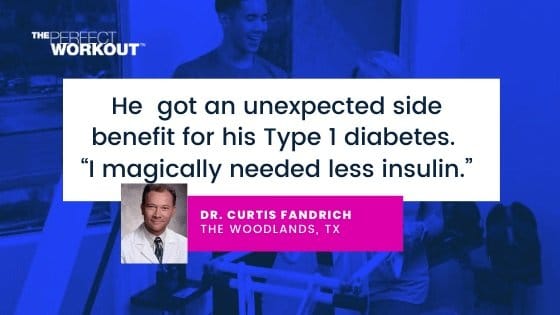 how does strength training improve it?
People with type 2 diabetes have an abundance of glucose in their blood, an amount of blood sugar beyond what is considered a healthy level. High intensity exercise, such as strength training, is the only type of exercise that uses predominantly glucose as fuel.
One study conducted at Louisiana State University lasted nine months and the participants were men and women of various ethnicity and averaged 56 years of age. The average starting hemoglobin A1c (a measure of blood glucose over three months) was 7.7%. Six and a half percent is considered the minimum amount for type 2 diabetes.
The strength training regimen featured:
nine exercises targeting major muscle groups in the upper and lower body
each exercise was performed for one set
workouts were conducted twice per week

At the end of the study, the diabetic men and women experienced improvements in hemoglobin A1c ranging from 0.3 to 1.0%.
Forty-one percent of the participants improved by 0.5% or more, or were at least able to decrease their medications.
To put this into real-life perspective, a decrease in hemoglobin A1c as small as 0.3% is significant: it can translate to years of life regained.
The strength training program required a total of only 30 to 40 minutes per week, and the participants also walked approximately 100 minutes per week (an average of about 14 minutes of walking a day).
At The Perfect Workout, we know of a number of people with type 2 diabetes who improved their blood glucose with strength training and no other changes in their lifestyle.
They simply showed up for a high-intensity strength training session twice per week for about 20 minutes each visit.
That's good news for people with diabetes looking to improve their health and extend their lives.
Church, T. S., Blair, S. N., Cocreham, S., Johannsen, N., Johnson, W., Kramer, K., … & Earnest, C. P. (2010). Effects of aerobic and resistance training on hemoglobin A1c levels in patients with type 2 diabetes. JAMA: The Journal of the American Medical Association, 304(20), 2253-2262.
Turner, R. C., Holman, R. R., Cull, C. C., Stratton, I. M., Matthews, D. R., Frighi, V., …Hadden, C. (1998). Intensive blood-glucose control with sulphonylureas or insulin compared with conventional treatment and risk of complications in patients with type 2 diabetes (UKPDS 33). The Lancet (British Edition), 352(9131), 837.
Cauza, E., Hanusch-Enserer, U., Strasser, B., Ludvik, B., Metz-Schimmerl, S.,…Pacini, G. (2005). The relative benefits of endurance and strength training on the metabolic factors and muscle function of people with type 2 diabetes mellitus. The Archives of Physiology and Medical Rehabilitation, 86(8), 1527-1533.
Brooks, N., Layne, J. E., Gordon, P. L., Roubenoff, R., Nelson, M. E. Castaneda-Sceppa, C. (2007). Strength training improves muscle quality and insulin sensitivity in hispanic older adults with type 2 diabetes. International Journal of Medical Sciences, 4(1),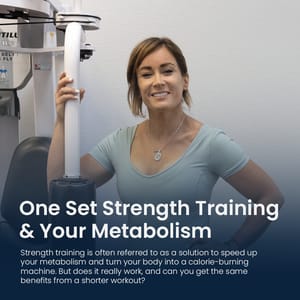 Strength training triggers an increase in metabolic rate immediately following a…
Read More »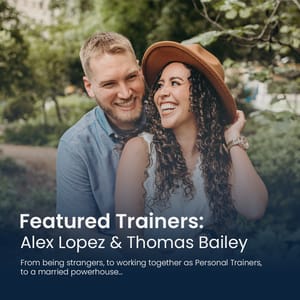 From being strangers, to working together as Personal Trainers, to a married powerhouse…
Read More »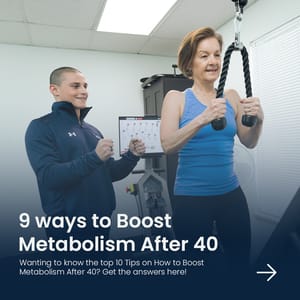 9 ways to Boost Metabolism After 40 Wanting to know the top Tips on How to Boost Metabolism After 40? Get the answers here! https://www.youtube.com/watch?v=ZdMu-64v08Y
Read More »