Helping others improve their lives: a trainer's privilege
It's exciting to anticipate the physical changes that come from exercise- seeing muscle definition, watching inches drop from your waist, becoming strong enough to carry all the groceries from the car and finally fitting into that outfit hanging in the closet… you know the one. ?
But what if we told you that many of our clients experience unexpected, life-changing improvements like ditching their canes, eliminating decades-long chronic pain, or fighting off neurological disorder symptoms.
We can confidently say that quality of life is improved by using our method and working with our Personal Trainers.
Meet one of our talented team members who is helping our clients make that happen every day.
—
A few years ago, Melissa Martin became an empty nester. Her 4 kids were out of the house and she began to ask herself, "What do I want to do? What do I want to do that's going to feel like fulfillment for myself in a career?"
Working out was always important to her and her family. All four kids were active in sports and it was a lifestyle they were all accustomed to living.
Staying fit was a personal priority for Melissa. She had previously worked with a Personal Trainer to help her stay in shape and maintain accountability.
"I knew the impact that [trainers] had on my life when I had a really good trainer, and how inspiring they could be."
Years before joining The Perfect Workout, Melissa was introduced to slow-motion strength training by her own Personal Trainer.
"I became familiar with it and it really worked for me. I could really see a huge difference. I gained a lot of muscle."
After her Trainer moved on to another career, Melissa returned to a more traditional workout, spending hours in the gym.
"It's a lot of time out of your day. And then once I started to get back into the workforce, my kids got a little bit older, I didn't have that time. I didn't have time to spend three hours in the gym. So then, my physical fitness started to lag."
She always had the super-slow method in mind– how effective it was, how much she was able to achieve in a short amount of time and the results she got.
When Melissa began to answer the question of "what do I want to do now?" She knew she wanted to become a Personal Trainer herself. And when she found The Perfect Workout, she said, "this is the place that I want to work."
She ultimately joined The Perfect Workout training team at our Falls Church Studio in Virginia.
She's passionate about your health
Melissa is extremely passionate about helping her clients achieve life-changing fitness goals.
Melissa works with one client who's only been training virtually– she's never actually trained with us in our studios, only from the comfort of her own home.
This client used to worry about going to public places where there were steps to get in the door. She avoided one church service because this particular church had four or five steps at the entrance.
She didn't feel like she could do that.
When she went to sit in chairs she always worried about whether it was too low, or if she'd be able to get back up.
What was the first thing Melissa did to help her?
Grabbed a chair and practiced getting up, getting down. Now, she can get up and down from a chair with no problem.
"She has that functional strength now. She's let go of the things that were inhibiting her and she now has the freedom to not have to overthink. Can I go to this place? Can I get in and out?"
Our Personal Trainers enter the fitness industry because they're passionate about health and exercise. They not only help people reach their goals, they improve their clients' quality of life.
More than just a workout. It's a relationship.
Melissa has been one of the many trainers leading clients through their virtual training sessions while studios are temporarily closed.
Despite physical distancing, she's found the relationships with her clients have become more personal than ever.
"When you're in the studio, it kind of becomes your home and you're welcoming the clients in. Switch that to virtual, and they're inviting you into their home. And it is a very personal thing."
When Melissa first began virtual training with Sandie Mullikan, she picked up her iPad and took Melissa on a tour around her house and gave her a glimpse into her homelife.
"That's not something that ever could have happened otherwise. It was an unexpected gift from this very stressful situation."
Helping clients hurdle limitations
Sandy has early onset Parkinson's. Sometimes she has days where she experiences more stiffness in her joints than others. Melissa encourages both Sandy and her to come to each workout as a team, assessing how her body feels on each exercise.
"We're able to adapt to each workout based on her energy level or her level of feeling, stiff joints or not. And she knows that no matter what by the end of the workout, she feels much stronger and she feels that that has helped her with some of her symptoms."
A privilege to be a part of your journey.
Each of our clients comes to us with a goal and sometimes it's a vulnerable experience sharing that with a Trainer.
"It takes a lot of personal strength to come in and say, 'Will you help me?' and when they decide that yes, you're going to be a good fit, and let's work together, that's a privilege for me to be able to try to help them on their journey."
To see how our program changes people's lives and gives them the power of strength is extremely fulfilling for Melissa.
"It's more than a blessing to me. That's the absolute privilege of what I get to do every day."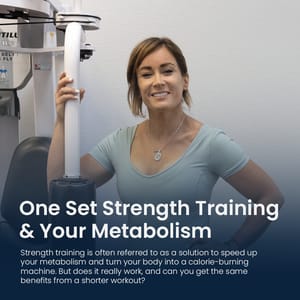 Strength training triggers an increase in metabolic rate immediately following a…
Read More »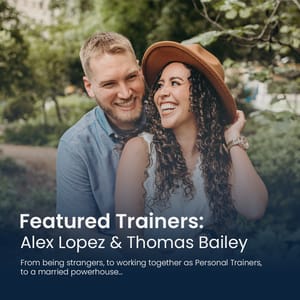 From being strangers, to working together as Personal Trainers, to a married powerhouse…
Read More »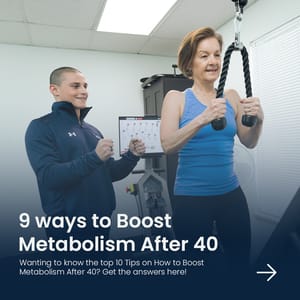 9 ways to Boost Metabolism After 40 Wanting to know the top Tips on How to Boost Metabolism After 40? Get the answers here! https://www.youtube.com/watch?v=ZdMu-64v08Y
Read More »