The Workout That Solved Every Problem She Wanted Solved
The Workout That Solved Every Problem She Wanted Solved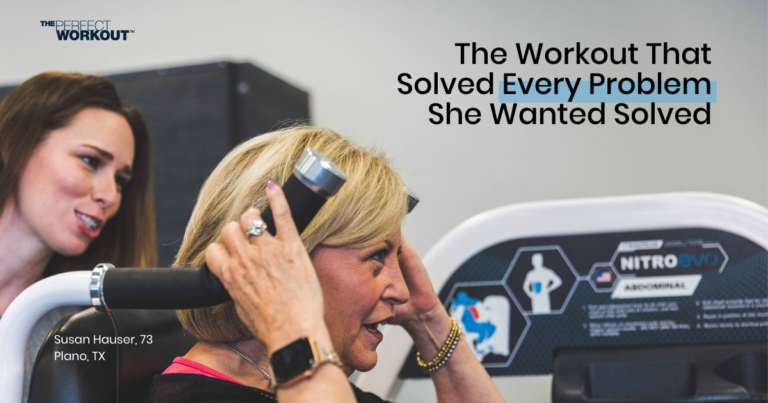 Susan Hauser, 73 years old, was mourning the loss of her husband and recovering from cancer.
During an extremely difficult time in her life, a phone call brought a glimmer of hope.
Here is her story…
"My husband passed away five years ago. That was a very difficult time because I was coming out of cancer as well.
While I was visiting friends in Phoenix, my daughter called and said, 'I'm signing you up for this.'
I said, 'For what?'
'For The Perfect Workout. You need to do this.' she said. 'Give me a year and we'll go from there.'
I agreed.
That was five years ago.
One of my major goals was to maintain bone density so that I didn't end up with osteoporosis, which is what my mother had. Her condition was severe, too. Her spine started collapsing. I did not want that to happen to me.
I also wanted to maintain strength and my activity levels. I needed to maintain as much wellness as I could.
And I'm not a gym rat, I have never enjoyed two hours in the gym doing four sets of 25, or whatever it is! I just don't do that.
But I quickly learned that The Perfect Workout solves every problem that I wanted to be solved.
My bone density has gone up, as opposed to down, and I have maintained that throughout the five years. I feel better. I can go and do whatever I want to do.
I love the fact that this workout is 20 minutes. I love the endorphins that kick in after the workout. I love feeling that good feeling later when I'm tired.
And it's made a major difference in my health.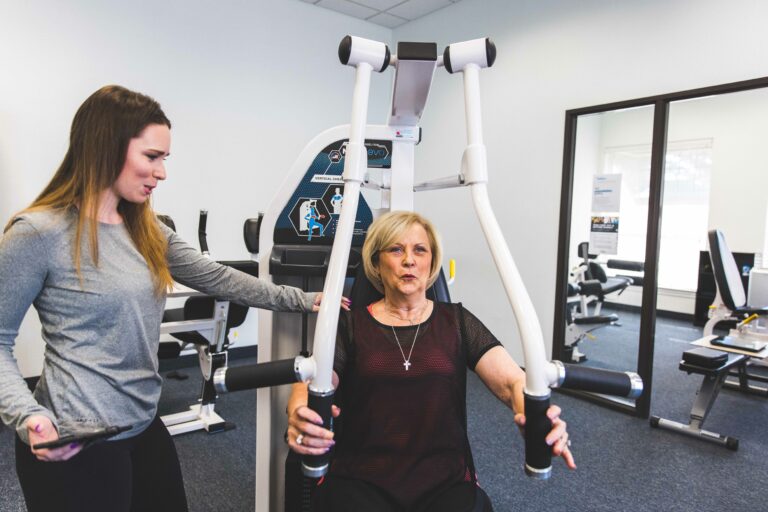 I had a second round of cancer in the last year and a half, and Raechel kept me going that entire time. We never stopped doing The Perfect Workout. She worked with me no matter what was going on. And it's been unbelievable how much strength I maintained during that entire saga.
Raechel and I had an immediate connection. We have developed a real friendship and connection that's become very special to me.
She's very good at what she does. She knows the body and knows what I need. She can tell within about 45 seconds of walking in the door what's going on with me that day – whether I have strength or not – and she works through that.
After having surgery, throughout the pandemic, and even being on chemo, Raechel worked around me and my needs. That's pretty special.
I see The Perfect Workout as a part of my long-term future, and I don't see myself stopping.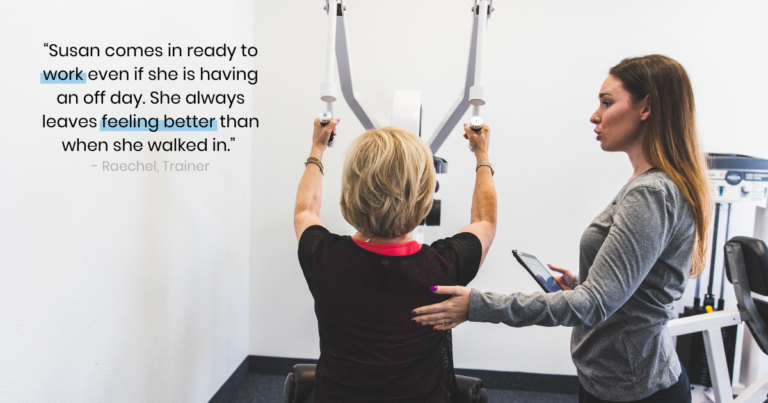 If anyone were skeptical about starting The Perfect Workout, as opposed to doing a two-hour gym workout. I would say you really need to try it.
If you're willing to spend two hours in a gym, why would you not spend 20 minutes at the studio and have the rest of your day to do whatever you want? You will feel better as opposed to depleting yourself. You'll feel better than you did before you went in.
I think The Perfect Workout truly is revolutionary. This workout does everything that needs to be done as you get older. And that's what's key for me."
Susan Hauser, 73
Plano, TX
—
If you are new to The Perfect Workout, try a workout with us and start with a FREE Introductory Session.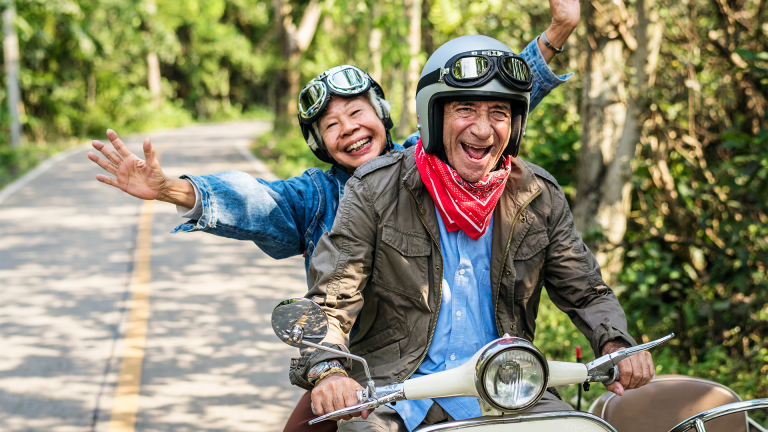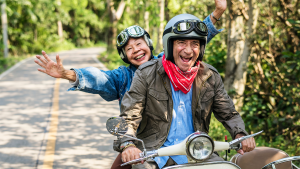 We're shining a spotlight on an often-overlooked yet scientifically-proven key…
Read More »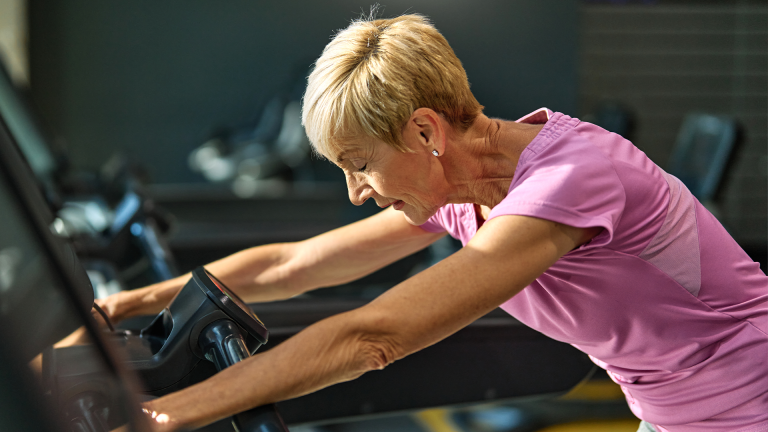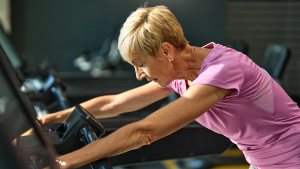 Living with elevated cortisol levels can feel like a battle against your own body…
Read More »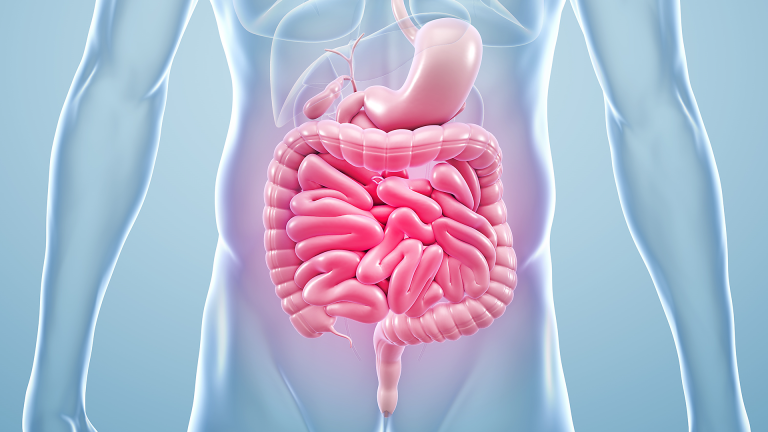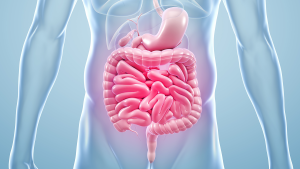 Did you know, your gut is home to over 1,000 bacterial species…
Read More »