More Exercise Isn't Better. Better Exercise is Better.
Are you eating less and exercising more but gaining weight?

Spending longer hours at the gym, but can't get rid of that tummy?

Signing up for more workout classes, but don't have time to do the things you really want?
In this article we address a common belief that "more is better" when it comes to exercise. You'll learn how taking a smarter, "less is more" approach to exercise can produce better results and save you time.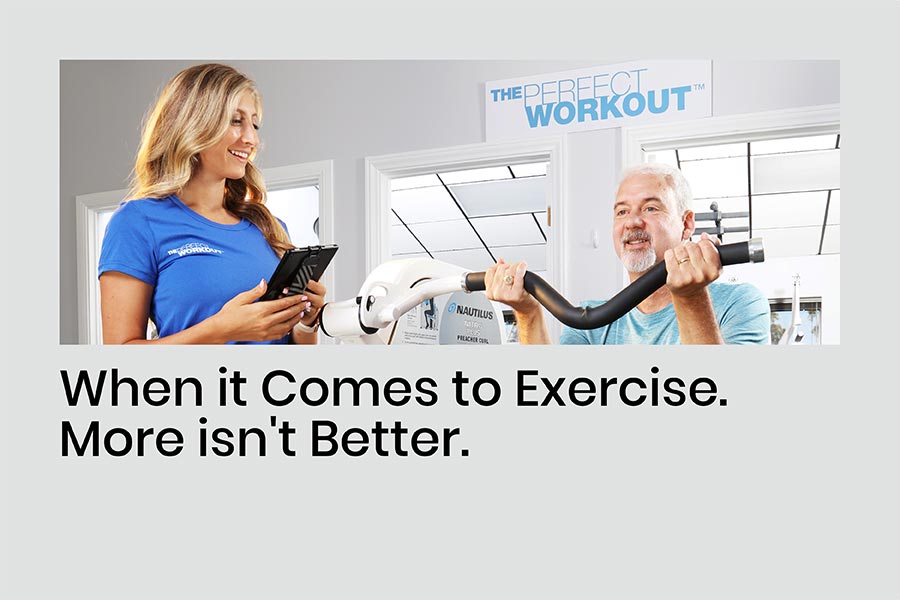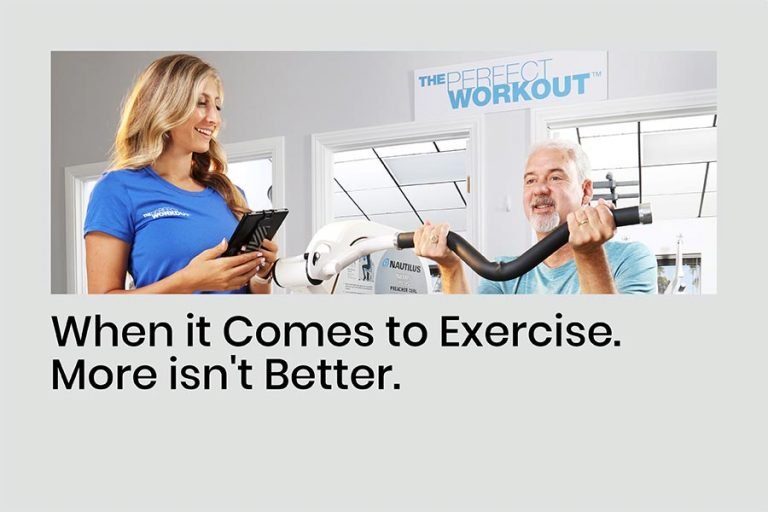 How to Get Stronger in Under 20 Minutes
Most people spend an hour in the gym for a strength training workout. Did you know strength can be maximized with workout sessions lasting less than 20 minutes?
One study (1) experimented with individuals who strength trained for two months. All participants in three different groups performed the same full-body workout but with different workloads.
GROUP 1: performed one set per exercise. (7 total sets per workout)

GROUP 2: performed three sets per exercise (21 total sets) 

GROUP 3: performed five sets per exercise (35 total sets)
** All sets were performed to muscle success (aka. Temporary muscle fatigue)

All groups gained strength, but the strength tests which included a bench press and a barbell squat showed no statistical difference in strength gain for each group. 
This is significant when considering the amount of time spent exercising:
GROUP 3 averaged 68 minutes per workout
GROUP 2 averaged 40 minutes per workout
GROUP 1 trained for just 13 minutes per workout
Therefore, training intensely for 13 minutes can produce similar strength gains compared to training for 68 minutes. You get a five-fold return on your time investment. 
The 13-minute routine used in Group 1 is similar to a typical session at The Perfect Workout: 
one set per exercise

seven exercises total

each set performed to "muscle success"

each workout targeting all major muscle groups
This similarity is not a coincidence. Our method is designed to help you become strong, healthy and able-bodied without wasting your time. In fact, you get your time back.
Exercise Everyday? Not Necessary
A common misconception about exercise is that we need to exercise almost every day, if not every day of the week.

This approach to exercise can actually hinder results.

In another study (2), 72 women between the ages of 60-74 were tested before and after a 16-week exercise program. There were 3 groups:
*Aerobic workouts were cycling/treadmill for 20-40 min at 80% of max heart rate
**Strength training workouts- each set of repetitions was taken to the deep fatigue point of "muscle success"
1+1 Group:
Performed 1 low intensity aerobic workout per week
1 high intensity strength training workout per week
2 total workouts per week
2+2 Group: 
Performed 2 low intensity aerobic workouts per week
2 high intensity strength training workouts per week
4 total workouts per week
3+3 Group: 
Performed 3 low intensity aerobic workouts per week
3 high intensity strength training workouts per week
6 total workouts per week
Results measured included: total number of calories expended per day (TDEE), non-exercise activity thermogenesis (NEAT), and fat loss.
1+1 Group:
increased their NEAT by 57 calories per day

increased their TDEE per day by an additional 30 calories

averaged 2.2 lbs of fat loss. 
2+2 Group: 
increased their NEAT by 200 calories per day

increased their TDEE per day by an additional 195 calories

2+2 group lost the most fat, dropping 4.4 fat lbs
3+3 Group: 
decreased their average daily NEAT by 150 calories. 

decreased their TDEE per day by an average of 63 calories, despite the extra activity level of working out six days per week.

averaged 1.1 lbs of fat loss. 
The group that spent the most time exercising wound up burning fewer calories and losing less fat than both of the other two groups. 
This study is evidence that more exercise doesn't necessarily produce better results.
In fact, too much physical stress (including exercise stress) can cause the body to react in unfavorable ways. You want just the right amount of high-intensity exercise stress for optimal improvements, and no more.
If you want to get optimal results you need to value resting and recovering from your workouts. 

Learn to Work HARDER, Not Longer.
A typical slow-motion strength training workout generally consists of 7-8 exercises per session. This may vary slightly depending on a number of factors: once or twice a week, injuries, limitations and individual goals.
In theory, you can hit all major muscle groups with just 4 exercises:
Leg Press: Glutes, Quadriceps, Calves(or Squat for Virtual)

Chest Press: Pectorals, Shoulders, Triceps (or Push-up for Virtual)

Lat Pulldown: Lats, Biceps, Abdominals (or Superman for Virtual)
Leg Curl: Hamstrings (same for Virtual)
Depending on the individual, we can also incorporate other machines to target specific muscle areas, including:
Leg Extension: Quadriceps (same for Virtual)

Preacher Curl: Biceps, Forearms (or Bicep Curl for Virtual)

Tricep Extension: Triceps (or Tricep Dips for Virtual)

Hip Abduction: Gluteus Medius, Gluteus Minor, TFL (or Fire Hydrant for Virtual)

Hip Adduction: Inner Thighs (or Pillow Squeeze for Virtual)

Compound Row: Trapezoids, Rhomboids, Biceps (often interchangeable for Lat Pulldown) (or Row for Virtual)

Abdominal Machine: Abdominals (or Crunches for Virtual)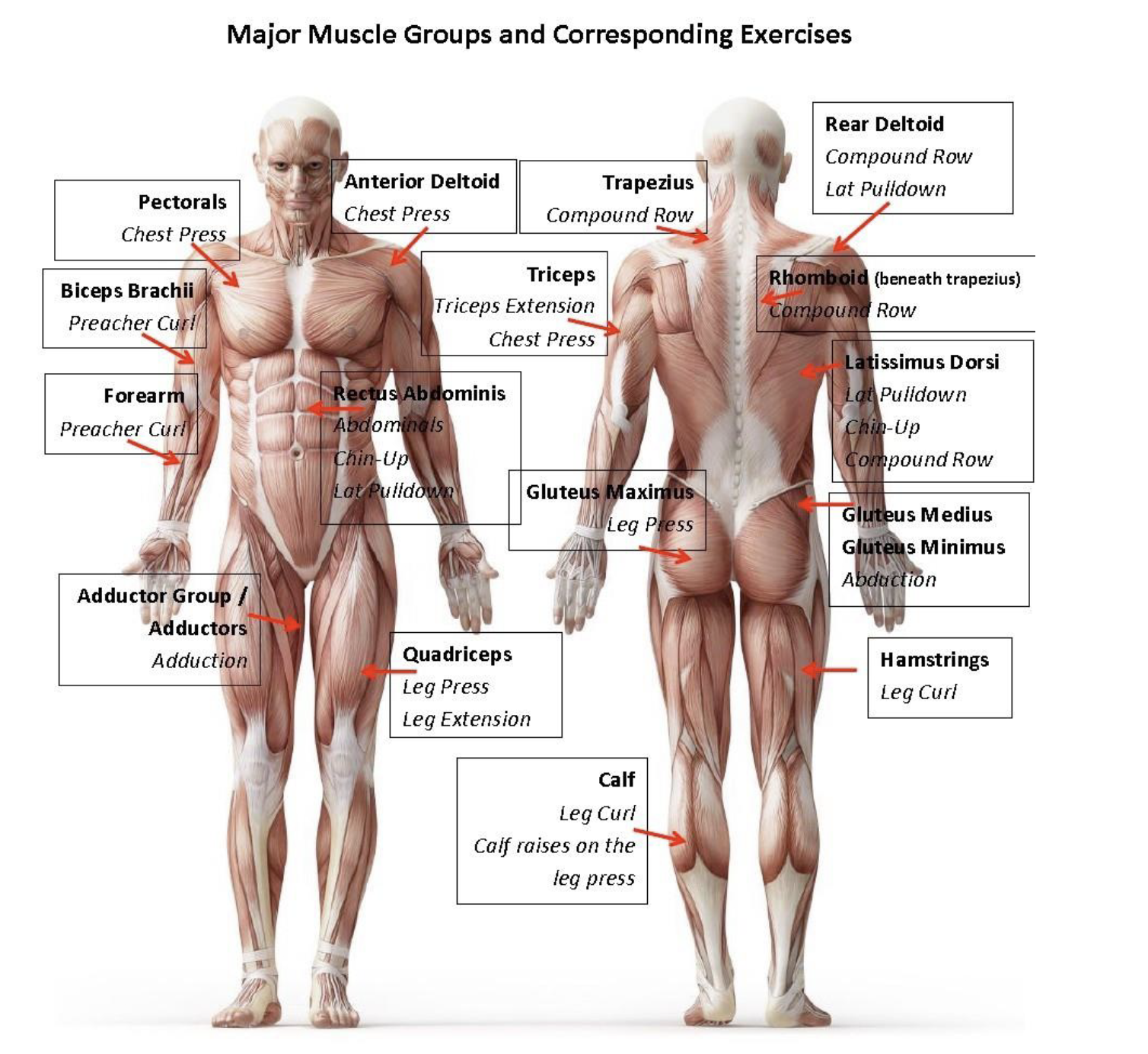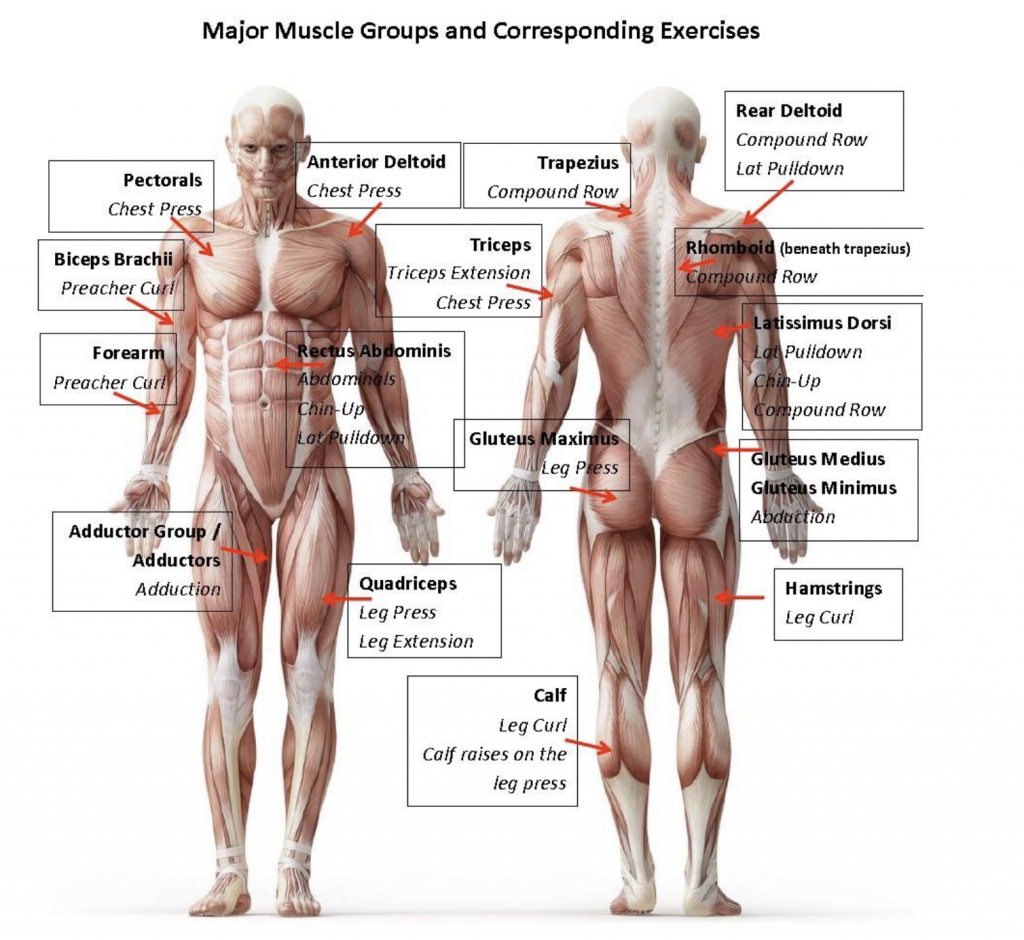 If you look at the first list, you'll notice the entire body can be targeted with just four exercises, making it simple and efficient to get a full-body workout.
More exercises can be added to further fatigue smaller muscles that may have not achieved muscle success on bigger-muscle machines. 
For example, the biceps are the secondary muscles used on the Lat Pulldown. The Preacher Curl can be added to further fatigue them.
This does not mean it is necessary to do all machines and exercises in every workout.
In fact, having the ability to easily complete 11 slow-motion strength training exercises is a good indication that the intensity level is not high enough. 
Think of your workouts as a short sprint, not a mile-long race. The reason there isn't a mile dash in track & field is because nobody can sprint that far, or work that hard for that long. 
Since intense effort is what stimulates best results from the muscles (and the body), demanding slow-motion strength training workouts have to be brief.
If you feel like you can perform slow-motion strength training exercises for more than 20 minutes at a time, you can probably improve your results by increasing the intensity and learning how to work harder.
This applies to every single exercise too.
An appropriate weight will allow you to maintain a slow speed while eliminating any momentum. Therefore, slow lifting makes greater demands on the muscles, and provides a more effective stimulus for the muscles. 
An ideal exercise should take about 1-2 minutes to hit muscle success. Anything over 2 minutes indicates the weights may be too light for you, thus making the exercise less efficient.
Have you ever thought, "Why doesn't my trainer give me any breaks between exercises?!" 
One reason is minimal rest between exercises improves the cardiovascular impact of the workout. 
The only way to "get at" your cardiovascular system during exercise is to make the muscles work hard. We achieve that by hitting muscle success. Slow-motion repetitions make your muscles work much harder than most exercises which puts a greater demand and stimulus on your cardiovascular system.
Little to no time to rest between exercises quickens the process of getting to muscle success, making the overall workout more efficient. 
While strength training in general provides several improvements to the cardiovascular system, many benefits are received or amplified only when training to muscle success. 
Another Area to Avoid Resting is Between Repetitions.
One study (3) observed what happened when two different groups strength trained. Resting was compared against not resting between repetitions:
GROUP 1:

 lifted continuously from start to finish in each set (we use this in our protocol)

GROUP 2:

 

took a short break in the middle of the set. 
When muscle biopsies were taken from the quadriceps, the fibers from GROUP 1 had grown 13%, whereas GROUP 2 only grew 4%. 
Keeping your muscles continuously loaded without any rest (as we employ with our slow-motion repetitions) yields the best results.
Save the rest & recovery for after your workouts. You're going to need it!
Need Proof 20 Minutes is Enough?
We've helped over 40,000 clients improve their bodies and health over the last couple of decades with our 20-minute, twice a week protocol.

Here are just some of their success stories: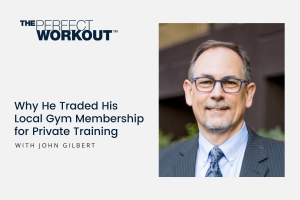 Why He traded his local gym membership for private training John Gilbert was a long-time member of a local Orange County gym chain. When the
Read More »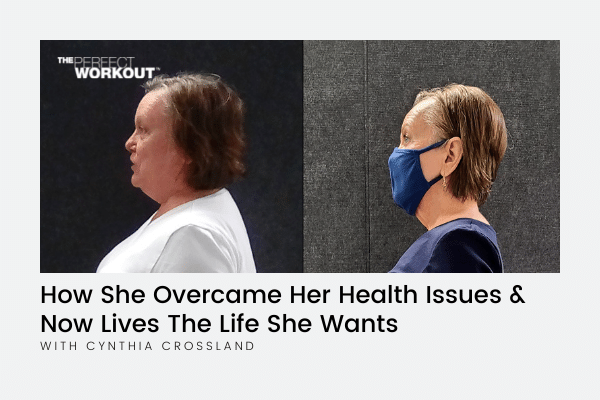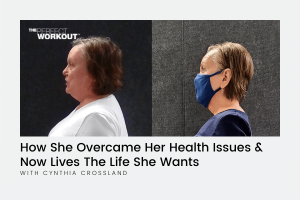 how she overcame her health issues & now lives the life she wants When Cynthia Crossland realized she had some major issues stopping her from
Read More »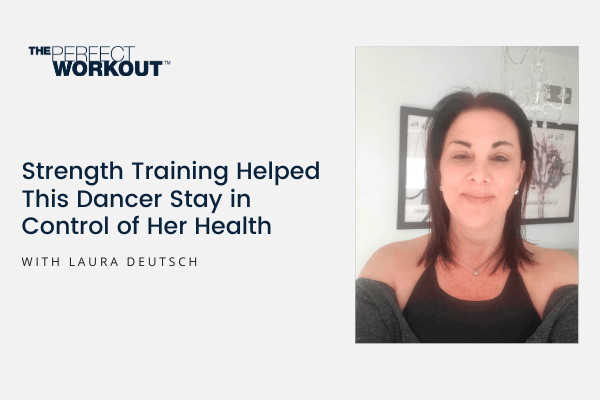 Strength training helped this dancer stay in control of her health Laura Deutsch has been a professional dancer since she was 15 years old. For
Read More »
Over a 20-day period in May 2020, we measured just how long it takes for an average client of The Perfect Workout to complete a workout and the amount of time spent on each exercise. This is what we found out:
These are the people seeing significant results… And they are doing it with two workouts a week, for 20-minutes.
At the end of the day, we want to spend time doing the things we love, and there's no reason for exercise to get in the way.
Now that you know:
You can get the same strength gains, if not more, in 13 minutes than you can in 68 minutes

More workouts per week can actually hinder your results

Doing more exercises than needed in a session is an indication the workout may not be intense enough and you can be working harder

You can get a full body-workout in with just 4 exercises

More rest in a workout can reduce muscle growth and cardiovascular impact
If you could save hours each week doing more of what you love, would you?
What you get working out with this method is not only guaranteed results, but also your time back!
We know you value your health and exercise should be at the top of your priority list, but it doesn't need to fill up your calendar.
Imagine what you could gain from saving time in your week getting a more efficient workout.
Whether you're looking to get stronger, carve out more time to play golf, or simply keep up with the grandkids, all you need is 20 minutes, twice a week.
Schoenfeld, B.J., Contreras, B., Krieger, J., Grgic, J., Delcastillo, K., Belliard, R., & Alto, A. (2018). Resistance training volume enhances muscle hypertrophy but not strength in trained men. Medicine & Science in Sports & Exercise.

Hunter, G. R., Bickel, C. S., Fisher, G., Neumeier, W., & McCarthy, J. (2013). Combined Aerobic/Strength Training and Energy Expenditure in Older Women. Medicine & Science in Sports & Exercise. (Published ahead of print).

Fisher, J., Steele, S., & Smith, D. (2013). Evidence-­‐based resistance training recommendations for muscular hypertrophy. Medicina Sportiva, 17(4): 217-­‐235.