Would you have the strength to avoid a debilitating fall? He did.
One of the biggest fears seniors have is taking a fall that will negatively change the course of their life.
A few of John Abel's friends had experienced falls that left them either disabled in a wheelchair or battling a stroke. Falling became very possible and scarier than ever for John.
One day John slipped on black ice, before he knew it his feet were out from beneath him and he found himself on the ground… but he caught himself.
The strength he gained throughout his entire body at The Perfect Workout had prevented him from hitting his head, fracturing his hip, or worse.
John and his incredible story will show you how he was able to tackle one of his biggest fears and make more health improvements in just 6 months at The Perfect Workout than he ever did during 6 years at his previous gym.
Six years of exercise. Zero impact.
John spent six years doing 45-minute workouts, 3 days a week with a personal trainer at a "big box gym." Their sessions were mostly focused on cardio rather than strength training.
"It didn't really have any impact."
He was prediabetic when he began at the big box gym, thinking "I'll do this to hold my diabetes in check." His diabetes didn't get better.
He had hoped to lose weight. He ended up gaining 15 pounds.
He was hoping to get off some of the medications he was on. That didn't happen.
At the end of 6 years, his contract was up. John, his wife, and their friend decided to leave and go somewhere they could actually get results.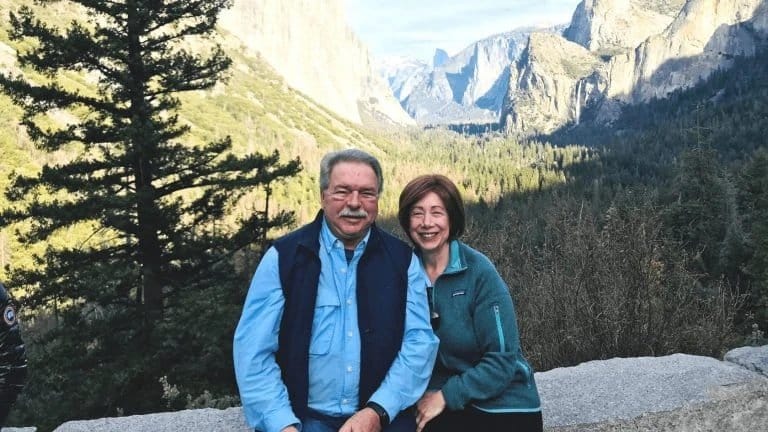 John did his research and discovered The Perfect Workout in Falls Church, VA near him.
"I'll tell ya I was skeptical. Going from 45 minutes where they were pounding you really hard to 20… I was skeptical. How can it be 20 minutes? How can 10 machines or so make a difference? This is gonna be not intense enough for me. We went. We really liked it."
He told himself to try it for two or three months and if it didn't work out he'd move on to something else.
It's been four years since John joined The Perfect Workout and he's very happy with the changes he's experienced in his health.
Within the past few years, there was a particularly impactul period of 6 months where John saw the most changes.
In regards to his strength he:
Increased his Leg Press Weight from 290lbs to 525lbs
Increased his Preacher Curl (biceps) weight from 70lbs to 90lbs
Increased his Tricep Extension weight by 20lbs.

"I got a lot stronger."
After getting bloodwork done in December of 2019, John realized his health was getting better and better:
His cholesterol went down from 200 to 147
His A1C went down from 6.8 to 5.7
His blood pressure dropped by at least 20 points
He's lost the 15lbs he gained prior to The Perfect Workout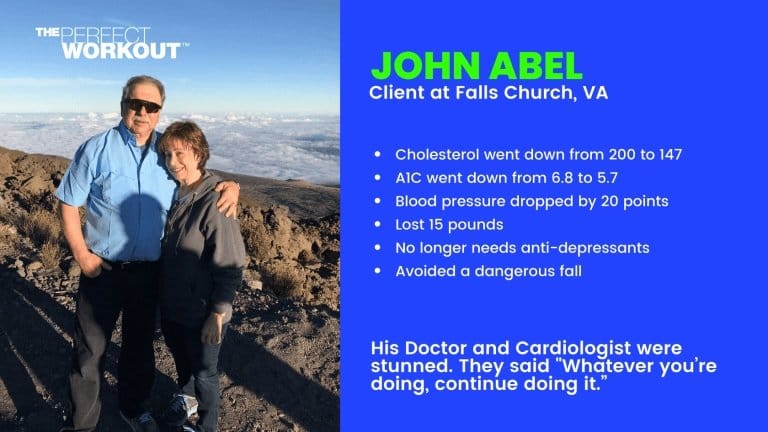 "My doctor said, 'I don't think you need the antidepressant anymore.' So I got off the antidepressant."
Both his Doctor and Cardiologist were stunned. They said 'Whatever you're doing, continue doing it."
Faced with a deathly fear.
"For me, I'm 77 years old, to be older, strength is important. I've had two medical doctors tell me 'It really is important that you do strength training."'
One of the big reasons why strength is so important as an elderly person is to be able to prevent something John is deathly afraid of: falling.
"I've known three guys that were business associates that fell and hit their head on something else. One guy fell and hit his head on a desk. One guy fell and hit his head on a step. And then they had strokes or something like a stroke, brain hemorrhage of some sort. They all became disabled, in wheelchairs and stuff like that.
I'm deathly afraid of that."
About 2 1/2 years after starting The Perfect Workout, John was walking up the stairs in front of his house in the middle of winter. He couldn't see it, but there was black ice right outside his door.
He had just put on his shoes and they were still warm from sitting inside. With one step, his feet went flying.
"I felt my core tighten up and I caught myself with one hand! And I basically just ended up sitting down! If I hadn't done that, I would've hit my head and I would've had the same problem that these other three people have."
Having the ability to catch himself and not bang his head on the concrete stunned him.
"That's another reason why I think strength training is really important. Being aware of your core. I see a lot of people my age and they can't get out of a chair. They can't get up out of a chair without holding onto a chair or without someone helping them up. I don't wanna be that. I don't wanna be that person."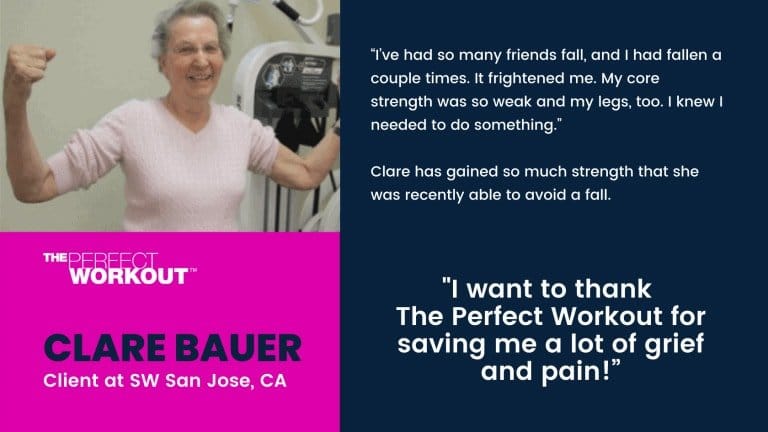 Once you know how much your life has been changed by such a simple solution of working out twice a week, you don't stop.
So, when Virginia went on lockdown, John transitioned to Virtual Training. But he was skeptical about starting that too.
"The first few times I thought, Man, I really miss the machines. After about the first two sessions, I've gotten into it. It's easy. There's no commute. You're right there in your house. I don't really need any more equipment. You've got the floor, you've got walls, you've got the chair, your body, and you have some weights. So, I'm good. "
Having the ability to train virtually is a relief for John now and in the future. " I think it really does matter in terms of being on vacation or traveling to other places where they may not have a studio, it's a good idea. It works a lot better than I thought it would. And it's WAY better than doing nothing."
Getting older is inevitable, but losing strength, independence and the ability to do what you want to do is not.
If two, 20 minute workouts can help John lower his cholesterol, lower blood pressure and blood sugar levels, lose 15lbs, go off antidepressants and prevent a devastating fall, imagine what they can do for you.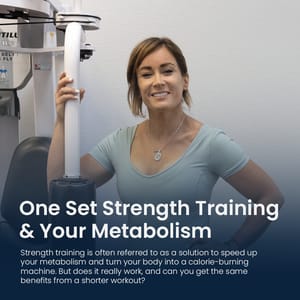 Strength training triggers an increase in metabolic rate immediately following a…
Read More »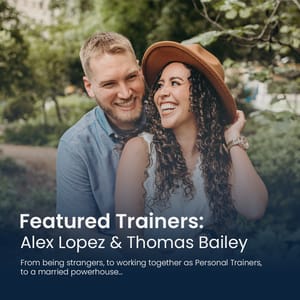 From being strangers, to working together as Personal Trainers, to a married powerhouse…
Read More »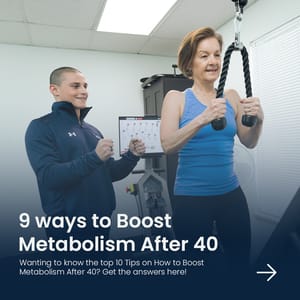 9 ways to Boost Metabolism After 40 Wanting to know the top Tips on How to Boost Metabolism After 40? Get the answers here! https://www.youtube.com/watch?v=ZdMu-64v08Y
Read More »