how he got diabetes & blood pressure under control...naturally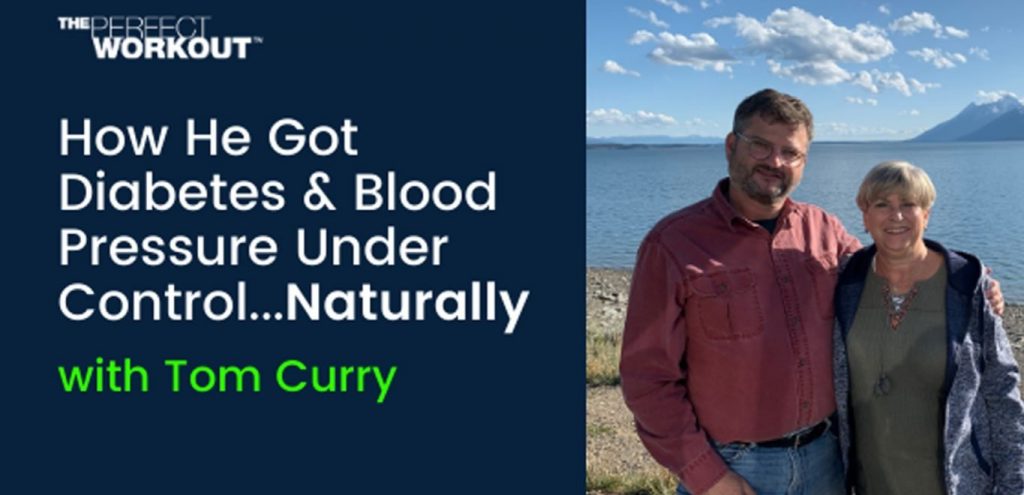 A Mediterranean escape on the itinerary.
A plan to get in shape.
A perfect workout to help get him there.
Then COVID hit.
Read about our client Tom Curry's story of keeping up with his get-in-vacation-shape plan during quarantine and the surprising health improvements he made training at home.
Tom's story started with his wife, Cathy. She had been training in our West Plano studio for about a year and a half before she finally got Tom to try it out. The only exercise Tom had been doing was walking his dogs twice a day. It was better than nothing, but not nearly enough to get in shape for a big trip they had planned.
Going to Greece was on the horizon for the Curry's and Tom had made it a goal to get in shape for it.
"We were going to be doing a lot of walking and I just wanted to make sure I could handle all of that for the trip."
Tom had done weight training before but never tried the slow-motion strength workout we do at The Perfect Workout. In less than a year, it's proven to be more effective than anything else he's done.
With just two, 20-minute workouts a week, Tom feels like he has more energy each day, especially the next day after his workout. And he is getting the benefits of a cardio workout with strength training.
"I never was a big cardio fan. The idea of getting on a treadmill and doing that was not ever very much fun. I'm getting cardio with this workout, because I can certainly tell my heart's beating faster!"
Tom got in the groove of training at the studio twice a week and felt excited about his new workout regimen and how it would help him tackle the hills of Greece, and then COVID hit.
COVID Didn't Halt his Progress
"I was skeptical of this at home (Virtual Personal Training) at first just because I'm not very good at doing things here at the house."
Many people struggle to keep up with their workouts at home, which is why having a Personal Trainer, even via video, makes each session productive and worthwhile. 
"It's motivation knowing that I'm connecting with somebody, even if it's on a computer screen."
Luckily, being a resident in West Plano, TX, Tom didn't have to quarantine nearly as long as other parts of the country, so he was back in the studio as soon as it opened back up.
But Tom is considered "high-risk" in COVID-terms so he needed reassurance that the studio would be a safe place for him to workout if he returned.
Tom was in excellent hands returning to the studio since we are by-appointment-only and adhere to all CDC guidelines on distance, masks, and sanitation, We've even gone one step further and installed HEPA air filters in each room, which cleans the air every 2-3 minutes, just like on airplanes and in hospitals. See what else we're doing to keep you safe.
"They're doing a great job keeping it clean and the number of clients down. I'm in one of those categories they say you got to be really careful So far, I've felt safe."
Diabetes & Blood Pressure Under Control
Tom has Type II Diabetes and almost a year ago he was having problems managing his A1-C levels. His Doctor was changing his medications to see if they could get it under control. After dropping one type of medication, his A1-C levels spiked up to 7.4 (anything over 7 is considered "bad.")
During quarantine and over the course of his Virtual Training Sessions, Tom was able to lower his levels back down to 6.4.
"I dropped a full point during the pandemic doing things at home!"
In addition, his blood pressure dropped as a result of his 20-minute strength training workouts.
Feeling Good About Health Again
"I sing the praises when somebody asked me about [The Perfect Workout] because I think it's, far easier to go do something like this than to spend 45 minutes in a gym- 25 minutes on a treadmill and, and then trying to pick out your own routine with weights which you're inevitably going to screw something up."
Tom is extremely happy with all of the Personal Trainers he's worked with. They've all been very encouraging and are personally invested in his progress. He feels like the entire team has been very engaged in helping him make positive changes in his health.
"I really feel good about my health."