How to optimize your immune system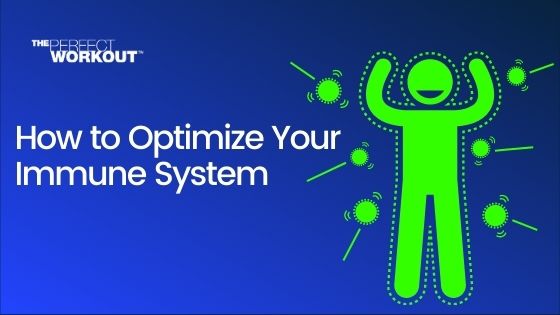 The topic of immunity is more popular than ever. We've heard and seen some interesting "ways" to optimize your immune system:
Taking a trillion grams of vitamin C 

Sweat it out with a 10 mile run 

Eat only fruits and vegetables and avoid all chocolate and wine on Tuesdays
What!?
Okay those may not be real, but the point is there's some wacky advice and quick fixes out there about how to improve your health and immune system.
And although it may not be easy, it's quite simple.
Focusing on behaviors that contribute to better health will fortify your immune system over time. 
Here are 5 ways to get started:
We have so many demands on our time—jobs, family, errands—not to mention finding some time to relax and have fun. To fit everything in, we often sacrifice… Sleep. 
But sleep has an impact on our mental and physical health. It's vital for gaining strength, preventing illness, recovering from injury, and your overall well-being.
Of course, sleep helps you feel rested each day. But while you're sleeping, your brain and body don't just shut down. Internal organs and processes are hard at work throughout the night.
Sleep can be POWERFUL… if we get enough of it. 
We know about the many benefits of getting good quality sleep, but what about the effects of NOT getting a good night's rest?
Check out these side effects of sleep deficiencies: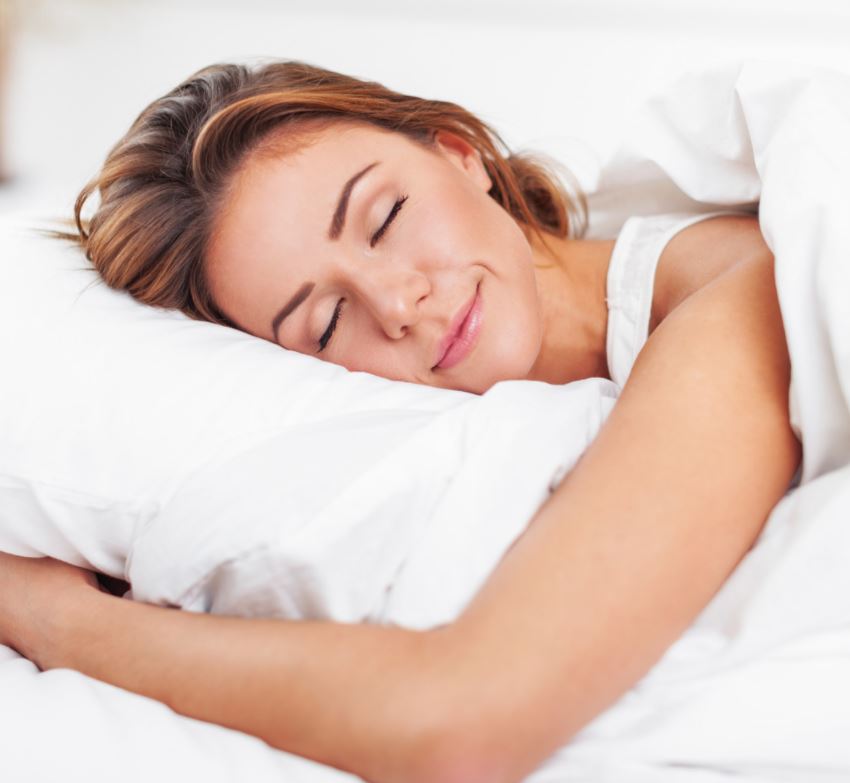 Long Term Mood Disorders

Sickness

Diabetes

Infertility

Weight Gain

Low Libido

Heart Disease
Have you ever thought about if the sleep you are getting at night is quality sleep? It helps to see exactly what's happening while you sleep.
We've found some great apps you can use to track and/or enhance your sleep:
Below are more tips that may help improve your sleep tonight!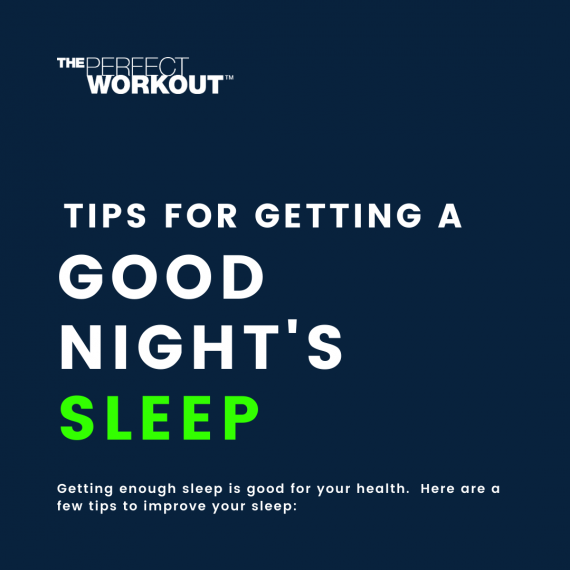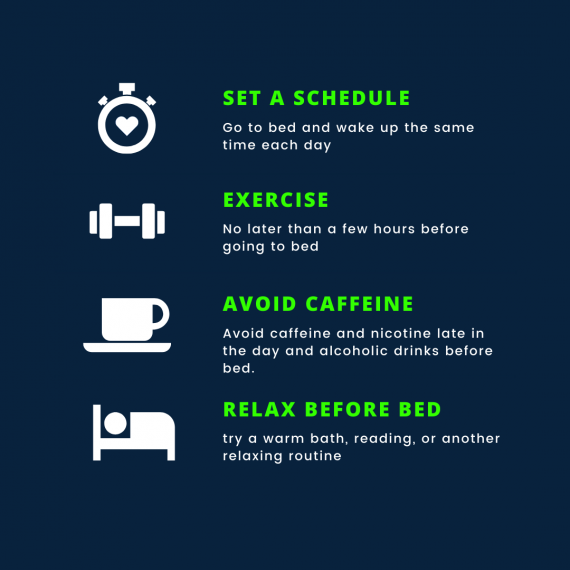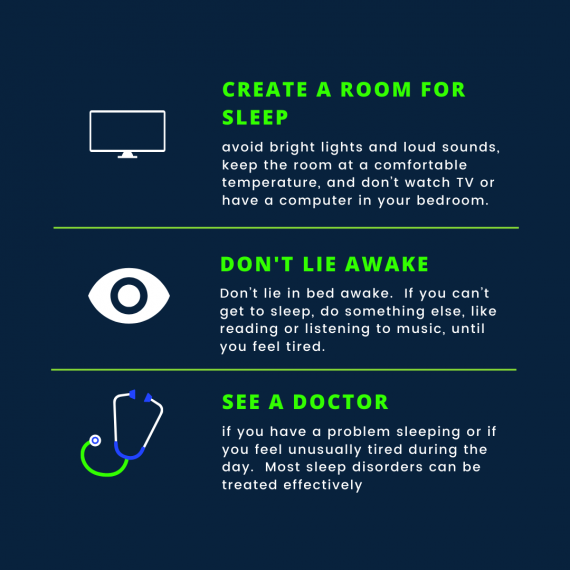 2. Eat Nutrient-Dense Foods
My parents always told me, "Veggies are your anti-disease foods because they are nutrient dense and help fight off infection and support white blood cell strength."
Start by swapping out a few processed foods from your diet with an "anti-disease" or immune boosting option. See ideas below: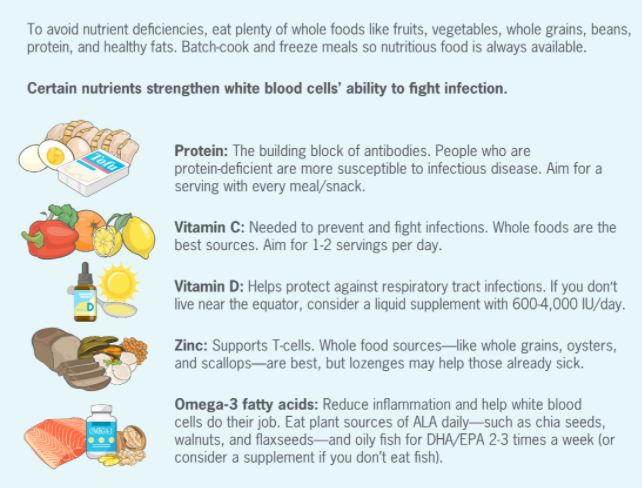 3. Lower Your Stress Levels
Stress is a natural reaction to life. But having too much stress or prolonged periods of stress can wreak havoc on the body and actually increase your susceptibility of sickness.
Watch this video on stress and how it can hurt your health!
There are countless ways to alleviate stress, just as long as we create time for them!
Below are some ways to kick stress to the curb.
Exercise…. We've got you covered there!

Spending time outdoors

Spending time with pets (puppy therapy is a real thing!)

Breathing exercises

Meditation

Journaling

Yoga

Prayer

A good night's rest

Taking Breaks!
One of our favorite ways to alleviate stress is the use of breath. 
That's right! Breathing properly can actually reduce stress (and help you achieve a better workout!) 
Try out some of these simple everyday breath patterns you can use to melt stress away, any time of day.
We couldn't talk about stress relief and NOT mention exercise. We all know exercise is good for us, and it does wonders to help us reduce stress levels (3).
Exercising releases endorphins- you can't feel bad when you're feeling good

Makes you feel better and empowered

Helps improve the quality of your sleep

Strength Training produces more endorphins than cardio

Can reduce risk of heart disease
We could chat for hours on this subject because water is so vital to your overall health and goes beyond just feeling hydrated.
Drinking plenty of water helps you have a successful workout (4) as well as these health benefits:
Lubricate your joints and body's systems so that everything moves & runs smoothly

Regulate body temperature (which can be helpful in burning more fat!)

Boost metabolism

Protect organs & tissue

Clear your bladder and flushes out toxins in your system

And so much more!!
Watch this video for a deeper dive into what water can do for you and your body and how you can get started and work your way to drinking enough water.
5. Exercise… The RIGHT Way
You might think that exercising more is a surefire way to fight off viruses.
Actually, too much physical stress (including exercise stress) can cause the body to react in unfavorable ways. You want just the right amount of high-intensity exercise stress for optimal improvements, and no more.
If you want to get optimal results you need to place value on resting and recovering from your workouts. 
Studies show that consistently exercising helps increase immunity and decrease chances of getting sick.
Luckily, engaging in effective exercise does not require a big behavioral shift.
All you need is 20 minutes with the right method and the accountability of a Personal Trainer to get results.
In case you haven't seen enough benefits already… Slow-motion strength training is proven to provide countless benefits including (5):
Greater strength

More endurance

Additional calorie-burning lean muscle tissue

Reversing age related muscle loss (sarcopenia)

Increased metabolism for how many calories you burn even while you're resting

Improved fat loss

Reversing aging of muscle cells (express younger DNA in the nuclei)

Improved cardiovascular fitness

Improved cholesterol levels

Lower blood pressure

Improved low back pain

Better blood sugar control

Improved immune system

And many more!!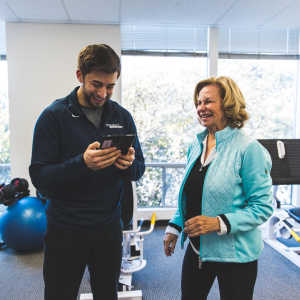 Insights You'll Actually Use Real health and wellness winsand how to achieve them yourself Why Slow Motion Strength Training is The Perfect Workout (And The
Read More »
So how can we optimize your immune syetem?
There are 5 behavioral changes that will help.
Get quality sleep

Eat nutrient dense foods

Lower stress levels

Drink more water

Slow-motion strength training
Did you know these are key ingredients for most (if not all) health and wellness goals?
References:
Ferris, L. T., Williams, J. S., Shen, C. L., O'Keefe, K. A., & Hale, K. B. (2005). Resistance training improves sleep quality in older adults—a pilot study. J Sports Sci Med, 4(3), 354-60.

Singh, N. A., Clements, K. M., Fiatarone, M. A. (1997). Sleep, Sleep Deprivation, and Daytime Activities A Randomized Controlled Trial of the Effect of Exercise on Sleep. Sleep, 20(2), 95-101.

O'Connor, P.J., Herring, M.P., & Caravalho, A. (2010). Mental health benefits of strength training in adults. American Journal of Lifestyle Medicine, 4: 377; pp. 377-396. DOI: 10.1177/1559827610368771

J udelson, D. A., Maresh, C. M., Farrell, M. J., Yamamoto, L. M., Armstrong, L. E., Kraemer, W. J., … & Anderson, J.M. (2007). Effect of hydration state on strength, power, and resistance exercise performance. Medicine and Science in Sports and Exercise, 39(10), 1817.

Campbell, W.,Crim, M., Young,V. and Evans,W. (1994). Increased energy requirements and  changes in body composition with resistance training in older adults.

American Journal of  Clinical Nutrition,

60: 167-175. 

Evans, W. and Rosenberg, I. (1992)

Biomarkers,

New York: Simon and Schuster. Forbes, G.  B. (1976).

"The adult decline in lean body mass,"

Human Biology, 48: 161-73. 

Harris, K. and Holly R. (1987). Physiological response to circuit weight training in borderline  hypertensive subjects.

Medicine and Science in Sports and Exercise

, 19: 246-252. 

Hurley, B. (1994). Does strength training improve health status?

Strength and Conditioning  Journal

, 16: 7-13. 

Hurley, B., Hagberg, J., Goldberg, A., et al. (1988). Resistance training can reduce coronary  risk factors without altering VO

2 max or percent body fat.

Medicine and Science in Sports and  Exercise

, 20: 150-154. 

Keyes, A., Taylor, H.L. and Grande, F. (1973). "Basal Metabolism and Age of Adult Man," 

Metabolism

, 22: 579-87. 

Koffler, K., Menkes, A. Redmond, W. et al. (1992). Strength training accelerates  gastrointestinal transit in middle-aged and older men.

Medicine and Science in Sports and  Exercise

, 24: 415-419. 

Menkes, A., Mazel, S., Redmond, R. et al. (1993). Strength training increases regional bone  mineral density and bone remodeling in middle-aged and older men.

Journal of Applied  Physiology

, 74: 2478-2484. 

Risch, S., Nowell, N. Pollock, M., et al. (1993). Lumbar strengthening in chronic low back pain  patients.

Spine

, 18: 232-238. 

Singh, N., Clements, K. and Fiatarone, M. A randomized controlled trial of progressive resistance training in depressed elders.

Journal of Gerontology,

52 A (1): M 27 – M 35.

Stone, M., Blessing, D., Byrd, R., et al. (1982). Physiological effects of a short term resistive  training program on middle-aged untrained men.

National Strength and Conditioning  Association Journal

, 4: 16-20. 

Tufts University Diet and Nutrition Letter

, (1994). Never too late to build up your muscle. 12:  6-7 (September). 

Westcott, W. and Guy, J. (1996). A physical evolution. Sedentary adults see marked  improvements in as little as two days a week.

IDEA Today,

14 (9): 58-65.