at 66, strength training is making a lifelong passion possible again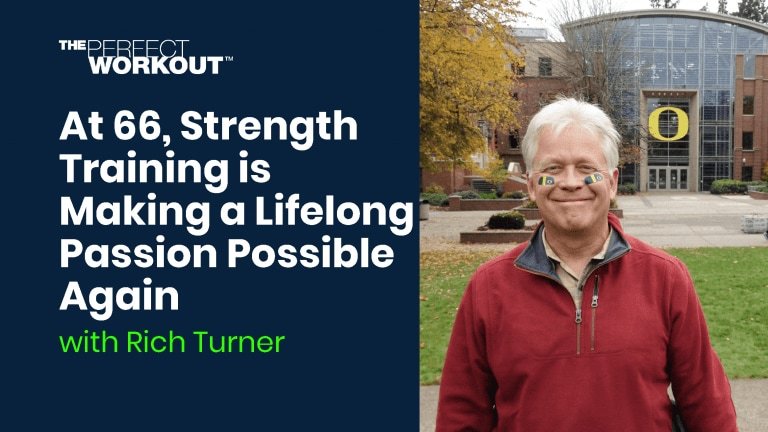 Rich Turner's passion was running. But after 25 years and thousands of miles, injuries from running started to shut his body down.
After giving up his love of running and undergoing knee surgeries, Rich Turner had come to terms that running might not ever be possible for him again.
Now, 10 years later at age 66, he's gained the strength and the stamina to run every day. A gift he never expected to get.
For almost three years, Rich has been training at The Perfect Workout Del Mar, Ca.
He had recently retired and had been toying around with the idea of getting into strength training. Rich had been a lifelong runner and had learned that we lose strength and muscle over time, even though he wasn't necessarily feeling it or seeing it yet. He wanted the ability to maintain an active lifestyle, especially now that he had entered retirement.
Knowing that he needed to start building strength, having a knee issue and being turned off from typical gyms became the perfect storm for him to try The Perfect Workout.
The idea of going to a "gym" was a pretty big deterrent for Rich. His previous experiences with major gyms- being crowded, loud, lots of overlap on equipment, and often a young crowd– well needless to say over time, he became less and less likely to go to one.
The only gym membership he had was at a 24-hour Fitness and all he ever used it for was a shower so he could run at lunch or before work!
Gyms were the antithesis of his experience, as he put it. He felt like it was a grind, something people forced themselves to do. The environment was not at all what he was looking for.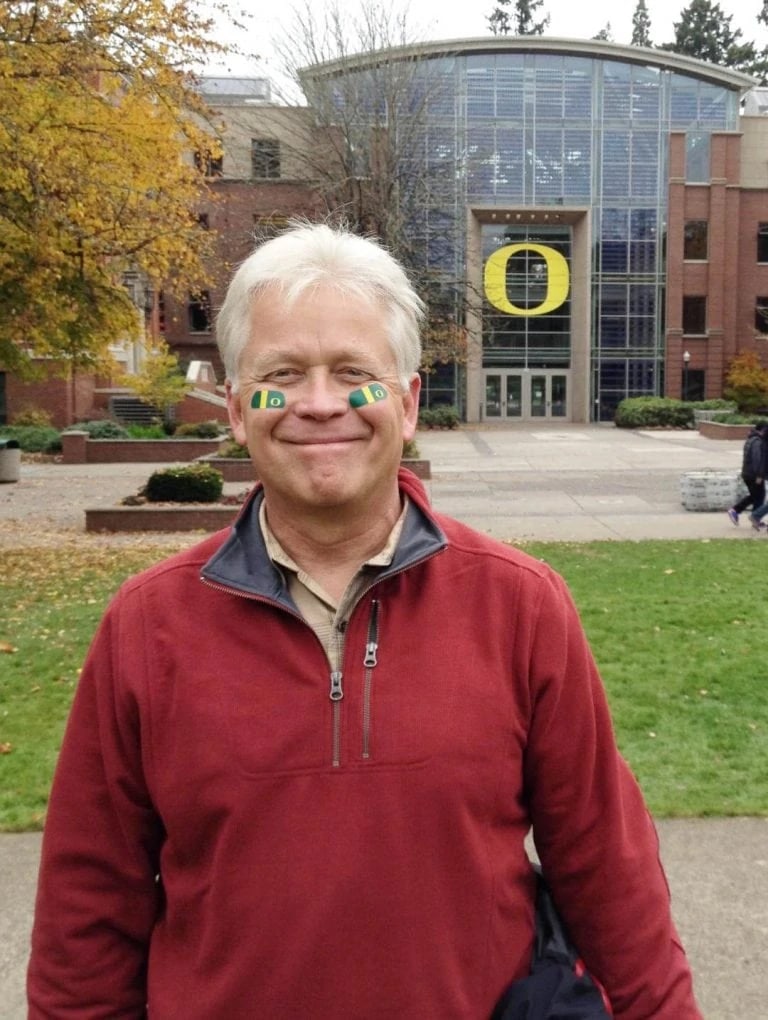 "I needed something where I could focus and concentrate just on whatever my personal objectives were, and not necessarily so I can gauge them against a 25-year-old standing next to me on the same machine."
Rich remembered seeing ads for The Perfect Workout and realized how close the Del Mar studio was to his home and that the workout was only 20 minutes. The convenience of it ultimately sparked his decision to come in for his Intro session.
"The first session is great! There was a lot of conversation, a little bit of an interview on goals, we had a lot of time on each of the apparatus (Nautilus machines) as well. We were able to talk about how each exercise was addressing what muscle groups and how this would proceed in future sessions."
Rich loved his first session, loved the vibe of the studio and could see that the pace of the session would be to his liking. It was the fit he was hoping for.
After going through the workout and the coaching from his Trainer, he realized the hardest part was simply getting to the studio for the first time.
The hardest part for any of us! Trying anything new can be as easy as taking that first step through the doors of our studios… and it's worth it.
Because the second you enter the studio or show up on a zoom call for your Introductory Session, you're walked through everything, every step of the way. That's one of the most valuable aspects in what we provide with our 1-on-1 training. You don't have to think about it, you don't have to know any of this, we'll teach you what you need to know and hold your hand throughout the process.
Rich agreed and made a really interesting observation about himself and many of the other clients he got to know at the Del Mar studio.
Having been a leader himself, Rich found he really wanted to be led too.
"It's very, very helpful to just hand the baton over to Tim (trainer) and just say, 'I'm going to kind of blank out here and do exactly what you tell me for 20 minutes.'"
He continued to tell me how helpful it is to be led, and some of that comes with the ability to develop trust with the Trainer. He felt like it was really important to believe that the Trainer knew what they were doing. And it was evident that the Trainers in the Del Mar studio did indeed know what they were doing from that very first session.
"If someone is leading you confidently in doing something you know is helpful, there's really a relationship that developed, and that has made this a must-do part of my schedule. I'm really grateful for that…This is what has worked for me. I'm really happy to do it."
Knowing that Rich was NOT a fan of the "gym atmosphere" I asked him what he thought about our studio since it's vastly different than any gym out there.
Rich admitted that within the first 5 minutes he didn't really know what to expect, but he didn't expect much because there wasn't a lot going on visually (this is by design).
For anyone who's never stepped foot into any of our studios, you may have a hard time picturing this, but it is the complete opposite from everything that was described as a "gym" earlier. It's small, it's intimate, it's clinical. There's no music. There's no mirrors. There's essentially no distractions. It's just 1-on-1 training so you can come in, complete an exceptional workout, and get on with the rest of your day.
One thing that we DO have in our studios are our client success stories. Like many first-time clients, Rich found himself reading through the countless client stories on the wall with accounts of struggles turning to wins and photos of clients who were stronger, leaner, and conquering mountains… literally.
"They were motivational to me. I picked the ones that seemed the least likely to have been true and the most remarkable as goals — There was only one guy at the time that had reached 600 lbs on the Leg Press. The reality of it hit me, you've got to be goal-oriented and set some goals."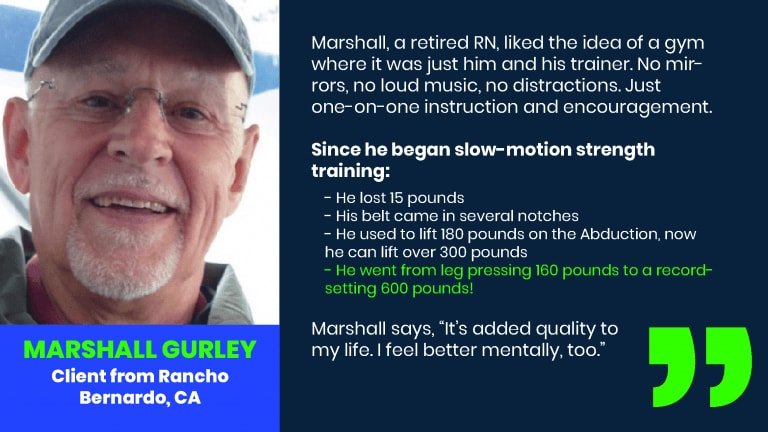 Originally Rich didn't have any concrete goals when he began with us. He simply knew he needed to strength train for his overall health and to preserve his strength as he got older. But after seeing what was possible to accomplish, he set out to conquer the heaviest weight on the Leg Press.
The Leg Press is a machine that works the biggest muscle groups in the body: the glutes, quads and hamstrings, so naturally it can be the most difficult for many of us. It's not about the number of pounds you push on the machine, it's about seeing the increase in your ability to push more and more, and Rich saw a potential win there.
He started pushing about 225lbs and felt like it would take decades to get up to 400lbs, let alone 600! He laughed because at the time his slim, fit, female trainer was pushing 480lbs– but it encouraged him more than anything! With her coaching and his determination, Rich got up to 480lbs and eventually was pushing past his goal with 645lbs on the Leg Press.
But what about right now? In this time of COVID-19, we don't have access to the machines. So what was Rich doing to keep his legs strong? Virtual Training.
Grace, Rich's wife, also trains with us and both of them have been continuing their progress with Virtual sessions. He let me know how fortunate he felt that they already had some pieces of exercise equipment at home including a Bowflex dumbbell set, which we use in our studios as well.
"It's been amazing to watch the development of exercises around the few pieces of equipment that we have. We have a little bit of the MacGyver-esque creativity going on."
This actually became the inspiration for a No Excuses Workout Program called the MacGyver!
"I will just say that from a psychological, emotional health standpoint, the ability to still look forward to regular workouts, to feel completely drained and a little bit sore, knowing you're still working on the same muscle groups… I feel it's been a dramatic benefit to us."
And we are thrilled that this option to train from anywhere, anytime will continue to be an option for Rich and his wife. They travel often and sometimes it can be for one or two months at a time. It's hard to simulate their in-studio workouts at home, on their own– not to mention they often feel sluggish and out of shape from the adventures of vacation.
"If we had minimal equipment and still maintain our two times a week virtually.. To me, that would really, really be worth it. I'm very encouraged that this exists now."
I have personally been trained virtually by one of our Certified Trainers and can vouch for the difficulty level. So, I asked Rich what made it challenging for him?
He told me how amazing it is how difficult we can make some basic isometric exercises. The added challenge of needing to balance on your own adds a level of difficulty. He mentioned that he and Tim, his Trainer, are constantly dialing in how to make the right adjustments to the exercises and the amount of resistance used.
I pointed out to Rich that he was very much still being "led" like he was in the studio.
He agreed wholeheartedly, saying there was absolutely no way he could do it on his own. Having a trainer there to do all of the planning, explaining, adjusting and most importantly coaching, makes all the difference.
Earlier in our conversation, Rich had mentioned he gets a lot of psychological and emotional benefits from doing slow-motion strength training. I pointed out that he's clearly gained strength going from leg pressing 225 to 600 lbs, but I wanted to know what other results he's seen.
How has The Perfect Workout really helped him?
"There's been muscle definition that I hadn't had, maybe ever. But [added] strength in doing normal activity… A normal activity around here is landscaping."
He went on to tell me how much yard work he does on his property. After retirement, rather than downsizing, the Turners upsized and got a home with landscaping that required a lot of maintenance. Luckily, hauling concrete blocks, laying irrigation and carrying plants has become a hobby of his… And now he has the strength and stamina to do it!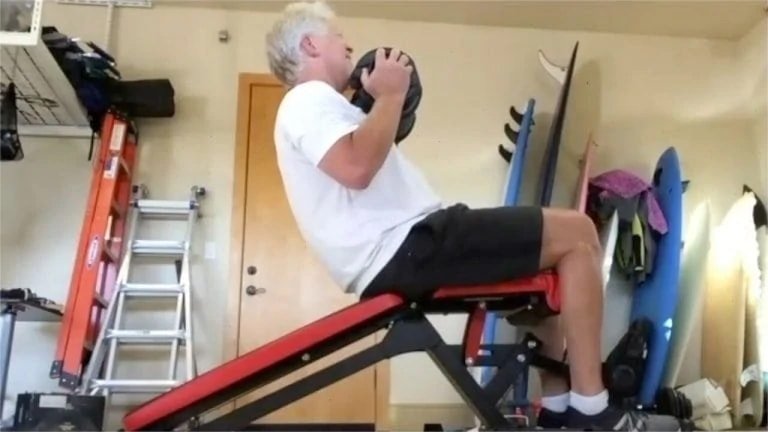 Rich had mentioned earlier that he was previously into running, but it became apparent that running was once a big part of his life. For 25 years he was an avid runner and was also active in biking, swimming and triathlons. Toward the end of that stage of life and after thousands of miles of running, injuries began to shut his body down. But the passion was still there…
After his first six months at The Perfect Workout, Rich felt like he might be able to reintroduce running back into this life.
Keep in mind, he hadn't been running for eight or ten years at this point and had gone through knee surgeries. The idea of getting back into it was difficult, and he assumed it would be painful. And although it was tough to pick back up again, he was able to do it.
He began with walk-runs, then intervals, then he was up and running.
"I found that – and I attribute it to much stronger fully developed leg muscles both quads and hamstrings and everything around it – I was able to do 10 minutes on my first run, 20 minutes after a week, 30-35 minutes after two or three weeks and now I'm running everyday about 35 minutes."
Having loved running for 25 years, the ability to get that back to him was amazing. "That was so much better than being able to lift up a couple of cement blocks."
"The ability to be free to do an activity that was such a big part of my life for so long – I was racing all the time. … I loved doing it and now I love doing it again.
Slow-Motion Strength Training has the power to do more than just increase your strength. It has the power to add years to your life and improve the quality of those years.
What could you gain by adding two, 20-minute workouts to your week?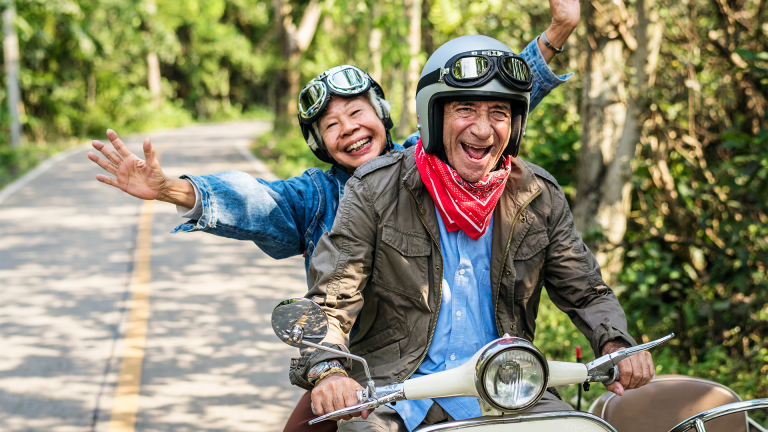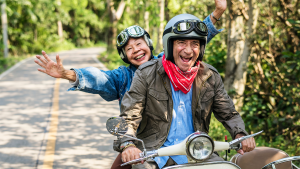 We're shining a spotlight on an often-overlooked yet scientifically-proven key…
Read More »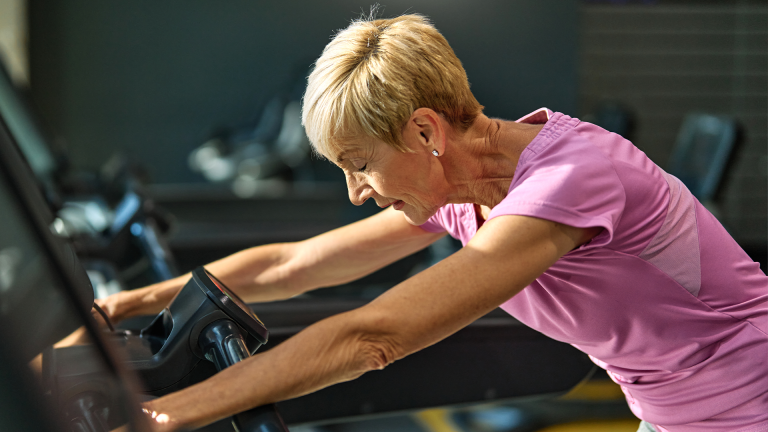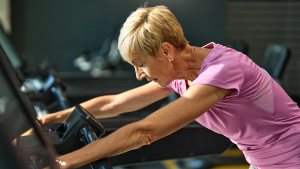 Living with elevated cortisol levels can feel like a battle against your own body…
Read More »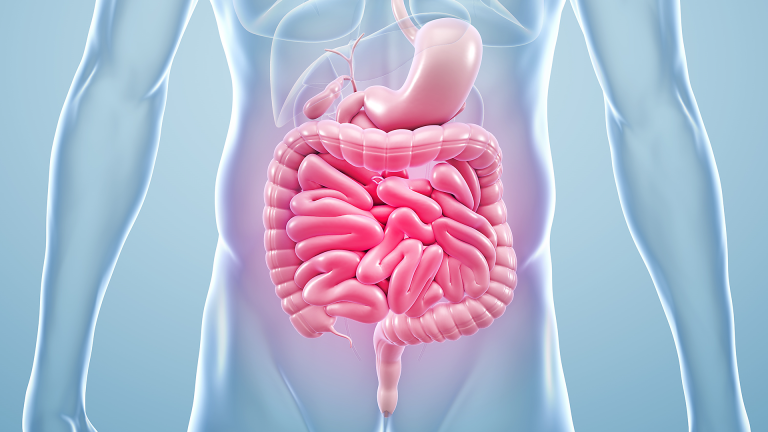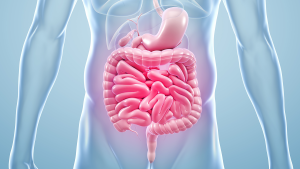 Did you know, your gut is home to over 1,000 bacterial species…
Read More »